Why Bobby Dassey's Testimony Is Important To Steven Avery's Appeals Case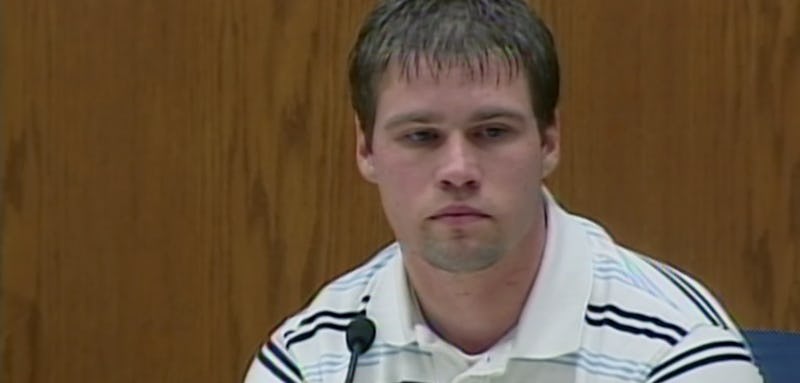 Screenshot/Netflix
Spoilers ahead for Making A Murderer Part 2. The final episode of Making A Murderer Part 2 ends with a bombshell. After spending months building Steven Avery's appeals case, his new defense lawyer, Kathleen Zellner files a motion alleging Bobby Dassey's testimony in Avery's 2007 trial was false, and claiming he should be considered a viable suspect in connection to Teresa Halbach's murder. Dassey was never suspected by law enforcement in the 2005 crime and Bustle's request for comment from Dassey's mother, Barb Tadych, about the ongoing case and his inclusion in the Netflix documentary was not immediately returned. He did, however, address Zellner's allegations in a 2017 interview with special investigators that was included in the show. "Everything I told was true. I had, I have no reason to lie," he told them. "I'm at to the point where, you know, Zellner can blame me all she wants. Deep down inside, I know I didn't do it ... that's the only way I can keep going on every day, is 'cause I know I didn't do it." He then added that "It sucks that people are trying to pin it on me ... the one thing I want is for my name to be cleared."
Avery, meanwhile, was convicted in 2007 for Halbach's murder, but has firmly maintained his innocence. As chronicled in Making A Murderer, Dassey testified during Avery's 2007 trial that he saw Halbach walking toward Avery's trailer, which is on the same property as Dassey's house, before he left to go hunting for the day. Dassey claimed to have seen her around 2:30 p.m. on Oct. 31, 2005 — the day Halbach went missing. Dassey also testified that when he came home that day at 5 p.m., Halbach's car was no longer there. When asked what he had been doing before he claimed to have seen Halbach, Dassey responded that he had been sleeping. It's this detail that Zellner alleges makes Dassey's testimony false. According to Rolling Stone, Zellner claims that new laptop evidence shows the internet was accessed repeatedly over the course of that morning, and that because Dassey was reportedly home alone, the evidence discredits his claim that he was asleep until 2 p.m, thus impeaching his credibility.
Per the same Rolling Stone article, Zellner submitted a filing in 2017 asking the Wisconsin Circuit Court in Manitowoc County to add this laptop evidence — which includes 2,449 pages of data taken from the Dassey family computer — to Avery's appeals case. Also per Rolling Stone, Zellner reportedly obtained an affidavit from Dassey's brother Bryan claiming that Halbach was no longer on the property when Bobby left to go hunting — a direct contradiction to Dassey's testimony.
Ultimately, however, Zellner's request to include this evidence in Avery's appeal was denied, as reported by the Post-Crescent. This means, at least for now, Dassey's testimony won't have an impact on Avery's case moving forward, and that Zellner will have to set her sights on other alleged suspects if she wants to move Avery's case forward.