Experts Say Body Language Between Biden & Obama Reveals A Truly Deep Friendship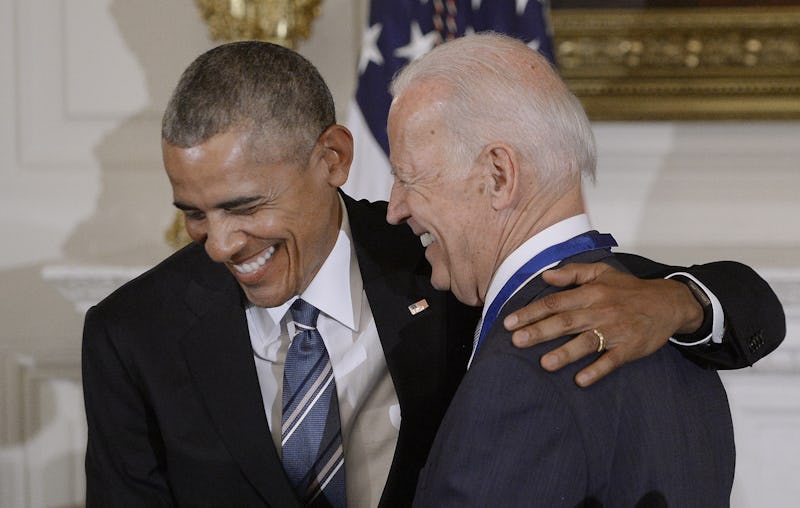 Pool/Getty Images News/Getty Images
Over the years, the friendship between former President Barack Obama and Vice President Joe Biden has become widely beloved. Social media users have created many memes celebrating this friendship, while Americans across the political spectrum have acknowledged that the former president and vice president are often there for each other during trying times. The body language between Obama and Biden reaffirms just how close the two men are, experts say, especially because they challenge toxic masculinity and show more emotion than people typically expect to see from politicians.
There are many lists out there documenting the various moments that Obama and Biden have shared — pats on the shoulder, mutual laughter, various affectionate exchanges. Their so-called bromance is a popular subject for memes, with many social media users reminiscing about their friendship under the Trump administration.
But according to strategic communications consultant Ruth Sherman, using the word bromance to describe their relationship "spares men from being too emotional and intimate." Instead, Sherman tells Bustle that Biden and Obama's relationship came to resemble that between a father and son over the years.
"They went beyond ... a good working relationship," Sherman tells Bustle. "I certainly think they had one, but it went beyond that to include a very deep affection."
Biden's personal tragedies — including the deaths of his wife, daughter, and son — coupled with Obama's lack of a close relationship with his own father contribute to the pair's father-son dynamic, Sherman adds.
In the above photo, Obama and Biden are going in for a hug; this photo was taken right after Obama won reelection back in 2012. In Sherman's view, this photo highlights the significant nuance in the two men's relationship.
"This is a real, loving embrace," Sherman says. "I think the thing that really tells the tale in this photo isn't necessarily the embrace itself, but it's the expression on Obama's face, with his eyes closed. There's a sense of not only relief there but a level of gratitude, and a level of 'thanks for your support,' and 'I couldn't have done it without you,' and even love to some extent. That's what tells me that this is a special relationship, not the embrace itself."
Body language expert Traci Brown, meanwhile, believes that Obama and Biden's embrace in the above photo indicates that "they're not afraid of showing affection between each other" in a public setting. This is true when the two men are aware that everyone's eyes are on them, Brown tells Bustle, but also when they may not be — such as in the following photo, which was taken at a basketball game that same year:
Brown also believes that Obama and Biden push back on what is typically expected of male politicians; they know when it's time to be serious, Brown says, but they also share a "really true affection."
"I don't think you see that a lot from Republicans as much, just generally," Brown says. "[Obama and Biden] know when they can push the limits of what we normally see in politics. ... They're helping redefine what it is to be male without getting so official about it."
The relationship between Biden and Obama is frequently compared to the one between Vice President Mike Pence and President Donald Trump. Trump and Pence rarely show affection toward one another, and as Brown previously told Elite Daily, there is often a "physical distance between them," even when they are the subjects of candid photographs.
However, that does beg the question: are Biden and Obama sincere in their affection, or are they simply perfecting their personal brands, knowing that they are constantly being watched? According to Brown, both of these things may be true.
"I'm sure with everything going on the Internet that they realized it," Brown tells Bustle. "I really don't think they're faking anything but I'm sure that they know it's part of their brand."
Sherman agrees that Biden and Obama's affectionate exchanges are authentic, noting that people would likely eventually pick up on any insincerity. Sherman also points out that throughout his presidency, Obama was known for his emotional restraint — but his interactions with Biden seemed to serve as an exception, which could also signify sincerity.
When Obama presented Biden with the Presidential Medal of Freedom in 2017, for example, and when he delivered a eulogy for Biden's son, the former president was open about the admiration and respect he had for the man who served alongside him for eight years.
"Can you imagine what it must be like to go through eight years as president and vice president?" Sherman says. "A lot of presidents and vice presidents don't get along, they don't like each other … but these two people, I think, fell in love."