It Turns Out You CAN Find Super Valuable Books In Dumpsters Sometimes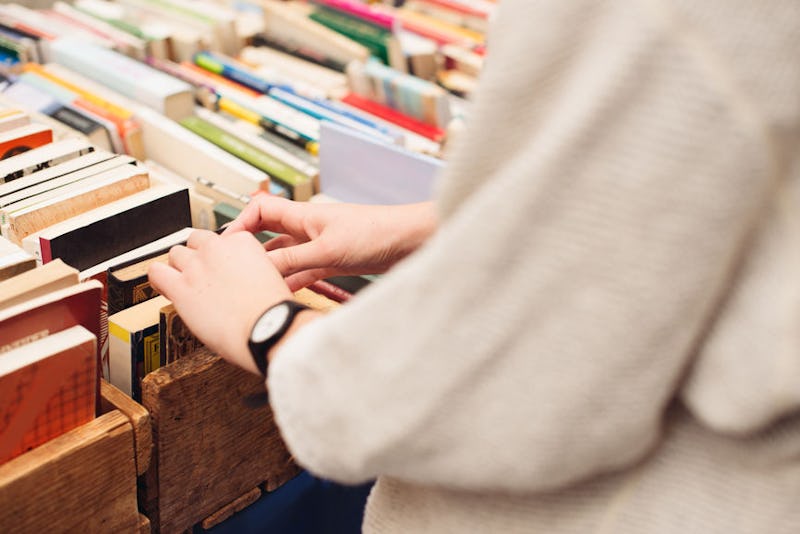 Aila Images/Stocksy
Thanks to shows like Storage Wars and Antiques Roadshow, I've long fantasized about finding something incredibly valuable in a junk pile or thrift store or used bookshop. Turns out, it's not such a far-fetched dream. Nearly four years ago, a man in Washoe County, Nev. found books from Thomas Jefferson's personal library in a dumpster, but he didn't uncover the truth about those rare texts until many years later. Unfortunately, by the time Max Brown knew the true value of the books he rescued from a garbage pile on a dreary day, he had already sold them.
The Sacramento Bee reports that Brown found Thomas Jefferson's books in December 2014, when he spotted them underneath a discarded assortment of cassette tapes from the 1980s. When bad weather showed up, he could only save 15 of the books from the impending snowstorm. It wasn't until the following summer that Brown discovered the words "from the library of Thomas Jefferson" written inside the front cover of one of the books he'd rescued. According to The Sacramento Bee, "Upon reading those six words, Brown became a detective, beginning an archival search for answers that would span three years of his life, 220 years of the country's, and connect the hands of an American founding father to his own."
The experts Brown initially consulted told him that the books were fakes. It was only later that he discovered his books had covers to match authenticated Jefferson volumes, and that their oddities — such as a first page secured somewhere in the middle of the book — matched other books Jefferson had had rebound. By the time someone at the Jefferson Library confirmed that Brown had found books belonging to the third president, they were already long gone. He had sold them for eight thousand dollars, not knowing they were authentic.
Brown isn't the only person to find a valuable book in an unexpected place. In 2000, someone stole Nicolas Cage's personal copy of Action Comics No. 1 — the first Superman comic, published in 1938 — from his home. Eleven years later, it showed up in an abandoned storage locker, and was subsequently sold for more than $2.1 million. Another copy of Action Comics No. 1 resurfaced in 2013, when a Minnesota man working on a home renovation found it hidden in the walls of his newly purchased fixer-upper. That copy of the first Superman comic sold for a not-too-shabby $175,000.
Max Brown didn't get rich off of his dumpster find, but he did manage to reunite a family with some invaluable photos. As it turns out, Thomas Jefferson's books were in the possession of the Kellogg family by the early 20th century, and their books and photo albums were among the 15 volumes Brown saved from the dumpster that day. The last known location of the other books from the Kellogg family collection dated to 1976, when they were registered to a woman named Violet Cherry. Brown returned the remaining books and photo albums to Cherry's living relatives.