Boris Johnson Is Continuing Self-Isolation While Coronavirus Symptom Remains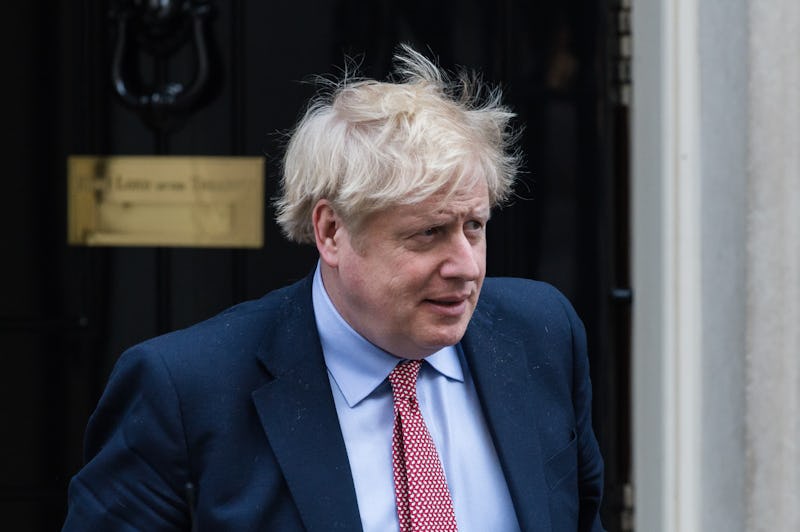 Barcroft Media/Barcroft Media/Getty Images
The Prime Minister Boris Johnson has tested positive for coronavirus. In a video posted to Twitter on March 27, Johnson revealed he had developed what he described as "mild symptoms," including a fever and a persistent cough. He added that, on the advice of the chief medical officer Professor Chris Whitty, he was self-isolating and working from home, but would still lead the government's response to the pandemic via video link.
In the clip, he said: "Hi folks. I want to bring you up to speed with something that's happening today which is I have developed mild symptoms of the coronavirus. That's to say a temperature and persistent cough."
Johnson added: "On the advice of the Chief Medical Officer I took a test that has come out positive, so I am working from home, self-isolating and that's entirely the right thing to do. But be in no doubt that, thanks to the wizardry of modern technology, I can continue to communicate with my top team to lead the national fightback against coronavirus."
In a separate statement, a spokesperson for the government revealed that Johnson had taken the test at home and it had been conducted by NHS staff. If the Prime Minister's symptoms worsen and he becomes seriously ill, the Foreign Secretary Dominic Raab has been nominated to take over his duties.
The Chief Medical Officer Chris Whitty also announced on March 27 that he was showing symptoms consistent with the new coronavirus. Like Johnson he shared the news on Twitter, writing in a post that he would continue to advise the government on its strategies to prevent the spread of COVID-19. "After experiencing symptoms compatible with COVID-19 last night, in line with the guidance, I will be self-isolating at home for the next seven days,' he said. Whitty added: "I will be continuing to advise the Government on the medical response to Coronavirus, supported by my deputies." It was not made clear whether Whitty had actually been tested for the virus.
It was also confirmed on the same day that Health Secretary Matt Hancock had tested positive for COVID-19. Hancock tweeted: "Following medical advice, I was advised to test for Coronavirus. I've tested positive. Thankfully my symptoms are mild and I'm working from home & self-isolating. Vital we follow the advice to protect our NHS & save lives."
As well as reassuring the public that he was following the guidelines issued by the government to minimise the spread of COVID-19, in his March 27 tweet, Johnson thanked members of the public who had signed up to the new NHS volunteer scheme. In the short clip, Johnson also paid tribute to those in the NHS, teachers, police, and public services and said he found it "moving" to join in the Clap For Our Carers celebration on Thursday night. The Prime Minister also reiterated that the public should continue to adhere to the lockdown measures put in place to restrict the spread of the virus. Currently, those in the UK are unable to leave the house except to buy food, help vulnerable people, collect medicine, and exercise.
On April 3, Johnson announced via Twitter that he was carrying on with self isolation as he was continuing to display symptoms, including a high temperature, after the seven-day period. "In accordance with government advice I must continue my self isolation until that symptom itself goes," he said.
Matt Hancock, on the other hand, was able to finish self-isolation on April 2 and return to his work as Health Secretary. As of April 3, we are yet to hear news on Chris Whitty's condition.
Editor's note: This article was updated on April 3 to include new information about the health of Boris Johnson, Matt Hancock, and Chris Whitty.
This article was originally published on