These "Boston Resist" Tweets Are A Powerful Rallying Cry Against The Free Speech Rally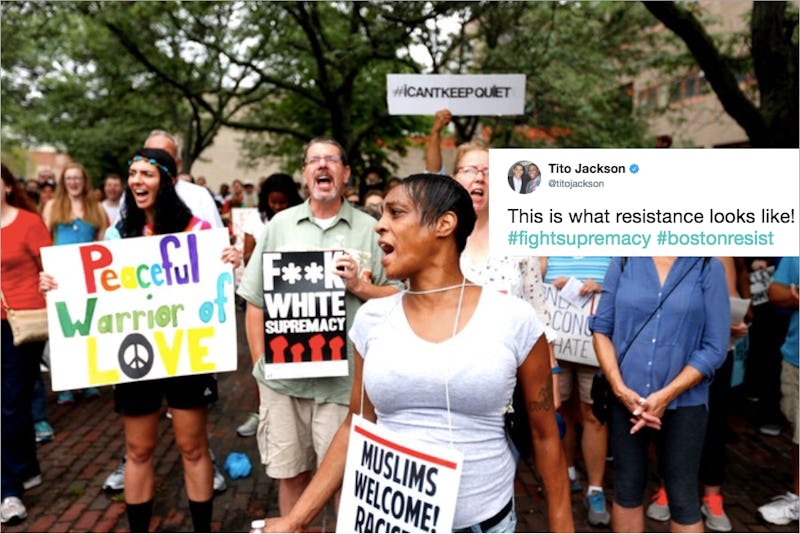 Scott Eisen/Getty Images News/Getty Images
On Saturday, thousands of counter-protesters gathered ahead of a Free Speech Rally in Boston. Many of those attending the Fight Supremacy counter-protest feared the "free speech" rally would incite white supremacist violence similar to what broke out in Charlottesville last weekend. Throughout the morning, anti-racist activists from Antifa, Black Lives Matter and other leftist groups congregated in the Boston Common, far outnumbering those attending the white supremacist rally.
On Friday, the Boston Mayor Marty Walsh urged constituents to stay clear of the Boston Common and the alt-right rally. "They say that interacting with these groups just gives them a platform to spread their message of hate. They recommend that people should not confront these rallies. So we're urging everyone to stay away from the Common," Walsh said, referencing a conversation with The Southern Poverty Law Center.
The turnout on Saturday suggests that concerned Boston didn't take Walsh's advice to remain complacent, which has resulted in a large peaceful gathering of Fight Supremacy protesters far outshadowing the white supremacists. This serves as an example of safety in numbers, that is -- when the numbers are in favor of the anti-racist resisters.
Unsurprisingly, the internet is already flooding with "Boston Resist" tweets both from those on the scene, and people expressing solidarity from afar.
When The Counter-Protest Far Outnumbers The Rally
When A Last Minute Protest Outnumbers The Inauguration Crowd
You Can Barely Spot The White Supremacists
Listen To Black Women
An Endless And Peaceful Gathering
The Stark Contrast Between The Attendance Of The Two Groups
A Parade Of Signs
A Civil War Monument That Doesn't Glorify Racists And Slave Owners
People Protesting On Behalf Of Their Ancestors
Local Restaurant Owners Fight Back
The Inextricable Link Between The Prison Industrial Complex And White Supremacy
The Ever Relevant Desmond Tutu Quote
The Local Churches Standing In Solidarity
The Sign That Perfectly Links The Solar Eclipse To Trump's Impeachment
Cuties With Clever And Creative Signs
Mayor Walsh Showing Up To Support Black Lives Matter Leaders
Teachers Coming Through With The Banner
When Germans Have To Protest Nazis In America
A Pre-School Teacher Armed With Glitter
Church Attendees Worship In Preparation For the Protest
The Dangerous Euphemism Of Calling It A "Free Speech" Rally
A Live-Painting Of A Protest Sign
A Clergy Instructing His Congregation To Take Action
It's safe to assume that as the day progresses, the #BostonResist hashtag will continue to fill up with photos and reports live from Boston.