Bow's Major Life Decision On 'black-ish' Is No One Else's Business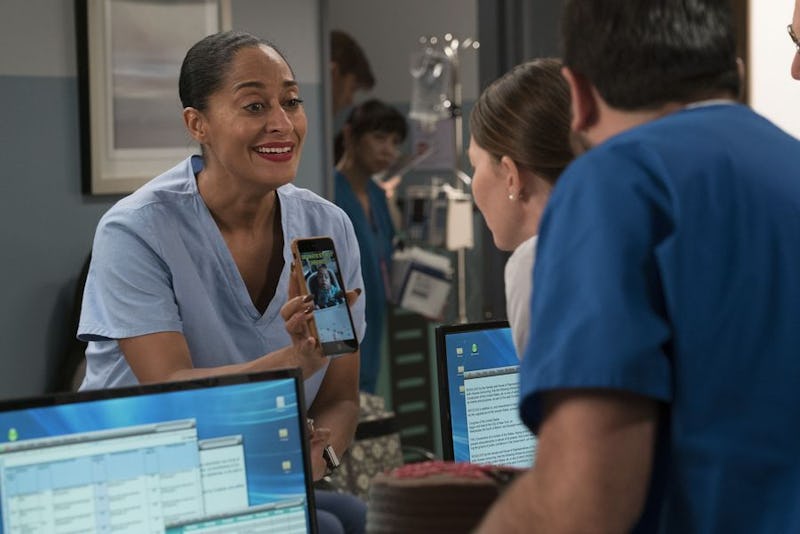 Byron Cohen/ABC
After experiencing postpartum depression, Bow goes back to work on black-ish in the Jan. 2 episode. But her choice is not as simple as it seems. Because while Dr. Rainbow Johnson defines herself through her work, she ultimately decides that right now, she'd rather take a little extra time and be a stay-at-home mom. Throughout the show, Bow has always been passionate about her career, and at times has struggled with being a working mom, even as an upper-middle-class one. The choice to hire a nanny, her struggle to participate in after school activities, and even how the kids are being raised have all challenged the Johnson matriarch.
Honestly, it's no surprise that the rest of Dre's office say that they would happily take time off from work given that all they do is sit around and talk about Dre's life all day. His coworkers suggest that Dre encourage Bow to stay home for a little longer. Meanwhile, at the hospital, Bow's crew loves working together so much they've already formed new inside jokes since she went on maternity leave, and her transition back into the group is rocky because she struggles to be honest about her conflict. Obviously, Bow loves being a doctor, but she's feeling obligated to go back to work, not motivated. Dre's solution is simple: she should put it off and let him make the money. But that just makes Bow even more sure that after a tough first day, she should get back on the horse.
And with her new confidence, Bow's second day at work is perfect — until she comes home and realizes that she's missed more milestones at home with the kids, including Zoey moving out (and onto her spinoff series, grown-ish, which premieres on Freeform Jan. 3). Ultimately, that leads Bow to decide to extend her maternity leave and stay home indefinitely. Presumably, this is because what she's missing at home is more important to her than what's going on at work. DeVante's first time eating Cheerios can't be replaced, but she can always catch up with what makes a Schmitty a Schmitty after a few bonding sessions with her coworkers.
And it's also worthwhile for the show to demonstrate that parents with more than one child can choose different choices. The Bow who eagerly went back to work when the twins were babies was in a totally different place than this one. And I don't just mean emotionally. She may have been at a more crucial career juncture then, which was more attractive than the prospect of staying home. And earlier this season, Bow mentioned that the postpartum depression wasn't an issue she'd dealt with before, so staying home could be a way to take better care of herself and make sure she's emotionally healthy first and foremost. Catching up at the hospital literally takes two days. Catching up with her loved ones might not be so easy at this point, with so much change happening to the Johnson family.
But if there's a problem with the episode's conclusion, it's that Bow's decision is framed unnecessarily with the rest of the family's happy reactions. Junior is excited to spend more time with his best friend; the twins want Bow to do their homework, and Dre... well, Dre can't really decide why he wants Bow to stay home so much. He likes the idea of having a stay-at-home parent and the feeling of being able to take care of Bow if she needs him to. But that final decision should have been shown entirely from Bow's point of view. While she's also doing what's best for her family, they've been fine with both realities. This is about how Bow wants to live her own life.