Bow Has To Hide Her Pregnancy On 'black-ish'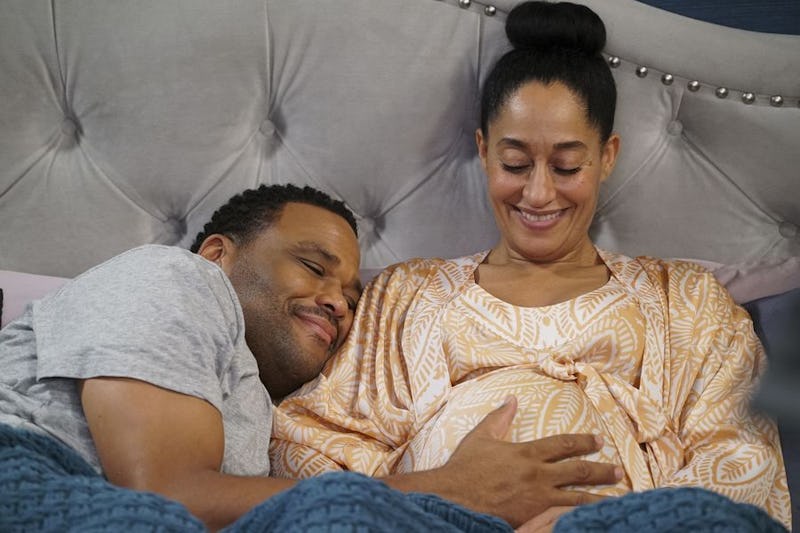 Ron Tom/ABC
Rainbow Johnson is probably my favorite character on black-ish, because Tracee Ellis Ross has been able to imbue her with both intelligence and a wildly goofy sense of physical comedy. She's also, at this stage, incredibly, visibly pregnant. But despite being incredibly accomplished and smart, Bow has to hide her pregnancy in order to be considered more seriously for a big promotion (to a healthcare partner that's basically treated the same as a law firm partner). Yes, she's been able to succeed while also being a mom of four, but she feels like she's constantly being compared to younger coworkers who don't have the same commitments.
As usual, Dre's workplace is a Greek chorus of male chauvinism, regaling tales about how useless it is for men to even contribute to childcare, let alone take time off from work to be with their kids full time, even temporarily. Even in a privileged family like the Johnsons, with a plethora of alternate childcare options, like Dre's parents and a nanny, Dre never considered taking paternity leave. But after realizing that spending extra time with Zoey when she was an infant resulted in his clear favorite out of his kids, he decides to take some paternity leave — until he realizes that his work is moving quickly to overlook him. Then, he regresses to the same childish jokes as everyone else (though Charlie steals the scene, as usual).
And Bow's not particularly progressive either. She has to overpromise to her own job in order to fish for that promotion, but reacts with fury when the family's nanny, Vivian, who's also pregnant, delivers literally the exact same speech. But even though Bow recognizes that she's being a hypocrite, she still can't help but be disappointed when she doesn't get her promotion.
But because Bow is the best, and Tracee Ellis Ross can go from sobbing over tiny pickles to an awesome triumphant speech, she acknowledges that her pregnancy might not be the only — or even the main — reason that she didn't get the job, but she does want to be there for other women to make sure they aren't treated differently because of trying to have a family. It's a great way to suggest that not only does she have her own economic privilege to check, she's going to put it to work. black-ish is full of #goals right now, from Dre & Bow's supportive relationship, to Bow's pregnancy style, to the show's ongoing thematic perfection.