This 'black-ish' Episode Is A Game-Changer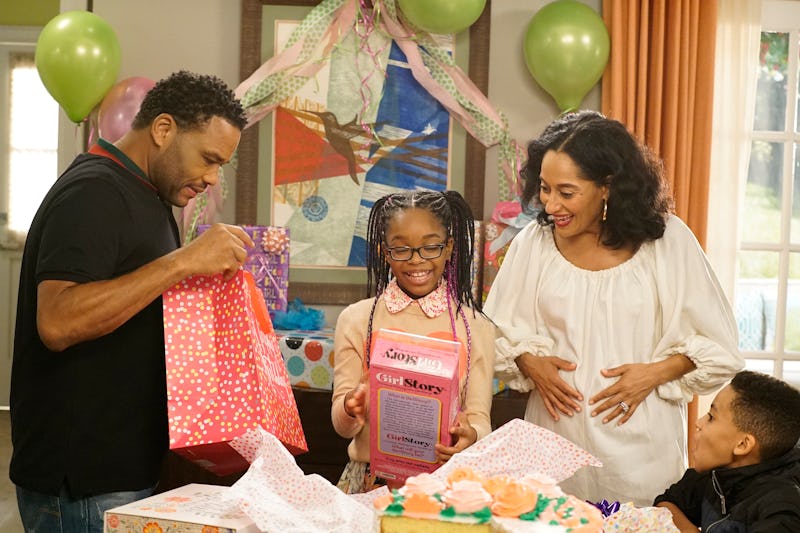 Kelsey McNeal/ABC
Wednesday's black-ish episode begins with Bow looking for a simple solution to a simple problem: After Diane receives a white doll from a neighbor, she decides to exchange it for a black doll, in order to be a better role model for Diane. But things start to go wrong when Bow and Diane arrive at the mall, only to see that the only black dolls were an escaped slave and a Civil Rights protestor. Thus begins a surprisingly nuanced exploration on black-ish of why diverse representation matters that actually goes beyond just needing, vaguely, more of it. There are several black dolls available in the store, so there is representation. That's not the end of the issue.
What gets Bow so incensed is that, particularly as a successful female doctor, there are no dolls — and for the purposes of the episode, no other images — of a black, female doctor to show her daughter (I guess Doc McStuffins doesn't exist in this universe). Bow is looking for representation that isn't exclusively determined by struggle — and a struggle that's often viewed through a white lens, or a white perspective, like The Help, a story about Civil Rights that's told through a white character. Ultimately, Bow's protest doesn't result in the reveal that there's a secret, better black doll available at the mall — only the devotion from Bow to look for other, better things to show her daughter, and another gift: Some shiny new nunchucks.
But where this episode really shows it has a great understanding of the power of representation is during Dre's conflict at work. He takes the time to stand up against an ad campaign that he thinks is too white, but when he recasts it with a black family, he's called out for his own colorism, the preference of lighter-skinned people of color to darker-skinned ones. It's even a bit of a meta moment. After all, the black-ish cast definitely leans towards the lighter end of the spectrum. Not to say I'd replace a single member of the cast, since they all have a hilarious chemistry together, but despite what Dre might think of Lupita Nyong'o, a young girl who looks like her might not feel particularly represented by watching the series. To hear the series actually address its own shortcomings, albeit in an indirect, meta kind of way, shows that black-ish really is devoted to making things better.
Again, this storyline doesn't have a neat ending, even though, puzzlingly, I feel like there was a pretty pat resolution available — an ad campaign that mixes the white family, the "DeBarges," and the African family together to represent all three families to show that anyone can fit into the company's image. But the show doesn't pretend that it's easy for even Dre to overcome his issues, prejudices, and shortcomings, despite already having an understanding of racism.
That's one of the reasons why the reigning Best Picture winner, Moonlight, is so revolutionary. It's a story that doesn't just "represent" black Americans, but actually shows a totally different portrayal than audiences usually get to see in a major film. There are no white characters at all, let alone main characters. And Chrion and Juan are both very dark-skinned, and that's a part of the story. The film actually demonstrates, subtly, through both filmmaking choices and dialogue, that that's one of the reasons why Juan feels so drawn to Chiron, because growing up Cuban, he didn't know many people who looked like him, and felt like an outsider because of it. So when Chiron expresses that he might be queer, Juan is primed to accept him because he knows the struggle of being isolated because of a part of his identity.
The way the connection between Chiron, Juan, Teresa, and Paula makes an unconventional family, the way the film isn't concerned with being culturally legible to white audiences, nor is it concerned with making the queer love story a tragic one in order to fit within other tropes. It actually ends on a hopeful note. Hopefully, there will be more films like this ahead, that are cognizant of forms of prejudice and are able to tell stories other than ones about struggle. Ava DuVernay's multi-cultural retelling of A Wrinkle in Time seems like one, to start.
So yes, it was surprising to see black-ish, indirectly, point out how a film like Moonlight can be more revolutionary than another film about slavery or the Civil Rights Movement. But if any show has shown that it's willing to have these conversations, it's black-ish. I'm just impressed that they managed to work in so much consideration into 22 minutes with plenty of time for a hilarious subplot about Ruby's spades tournament.