Boxed Wine Might Actually Be Better Than Bottled For This Surprising Reason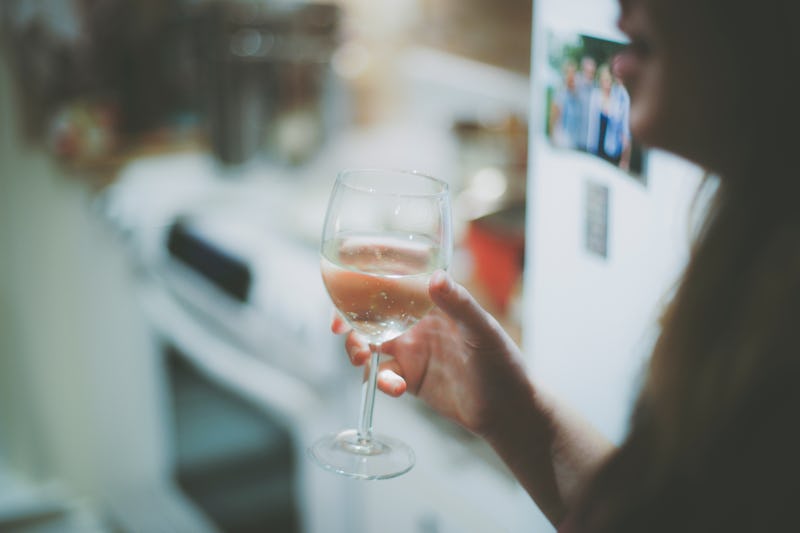 Chris Montgomery/Unsplash
Historically, boxed wine, for one reason or another has gotten a bad rap. Once a permanent fixture amongst mini-fridge-clad college students the world over, frat bros eager to prove their machismo based on who could slap their Franzia bag the hardest in a bonafide game of "bago" or "slap-the-bag" (depending on where you wen't to school), boxed wine was perceived as a low-brow, bro-y beverage designed to be consumed as quickly and effortlessly as possible, irrespective of taste. But, based on this revelation, I'm predicting it's only a matter of time before we see a resurrection in boxed wines: According to HuffPost, who spoke with Kate McManus, the vice president of marketing at Delicato Family Vineyards, boxed wine can actually remain fresher up to six times longer than bottled wine can. More bang for your buck? Can't hate on that.
"Over the years the quality of wines being produced for boxed wines has risen tremendously. Many wine consumers would never guess the wine they are enjoying came from a box," Dallas based wine writer and author of RockinRedBlog.Com Michelle Williams told Bustle. "Box wines definitely have a place in the modern wine consumer market... They provide easy portability, are great for parties, once opened they stay fresh for many weeks without refrigeration, are economical, and they typically require less packaging and energy to produce than bottles."
Whatever you may think of them, one thing to be said about boxed wine is that, they've come a long way in recent years. For the majority of them, the packaging often uses 100 percent recycled materials, making the sustainability factor a major selling point here.
According to the website Reverse Wine Snob there are a number of reasons and contributing factors as to why boxed wine is a great option, the first of which is value. There's more bang for your buck so to speak since you're buying in bulk. For instance a three-liter box is equivalent to four bottles of wine. Kind of amazing.
Other factors, including convenience a.k.a the portability and ease of transport. Longevity is another major boxed wine bonus. Thanks to the technology, the hermetic seal of many of these boxed wines extends the shelf life and can stay fresh for up to four weeks.
In case you'd like to try a few, here are some of the best selling boxed wines on the market today:
Wineberry Chateau Tassin Rosé
Wineberry Chateau Tassin Rose, $40
Not for nothing, but Wineberry's beautiful wooden box design will have even the biggest boxed wine critic think twice. Box aside, the Wineberry Chateau Tassin Rose is Bordeaux blend that happens to be well balanced and delicious at $40 per box.
Bandit NV Cabernet Sauvignon (California)
Banditwines.com, $4 each
Described by WineEnthusiast as "light and earthy," at $4 a pop Bandit's boxed wine's which come in Pinot Grigio, Chardonnay, Merlot and a Red Wine Blend is pretty much a no brainer. Plus they come in super cute eco friendly cartons.
Black Box Chardonnay
BlackBoxWines.com, $20
Consistently ranked as one of the best boxed wines on the market today, Black Box, which produces vintage Merlot, Cabernet Sauvignon, Shiraz and Pinot Grigio, claims that once opened will remain fresh for more than a month. Which is pretty impressive considering the shelf life for most table bottles last anywhere from five to seven days depending on the wine. Black Box's Chardonnay is one of it's top sellers, and with hints of pineapple, citrus blossom and sugar cookie you really can't go wrong.
Domaine De La Patience "From The Tank" Rosé
JennyandFrancois.com, $25.99 to $39.99
Rose is officially the wine of choice this summer and this dry boxed rose from Rhône in the south of France was no exception. Made from 80 percent Grenache and 20 percent Syrah, Domaine De La Patience Rosé is described as 'not too sweet and the perfect refreshing on a hot summer day and a great value for the money at $38 for a three-liter box.
The Naked Grape
Thenakedgrapewine.com, $4.99
With a "stay fresh" guarantee for 30 days, The Naked Grape's boxed wine's are consistently ranked with a Gold metal status making them among the best in their category.
La Petite Frog Picpoul de Pinet
Totalwine.com, $29.99
This delicate, light, and citrusy white is consistently ranked one of the best white wine's and at $24 per three-liter box, a steal as well.