Hot Cocoa Candy Canes Just Combined Your Two Fave Holiday Treats In One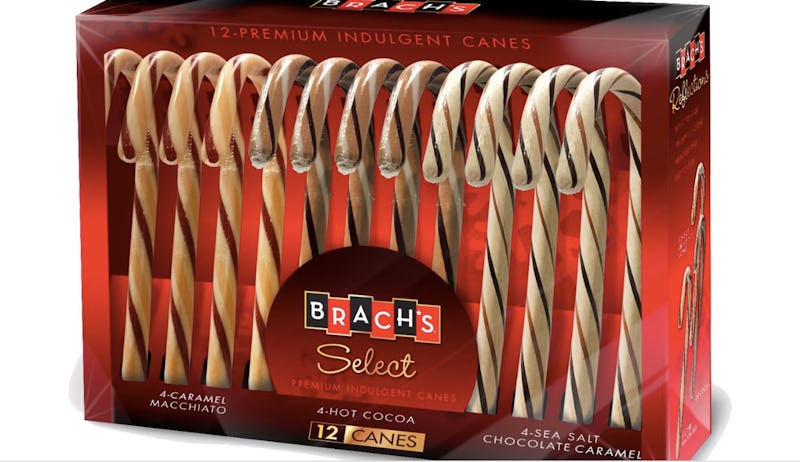 Amazon
Candy canes are a perfect example of a treat that has always been there, but nobody really asked for. During high school, low-priced candy cane grams might have been a way for students to raise money for events like prom or student council — just ask Regina George. But, in recent years, candy companies have been challenging the notion that candy canes must taste like peppermint. Fruity candy canes are relatively run-of-the-mill, but one of the biggest names in sweet treats has created something extra special to hang on your Christmas tree. Behold: the Hot Cocoa Candy Cane from Brach's.
Chances are you've been eating treats from Brach's for years without even knowing it. The company has been making everyday and season favorites for more than a century (it began in 1904)! The company specializes in gummies and hard candy, and is one of the main producers of candy corn in the fall. When the holiday season rolls around at the end of each year, the focus shifts to festive confections; namely, candy canes. Spotted by Instagrammer ThreeSnackateers, the Hot Cocoa Candy Cane comes in a set of 12 Brach's Select Candy Canes. Included are four Hot Cocoa Candy Canes, four Sea Salt Chocolate Caramel Candy Canes, and four Caramel Macchiato Candy Canes.
The Hot Cocoa Candy Canes are only one variety of the nine candy cane selections advertised on the Brach's website. Each of the Brach's Select Candy Canes is individually wrapped, making them the perfect stocking stuffer, or accessory for a wrapped gift. While @ThreeSnackateers made the crucial spot of these candy canes at Menard's, a midwestern home improvement store, you can also find them on Amazon. Brach's website also indicates its products are carried by Target, CVS, Walmart, and Jet.
Hot cocoa has risen to the top of flavor trends this holiday season. The warm holiday sip is no longer just for your mugs — it's enhancing the flavors of pretty much anything you can think of. A good example of this is the Hot Chocolate Marshmallow Kettle Corn from Angie's BoomChickaPop. Kettle corn is a classic carnival fare made from popcorn cooked with sugar for a crunchy, airy treat lighter than caramel corn. The Hot Cocoa Marshmallow is a reworking of the classic that adds chocolate and marshmallow drizzles to each puffy kernel of pop. The resulting snack is light enough to eat in handfuls, but rich enough to satisfy the most intense cocoa cravings.
Mars is also getting in on the trend with the release of M&M's Hot Cocoa. You might be wondering how M&M's Hot Cocoa is at all different from a regular chocolate M&M. Well, it's good you asked because the two flavors are actually, in fact, very different. The M&M's Hot Cocoa candies are milk chocolate on the outside, and filled with a white chocolate marshmallow-flavored center. Not only does this achieve a perfectly balanced hot cocoa taste, it is a clear departure from the classic M&M's formula.
If you're throwing (or attending) a holiday party this season, consider creating something that will wow the crowds. Melt some chocolate into a thin sheet for peppermint bark, but instead of crumbling regular candy canes on top, add Brach's Hot Cocoa Candy Canes. The addition of some Hot Cocoa Kettle Corn and M&M's Hot Cocoa would also be a nice, unexpected touch.