Hot Cocoa Marshmallow Kettle Corn Is Here For A Limited Time — Here's Where To Find It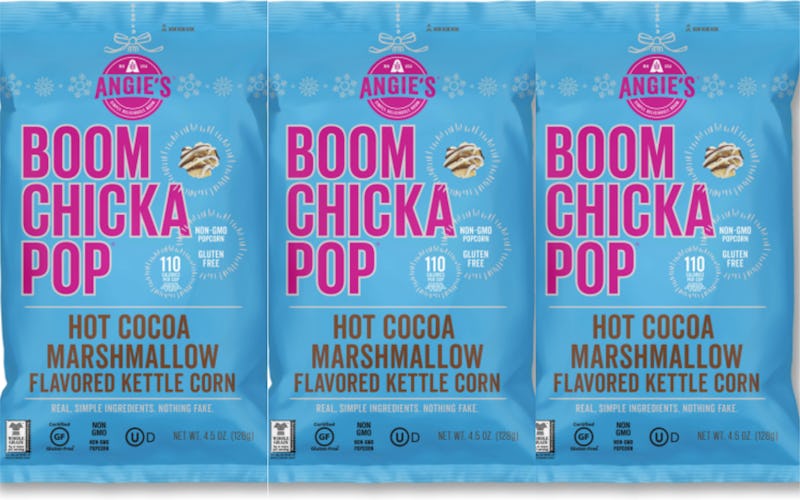 BoomChickaPop
Step aside PSL, the one true tummy-warming beverage of wintertime has returned to its rightful place in your mugs and hearts. While Starbucks' Pumpkin Spice Latte has only been around since the early '90s, evidence suggests hot cocoa has been around for 3,000 to 4,000 years. It might be seen as a sweet treat now, but hot cocoa has a history as an energy-fueling drink for the Aztecs.
But, nowadays, traditional drinkable hot chocolate is only the beginning of tasty cocoa treats you can indulge in this time of year. Hot Cocoa Marshmallow Kettle Corn is one of the more intriguing takes on the beverage.
Angie's BoomChickaPop is the responsible for this sweet and festive flavor of popcorn. Traditionally, kettle corn is popcorn made with sugar for a sweet treat that is airier than caramel corn. The Hot Cocoa Marshmallow, but one of a number of special edition holiday varieties of kettle corn, takes the classic and adds chocolate and marshmallow drizzles to each kernel. The result is a snack that maintains the airy, lightness you know and love in popcorn, with an extra layer of richness from a crunchy chocolate and marshmallow drizzle coating each fluffy popcorn puff. At publishing, there are only five reviews of the Hot Chocolate Marshmallow on the the BoomChickaPop website, but all rate it 5/5 stars.
This particular flavor, according to the BoomChickaPop website, is sold in major retailers like Walmart, Safeway, and Kroger. You can find a list of participating retailers here.
Pillsbury has also gotten into the holiday spirit with a focus on Hot Cocoa; the company announced it is rereleasing the popular Pillsbury Grand! Hot Cocoa Rolls again this season.
Pillsbury Grand! Hot Cocoa Rolls are a chocolatey, festive take on a winter morning classic: cinnamon rolls. Classic cinnamon rolls are a plain yeast dough baked and swirled with cinnamon sugar spread throughout the flaky layers. They are typically finished with a thin icing glaze, and perfect for pulling apart. The Pillsbury Grand! Hot Cocoa Rolls are modeled after the stencil of a classic cinnamon roll, so same yeast dough base. But rather than cinnamon sugar spread throughout the layers, hot cocoa-flavored filling assumed the role (heh) of primary flavor. After baking, you can add the included packet of marshmallow icing to finish it it off.
Earlier this year, the blogger and devoted junk foodie behind Junk Food Banter reviewed the item. He said the real winner of the dessert is the icing. "Marshmallow icing is provided in great quantity, and it's killer. The taste isn't that of Swiss Miss mini marshmallows – the kind you're likely to put in your hot chocolate. No, no, Pillsbury summoned something more magical for this cup of cocoa. The icing tastes wonderfully of Lucky Charms marshmallows." If you weren't already entranced by the thought of sinking your teeth into the warm, pastry version of a mug of hot cocoa, this assessment has to convince you to go grab a tube of the rolls.
But, don't forget the Hot Chocolate Marshmallow BoomChickaPop Kettle Corn. You can also mix your pantry up with the addition of BoomChickaPop's other seasonal flavors: Frosted Sugar Cookie; White Chocolate & Peppermint; and Dark Chocolatey Sea Salt. Happy snacking!