Brad Pitt Really, Really Wanted To Watch 'Game Of Thrones' With Emilia Clarke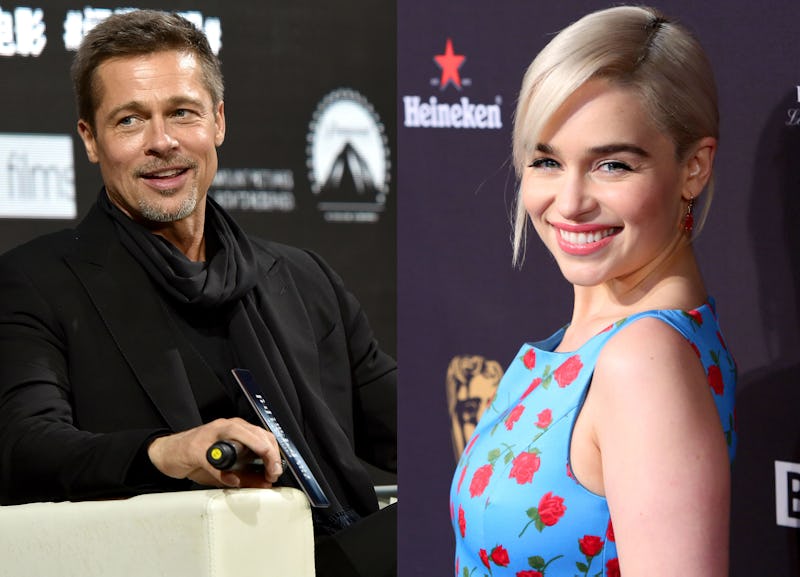 Emmanuel Wong/Getty Images Entertainment/Getty Images; Jesse Grant/Getty Images Entertainment/Getty Images
Fans of HBO's Game of Thrones (writer: Vanessa Taylor) have a long time to wait for Season 8, but there are creative ways of making the time pass. Some choose to visit the Game of Thrones hotel in Finland, while others are shelling out the big bucks just to watch an episode with Daenerys Stormborn herself. Seriously, Brad Pitt bid $120,000 to watch Game of Thrones with Emilia Clarke, according to Variety. And he didn't even win! That's about as heartbreaking as any one episode of GoT.
On Saturday, Jan. 6, Sean Penn's annual fundraiser for Haiti took place in L.A. The opening bid for a chance to watch an episode of Game of Thrones with Khaleesi herself was $20,000, but it escalated quickly. As stated in Variety, Pitt was so eager to win that he even outbid himself; his $80,000 bid jumped up to $90,000 just because. When he found out that actor Kit Harington had offered to sit in on the episode screening too, the actor immediately upped his bid to $120,000. That's right — $120,000 just to watch an episode of Game of Thrones with Jon Snow and his aunt Daenerys. Doesn't he know Seth Meyers has done this for free on his late night TV show? Ultimately, Pitt was outbid by an unnamed attendee, who won the lot with an offer of $160,000. So, for $160,000, that person won the chance to watch an episode of GoT (casting: Carla Stronge) with two of its stars, and bragging rights that he outbid Brad Pitt to do it.
The story of how the outrageous bids came to pass is just as good, as reported by Variety. After watching the interest in the offer skyrocket, an attendee jokingly called out "Is the King in the North here?", but Harington was reportedly in the bathroom at the time. Variety reports that when Harington returned, and saw the bids were reaching close to $100,000, he announced he'd sit in on the episode viewing too. Now, neither Clarke nor Harrington were specific about which episode it would be — to really get your money's worth, one of the Season 7 episodes would be ideal, or the supposedly 90-minute-long episodes of Season 8 — but if you're a GoT fan with cash to burn, why wouldn't you get crazy with it? Per Variety, Harington adding himself to the lot (perhaps without clearing it with Clarke, who was also attending the gala) is what caused Pitt to substantially increase his offer. So, is Brad Pitt the biggest Game of Thrones fan alive, or does he just really love Jon Snow and Dany? Possibly, probably, both.
Neither Harington nor Clarke publicly commented about the gala. Finding out Brad Pitt loves you enough to donate that much money just to spend an hour hanging out with you has to be a surprise, though, right? Pitt has enough, but one of the actors should probably offer to watch something with him just because. Since his divorce from Angelina Jolie, he hasn't been officially linked to anyone. He and Jolie share custody of their children. It's possible that he doesn't even have a regular Game of Thrones viewing party to attend or is looking for some new friends to enjoy the show with — cast members of the HBO series included.
While the person who ultimately outbid Pitt remains a mystery, there were dozens of A-list stars present at the gala. It's fun to imagine that someone like Arnold Schwarzenegger, Leonardo DiCaprio, Connie Britton, or Jason Segel beat Pitt to the punch. With money like that, though, booking a few nights at the Finnish Game of Thrones hotel doesn't seem like such a bad consolation prize.