Here's What 'Breaking Bad' Star Aaron Paul Thinks Jesse Pinkman Is Doing Now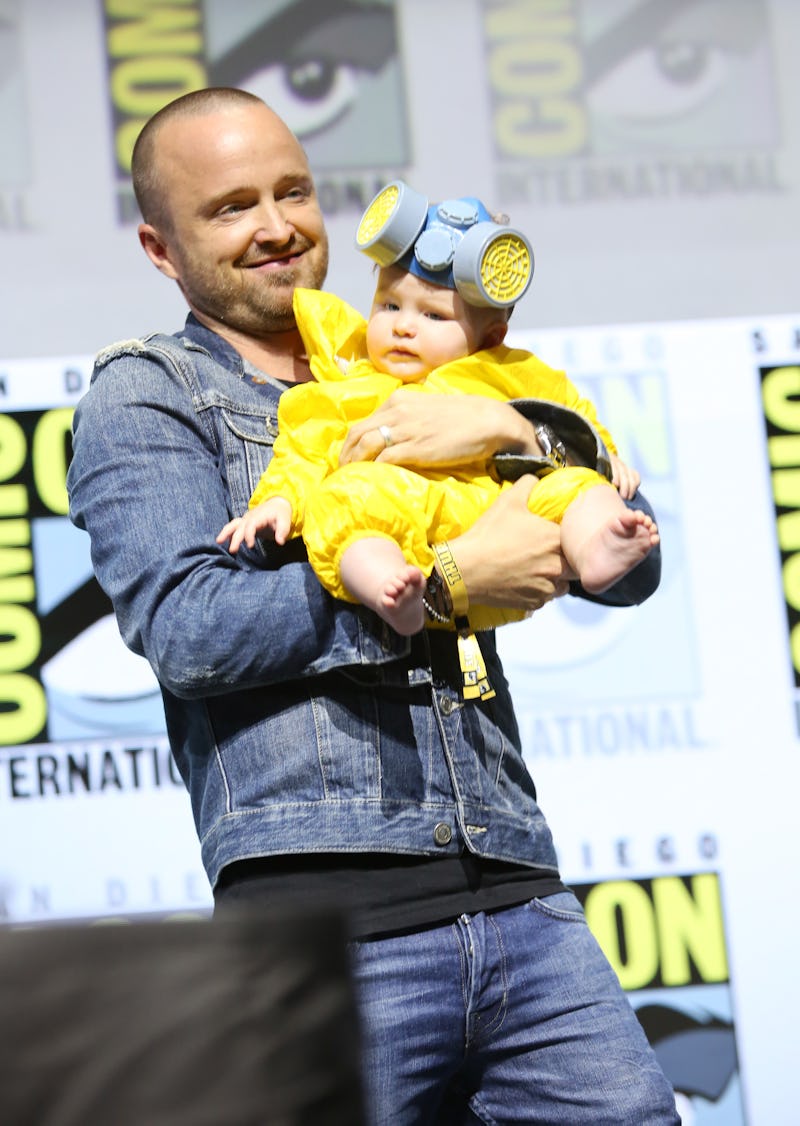 Jesse Grant/Getty Images Entertainment/Getty Images
Jesse Pinkman was never supposed to become a fan favorite. Aaron Paul's Breaking Bad character was actually supposed to be killed off in Season 1, according to an interview Vince Gilligan gave to PaleyFest in 2011. But, Gilligan was so blown away by Paul's acting that he changed his mind by Episode 2, and Jesse made it through all five seasons. Now that Breaking Bad has been off the air since 2013, fans miss Paul and his iconic role more than ever. Fortunately for them, Aaron Paul wants to play Jesse again in a Breaking Bad prequel or sequel or spinoff. Basically however he'll take what he can get if it's done well and makes sense.
Paul told Entertainment Weekly in an interview published in June that he was totally game to show up in the Breaking Bad spinoff/prequel Better Call Saul if Gilligan wanted him.
"If Vince decided to put Jesse in Better Call Saul, it's going to be for a reason, and that reason's going to be very satisfying for me. I trust in Vince. I don't think he would just do that to satisfy the fans. It would have a purpose, and whether or not he decides to find that purpose or searches for the purpose, I don't know. But if he does find that purpose, I'm happy to jump on board."
Then, at a Comic Con panel on July 20, Paul again expressed interest at re-appearing as his beloved character. "I love Jesse. I love that guy so much. I miss him," Paul said, according to USA Today's coverage of the panel. The good news is that Gilligan knows the fans miss him just as much.
He teased the Comic Con audience saying, "I would suspect we'd be sorely remiss if [Jesse and Walter White] didn't appear on [Better Call Saul] before it ended." He specified that it wouldn't be this season, but perhaps later down the line.
Gilligan then added that any Breaking Bad characters could easily "have their own spinoff." Paul cut in to quickly say, "You're saying there's a chance?" to which Gilligan responded, "Anything's possible."
Even if fans don't get a chance to see Jesse on their TV screens again, Paul told me while doing press for his movie The 9th Life of Louis Drax that he'd already imagined an ending for Jesse in his own head.
"He's definitely hiding out somewhere. He's not living the life of luxury anywhere. He has no money, he's on the run, [the police are] searching for him," Paul said, referencing Jesse's final Breaking Bad scene where he steals a car and speeds away from the rival drug dealer hideout where he'd been imprisoned and tortured. "I mean, there's dead men all around where all his fingerprints were," he added.
While that's probably a more realistic ending for Jesse, Paul has also imagined a more positive scenario. "I like to think of him living in some small little mountain town in Alaska, [as] a carpenter, maybe." Then he added, "I don't know, but he's badly scarred emotionally and physically."
Come on, Paul, let us have one nice thought! But, considering that Paul played Jesse for so many years and says that "[Jesse's] very much a part of who [Paul is]," he probably knows best when it comes to what Jesse's future looks like. As for the past? Well that's up to Gilligan to decide if he wants to bring Jesse back. But Paul told me, in classic slightly gory Jesse form, that he "would love to zip on that skin again." And this is the only time fans will likely ever cheer for a sentiment phrased like that.