Fashion & Beauty Items That Actually Donate 100 Percent Of Profits To Breast Cancer Charities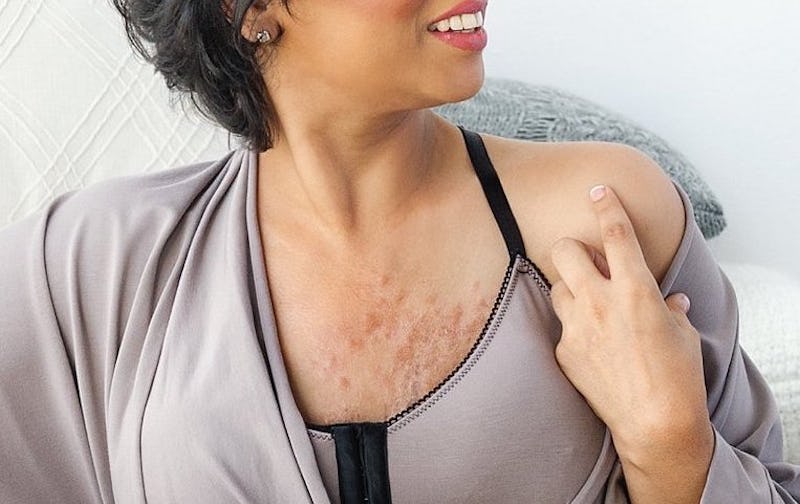 AnaOno
In case you haven't already seen the splashes of pink popping up everywhere, October is Breast Cancer Awareness Month. That means a ton of company's will be debuting pink products, many with a charitable promise. But how do you find the best pink items to invest in for a cause? Well, there's one main indicator that's most important to take into account — the amount of money that goes toward charity. And a reputable charity, at that.
Hearing that brands are giving portions of proceeds to charity seems great, but sometimes it's not as great as it seems. That's especially true during Breast Cancer Awareness Month, when tons of brands pull their pinkest products to the front of their websites and vow to give proceeds to charity.
But that, my friends, can be code for pinkwashing — fooling people into thinking a pink product does good, when really it's just about the sale. Of course, not every company is out to selfishly get your money. But not all brands are as devoted to the cause as they claim.
The term "pinkwashing" was coined by activist group Breast Cancer Action, and refers to a company or organization that promotes a pink ribbon product, but at the same time produces, manufactures, or sells products that are linked to the disease. It has expanded to also include businesses that use pink ribbon products to benefit their bottom line more than the cause, often donating minuscule percentages to charity while pocketing the rest
According to Think Before You Pink, you should always look to see how much of profits are donated and where exactly those profits are going. In reality, only a handful of organizations donate all proceeds from pink ribbon products to reputable organizations. Others may donate from 20 to 50 percent, with some only vowing to donate $1 (or less) of sales. Some brands even cap off their donations at a certain amount — and often don't tell you when that amount has been reached.
Pinkwashing is real but you can avoid it. If you're going to stock up on pink items in honor of Breast Cancer Awareness Month, let those items be the best of the best. These brands are giving 100 percent of proceeds to trusted breast cancer awareness foundations in October.
Limited Edition Aerie Supports Tee, $24.95, aerie.com
Aerie is teaming up cancer nonprofit Bright Pink to create a limited edition shirt that donates every single cent to the organization. The brand will also train their college ambassadors to spread awareness on how to stay up-to-date with your health.
2. CFDA x Vogue
Vogue-Designed FNO Fashion Targets Breast Cancer CFDA Tote, $50, qvc.com
Vogue, the Council of Fashion Designers of America Foundation (CFDA), the City of New York, and NYC & Company came together to create this bag, which gives all proceeds to Fashion Targets Breast Cancer — the charitable initiative of the CFDA. They'll be pledging a minimum of $10,000 to the cause, according to the website.
Magic Mitt, $15, janeiridale.com
All of the profits from the reusable makeup remover will be donated to Living Beyond Breast Cancer. Not to mention you'll be helping the environment by using the product as well.
Brown Lift Perfecting Liner, $22, studio10.com
For every brow pencil sold, another one will be donated to Look Good Feel Better. The organization is dedicated to improving the quality of life and self-esteem of people undergoing cancer treatment by teaching them makeup tips and tricks.
5. Anaono
Sandi Front Closure Post-Op Bra, $58, anaono.com
This brand was started by a breast cancer survivor and donates five percent of yearly sales to Jill's Wish and Living Beyond Breast Cancer. They have a selection of post-operation and standard bras to cater to all women.
Women's Cleveland Browns New Era Heather Gray 2016 Breast Cancer Awareness, $25.99, nflshop.com
Even the NFL is getting in on the charitable giving. All proceeds from their pink breast cancer awareness apparel will be donated to the American Cancer Society, according to their website.
7. Missoni x J.Lo
According to InStyle, Missoni and Jennifer Lopez are teaming up for a shirt collab that donates all proceeds to the Women's Cancer Research Fund. The shirt will be available Oct. 1 on the Saks Fifth Avenue website.
Louise Listening Post-Double Mastectomy Bra, $125, stellamcartney.com
This one is a pricey and very specific buy, but it donates all proceeds nonetheless. All $125 of this gorgeous double mastectomy bra will go towards the Hello Beautiful Foundation — a London-based cancer charity founded by breast cancer survivor Jane Hutchison.
According to InStyle, Fabletics will be creating a capsule collection with all proceeds going towards Fashion Targets Breast Cancer.
Mami Martha Polish, $8.50, klpolish.com
Despite the YouTuber's recent controversy, Kathleen Fuentes, aka KathleenLights, created a nail polish is honor of her grandmother that passed away from breast cancer. All proceeds from the nail color go towards the Breast Cancer Research Foundation.
Swarovski Brilliance Jolie, $1,500, swellbottle.com
This water bottle is covered in crystals for a good cause. The accessories has over 6,000 crystals on it and will give every cent of the high-cost items to the Breast Cancer Research Foundation.
12. Thrive Causemetics
Pretty In Pink Color Set, $74, thrivecausemetics.com
For every purchase of this makeup collection, the brand will donate to a woman "a woman thriving through cancer or domestic violence." According to their website, the brand hand-delivers the products to local hospitals and events around the world.
Love Beauty Fully All Over Powder Brush #211, $40, ulta.com
For every brush purchased in the Love Beauty Fully Collection, the brand will donate one to the Look Good, Feel Better program. The brushes are available exclusively at Ulta.
Awareness Miniclat Awareness Bracelet, $13.99, rastaclat.com
Every single cent from this bracelet purchase goes towards the Keep a Breast Foundation. It's available in mini and classic, so everyone can get involved.
Dusty Rose Girlfriend Collective Mid-Rise Leggings, $58, girlfriendcollective.com
The brand is giving all profits from their limited edition Dusty Rose Collection to the Breast Cancer Research Foundation from now through the end of October. Some of the items are already sold out, so shop while you can!
More to come...