Brett Kavanaugh's Fox Interview On The Assault Allegations Got Unexpectedly Personal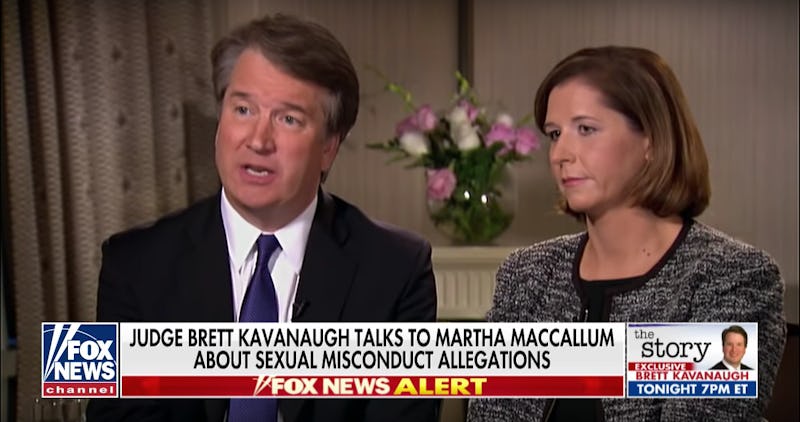 Fox News
Facing sexual misconduct allegations from two women, Trump's SCOTUS nominee sat down with Fox News' Martha MacCallum on Monday evening to defend himself. But Brett Kavanaugh's Fox interview on the assault allegations turned unexpectedly personal pretty quickly. In addition to sharing that he was a virgin at the time Dr. Christine Blasey Ford alleged he assaulted her, Kavanaugh and his wife also discussed how the process is affecting their children.
During the interview, MacCallum presents Kavanaugh with an excerpt from an email from Stormy Daniels' attorney Michael Avenatti. The email says Avenatti has "significant evidence of multiple house parties" in which Kavanaugh and others allegedly took advantage of women in the 1980s. In Kavanaugh's response to the question, he denies each allegation again and shares that he never had sex in high school.
Here is part of the interview that aired:
Kavanaugh: We're talking about an allegation of sexual assault. I've never sexually assaulted anyone. I did not have sexual intercourse or anything close to sexual intercourse in high school or for many years thereafter. And the girls from the schools I went to and I were friends —
MacCallum continued to press, asking, "So you're saying through all these years that were in question you were a virgin?" After Kavanaugh said yes, she asked how many years he remained a virgin after high school was over. "Many years, many years after," Kavanaugh explained. "I'll leave it at that, many years after." It's worth noting that neither Ford nor Ramirez claimed any sexual intercourse happened.
Kavanaugh's wife, Ashley Kavanaugh, sat next to the SCOTUS nominee throughout the interview. At one point, MacCallum directed a question toward her, asking her thoughts on the allegations.
"I truly — I don't understand it. I know Brett. I know who he is," said Ashley, adding that she does not know what happened to Ford, but that she feels badly for her family through this process.
"It's very difficult. It's very difficult to have these conversations with your children, which we've had to have [in] some broader terms for our youngest," Ashley said. "But they know Brett. And they know the truth. And we told them at the very beginning of this process this will be not fun sometimes. You're going to hear things that, people feel strongly, and you need to know that. And just remember you know your dad."
Ford claimed that during her high school years, Kavanaugh, along with another Georgetown Prep student at the time, cornered her in a room at a party. She accused Kavanaugh of pinning her down on a bed and covering her mouth so she could not make noise as he tried to remove her clothing.
Separately, Deborah Ramirez, Kavanaugh's former classmate at Yale, has also come forward with a sexual misconduct allegation. Ramirez claimed that Kavanaugh exposed himself to her during a dorm room party and detailed the alleged incident in a New Yorker article.
Kavanaugh has categorically denied both accusations and said so during his Fox News interview.
"No," Kavanaugh said on Monday. "I had never sexually assaulted anyone, not in high school, not ever. I've always treated women with dignity and respect."