This 'Below Deck' Star Teases That Season 5 Has The "Most Eccentric Crew Yet"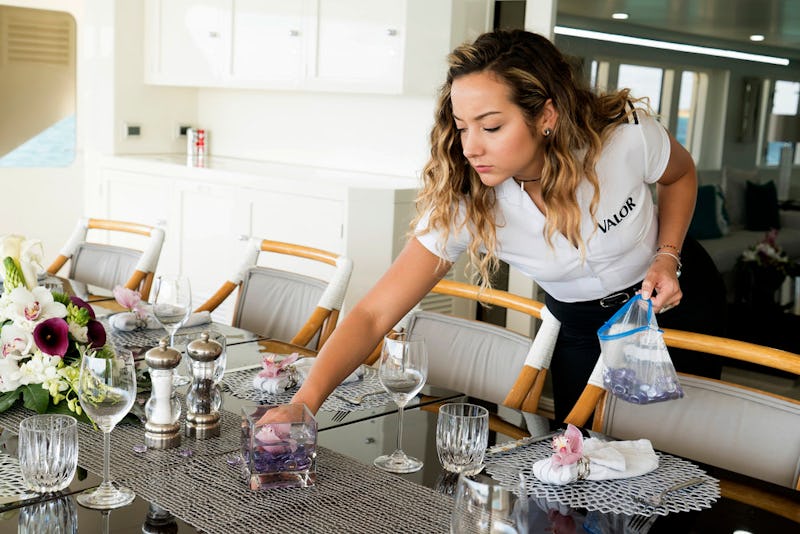 Virginia Sherwood/Bravo
A new season of Below Deck is upon us, and it promises to be another entertaining adventure on the high seas, with a lot of new people joining the cast to form a crew that's an interesting mix of experienced and totally green. Brand new stew Brianna Adekeye will be added to Kate Chastain's interior crew with Jen Howell, while there will also be new members of the deck crew joining senior deckhand and aspiring bosun Nico Scholly. So, who is Brianna on Below Deck? If you're thinking she seems like a slightly familiar addition to the cast, that might be because like Season 3's Rocky, Brianna is a curly-haired big personality.
And while the similarities mostly stop there, like Rocky, Brianna is called a "free spirit" in her Bravo bio, suggesting that she may not love the constant drudgery of being a third steward. Every season of Below Deck (and Below Deck Med) always has the same story: The third stew spends most of their time doing laundry, and all of that time in a cramped, lonely room gives them cabin fever. We'll see how Brianna deals with laundry-related stress, and whether she reacts with a song, the same way Rocky did. But until then, let's see what else there is to know about Below Deck's newest cast member.
She Joined Yachting On A Whim
According to Brianna's Bravo bio, she decided to work on yachts "after going on a 'booze cruise' in Marina del Ray three years ago while on vacation." Ever since that experience, her bio says, she's wanted to work as a steward. But it also looks like she loves the beach and is a surfer, too, so her love of the ocean runs deep.
She's Single
Every season, the crew on Below Deck can't help but hook up — spending hours and hours together in close quarters will do that. And according to a Bravo clip, Brianna is single, and so are most of her crewmates. There's a chance Captain Lee will be dealing with a lot of fraternization between his employees this season.
But She Has "History" On The Boat
Brianna may be joining the season as a single lady, but, according to Bravo, Brianna and Nico have some history between them. That could turn out to be exciting — was it a hookup? Will they get together? — or it could be a lesson about why you should be careful in such a small industry. You may have to work with/costar on a reality show with someone you didn't want to see again.
She Hasn't Discovered A Love Of Live-Tweeting Yet
Brianna has a Twitter account, but she's yet to send out any tweets for her followers. Maybe she's just waiting until Below Deck starts, or maybe she's just more interested in observing than participating, at least right now. But keep an eye on that account, because she may be spilling some secrets soon.
But Check Out Her Facebook & Instagram
Brianna has been happily sharing a look behind the cameras on her Facebook page and Instagram account, and it looks like she took to reality TV quite easily. She certainly doesn't seem awkward about being in front of the camera.
She Promises To Be Entertaining
In this Instagram post caption she wrote, "Hope everyone is ready for the most eccentric crew yet!" And a free spirited surfer can always be an exciting addition to the mix.
If Branna can balance her love of surfing and the ocean with all of the strict rules and regulations that come with being a yachtie, then she should be a fantastic addition to the Valor's crew... and if her love of fun supersedes her responsibilities, then she'll at the very least be a fantastic addition to the Below Deck cast.