This Transgender Candidate Just Won Her Race & Made History In Colorado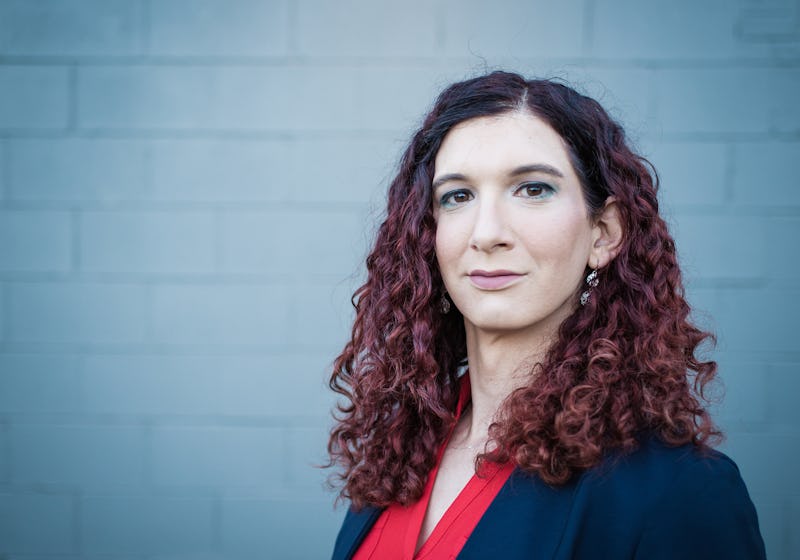 Brianna for Colorado
The Rainbow Wave keeps rolling on in as races across the country are called in favor of LGBTQ candidates. One of the latest winners is Brianna Titone, who made history as Colorado's first transgender state representative ever elected. The Democrat flipped her district from red to blue, and received a concession call from her opponent on Saturday.
While out knocking doors, Titone tried to keep her race focused on the issues — and less on her gender identity and expression. But after winning election by about 400 votes, she did acknowledge the win was a pretty big deal for the acceptance and representation of transgender people in Colorado — and across the country.
"It's significant in the fact that we're really trying to further acceptance and equality for people like me," Titone told Colorado Public Radio. "With the federal government trying to put people like me under their foot, this is a really significant win."
Even though Titone said she tried to stick to the issues, she told FOX31 Denver that a few people said mean things while she was out knocking doors. "Being out as trans gives people carte blanche to say, 'I discriminate against you because you're different,'" Titone told the TV channel. "That's really the big distinction about being an openly trans person running for office, because I'm really putting myself out there with that vulnerability."
Putting herself out there was also how she won. Titone told The Daily Beast that Virginia state Delegate Danica Roem was a big inspiration since she was the "authority" — the only other trans candidate to ever have won a race for state legislature (Titone and another two women in New Hampshire will now join her). Roem's advice to candidates is to knock on doors.
"My voice is not very feminine," Titone told The Daily Beast. "It's difficult talking to people on the phone more than anything. But at the door, I have an appearance that's very feminine and people don't really respond negatively." And, boy, did she knock on a lot of doors. She told The Daily Beast her campaign hit 32,000 doors over the course of the race.
The district she won was seen as leaning Republican, which made outreach even more important, Titone told The Colorado Sun. The key goal: winning over persuasive voters. "We had a good message of doing the work of the people and many of my qualifications — work experience — and stances on issues were responsive to the middle of the road voters, especially those that felt disenfranchised," Titone told the paper.
Titone reiterated that understanding the needs of her voters, and the conversations that made that possible, was the key to winning. "This election was never about me," she told The Colorado Sun. "Regardless of your affiliation, you want a hard working, accountable, transparent and available representative, and I showed the voters that is what I intend to be for them. That's how you win in a tough district."
Titone's already studying up to better serve her district. She said she hopes that helps expand her margin more in the next race; she'd like to win by more than 400 in 2020.