Why Brie Larson Feels Bizarrely Connected To A Movie About Unicorns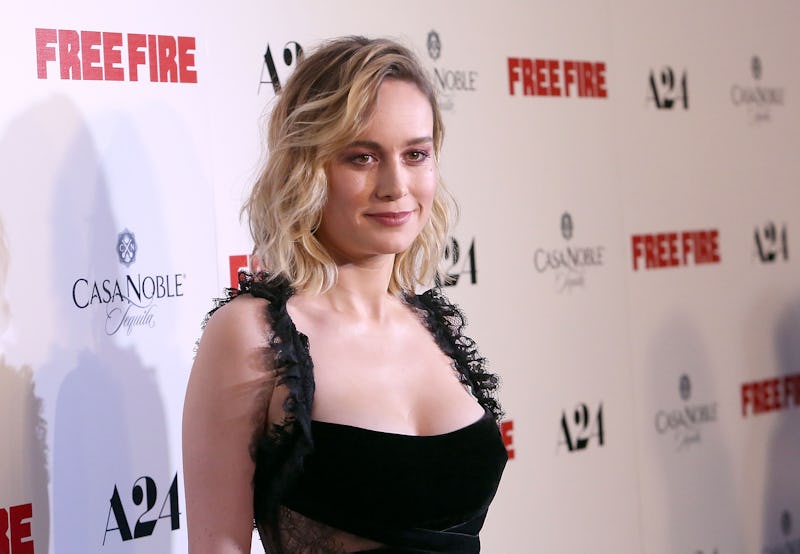 Jesse Grant/Getty Images Entertainment/Getty Images
Not only is it a total boss move that Brie Larson is directing her first film at only 27-years-old, but on top of it, she chose a film that has personal significance to her. The quirky comedy Unicorn Store will debut at the Toronto Film Festival in September, and Larson told Variety about why she sees so much of herself, and her insecurities, in a story about a unicorn.
Unicorn Store tells the story of Kit (Larson), who follows bizarre, magical cues to "the Store" which will grant her a unicorn (her childhood dream) under one condition: She must prove she's worthy. The premise may be a little wild, but identifying so profoundly with the protagonist may be just what Larson needs to knock her debut out of the park.
"This film is such a weird, abstract portrait of myself. In a way, I feel like this is the most vulnerable I've been," the actor said. Like Larson, Kit is also an artist, but one who was kicked out of art school before taking a job at a temp agency. Larson explained that her real-life unicorn was the seemingly unattainable task of making it in Hollywood. After getting so many rejections and still trying, it made her "feel a little crazy," just like someone going after a unicorn. The actor, who won the Oscar for Room two years ago, knows that unicorns aren't so out-of-reach after all.
But to be successful in her journey, she must accept herself. Larson says it will hopefully, "inspire others to keep going on their path, whatever their unicorn is." Kit's authenticity could be the only key to her unicorn-bearing victory. This is an idea Larson also grapples with in real life.
"This quirky, fun, lighthearted comedy has a metaphor underneath it... about being yourself," she explained. "And sometimes that's too much for people." Unicorn Store seems to be coming at a perfect time, not only for Larson, but for audiences. Hopefully, the comedy will provide characters and themes the audience will be enlightened and moved by.
Because the story is somewhat personal, it's understandable why Larson would have mixed feelings about unveiling it. "I'm excited to be sharing it with the world. I'm totally terrified, but I'm also really excited," she explained. Serving as the director and the lead, it's clear Larson poured so much into this. "Here I am as a director, saying here's my voice, here's my first film. It's so emotional and meaningful," she said. "It just feels like another piece of my heart is up for viewing."
While the Oscar winner said acting was also a role of "activism" for her, she sees Unicorn Store as an opportunity to still make change, just in a lighter manner. Escapism with purpose is exactly what the world needs, before of course, her next big and "very good" unicorn, Captain Marvel.