Brie Larson Is A Superhero Onscreen & Off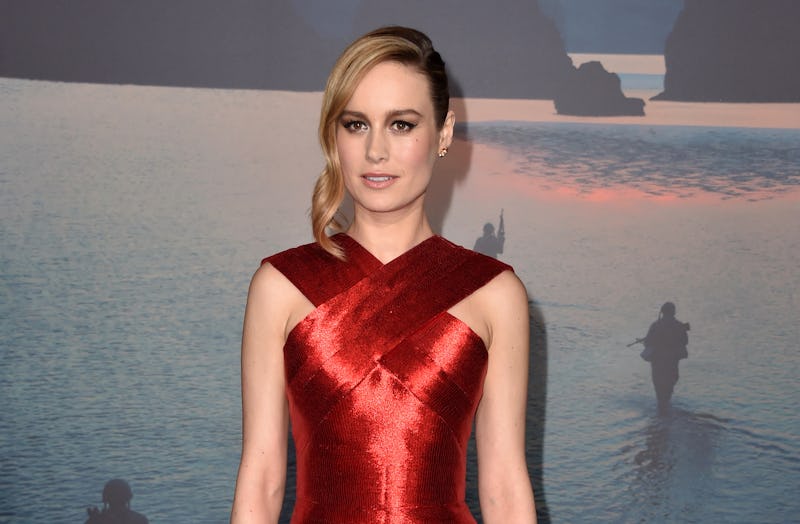 Frazer Harrison/Getty Images Entertainment/Getty Images
Do you want to know the real reason why Brie Larson decided to play Captain Marvel? It had nothing to do with Captain Marvel's superpowers, which include some pretty cool ones like "flight, enhanced strength, durability and the ability to shoot concussive energy bursts from her hands." Instead, it was the superhero's humanity. In Vanity Fair's latest cover story, Larson praised Captain Marvel, calling the superhero "everything that's progressive and important and meaningful and a symbol I wished I would've had growing up." The actor wants to bring some confidence to all the young women out there, but I would make the case that Larson's been doing that on and offscreen since the beginning of her career.
It's something she's made clear time and time again by standing up for what she believes in. Her Instagram is a place where she expands on her passions, posting about the importance of voting even when the lines are so long you need to order a pizza to get through it. She shared photos from the Women's March, captioning one "I'm every woman" and urged others to join in and raise their voice whether they supported Donald Trump or not. "Friends, if you say I marched because I 'lost,'" she wrote. "When I lose, you lose, for are we are One. Join us."
It's certainly no accident that Larson was Marvel's first choice for Captain Marvel, which will start filming in 2018. She represents the core values of what we want from a hero: someone who isn't afraid to fight for what they believe in, who looks outside themselves to do what is right, and understands that doing what is right doesn't mean you'll always be liked. Kevin Feige, president of Marvel Studios and producer of all its films, told Vanity Fair that all of this was why Marvel wanted Larson for the role.
"Captain Marvel has powers that far surpass many of her heroic counterparts, and in order to bring this superhero to life and make her relatable and disarming we needed an actress with both range and humanity. So, like the best of our leading characters who have brought the Marvel Universe to life, Brie possesses the depth and energy that can fuse firepower, guts, and a great story."
It's why hiring this Oscar winner to play Captain Marvel isn't just a victory for Marvel, but for anyone who wants to see more strong women onscreen. It wasn't an easy choice for Larson to take on such a big role after being known for smaller, indie projects, but, in the end, the actress agreed that taking on the role fit with the kind of person she prides herself on being. "I really, really feel like it's worth it if it can bring understanding and confidence to young women — I'll do it."
For Larson, that sentiment isn't just applied to the roles she plays onscreen, but the one she plays offscreen, too.