Britney Spears Is Going On Tour & This Small Detail Will Take You Right Back To The '90s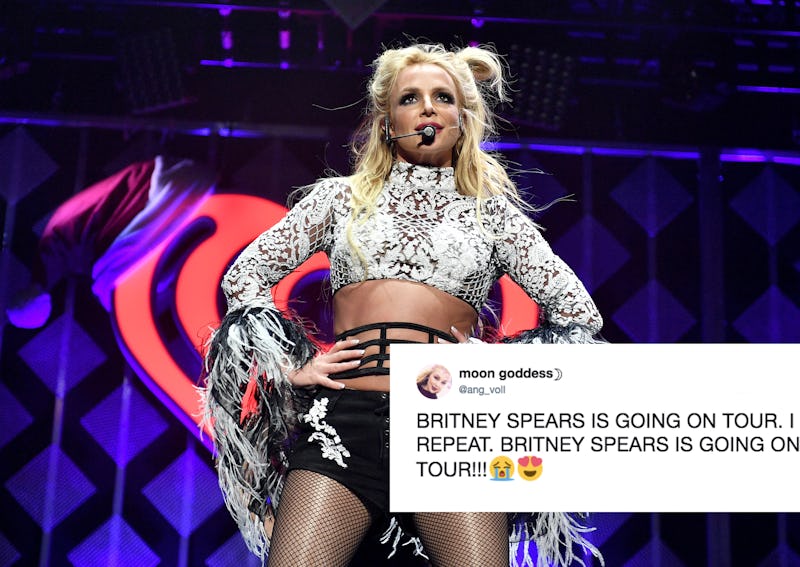 Getty Images/Bustle
Oops, she did it again. After ending her four-year Vegas residency on New Year's Eve, Britney Spears announced her 2018 world tour. The Piece of Me Tour will start in summer 2018 and hit cities in North America, Europe, and the UK. Although the performer delivered a combination of all her hits during her residency, Spears' upcoming tour may be more nostalgic than ever thanks to a major hint given by the tour's sponsor. On Jan. 22, the same day the singer revealed her performance dates, Pepsi announced that it would be the tour's official sponsor. Is it all coming back to you yet?
Spears and Pepsi go way back, most famously to her iconic 2001 Pepsi commercial, "The Joy of Pepsi." It was arguably the best Pepsi commercial (and best commercial in general) of all time. And her Pepsi connection could suggest that she'll be throwing it back like never before, (hopefully) providing a time warp into the '90s and 2000s. Pepsi is in the midst of its "Pepsi Generations" campaign, which celebrates "life's important moments of the past, present, and future." See that? Past.
Spears' classic "Joy of Pepsi" moment will even be featured in the brand's upcoming Super Bowl ad highlighting some of its most famous and noteworthy partners. It already feels like 1999.
The Piece of Me tour kicks off on July 12 in National Harbor, MD. Spears will hit major cities in the U.S. for the month of July until she makes her way to the U.K. on Aug. 4. From there, she'll tour in countries including Germany, Ireland, and Sweden through the end of August. Tickets will be available on her site on Jan. 26 and on Ticketmaster Jan. 27. But Spears lovers better have their credit cards ready, because these tickets for her surprise tour will likely fly of the shelves.
The singer has been applauded for revolutionizing the Vegas residency scene with Piece of Me. Her initial two-year agreement turned into four years, and her show, referred to as a "greatest hits collection," became a destination spot for travelers all over the country. Until Spears came along, performers who weren't really releasing new music, such as Elton John and Celine Dion, had residencies. Her show became a sensation and opened the door for current artists like Jennifer Lopez and Mariah Carey to have residencies of their own.
In Vegas, Spears' set list hit her greatest songs spanning over the last few decades. She performed recent tracks like "Work B*tch" (2013) and "Till the World Ends" (2011). Songs from the '00s included "Circus" (2008), "Gimme More" (2007), "Womanizer" (2008), "Slave 4 U" (2001), and songs from the '90s included "...Baby One More Time" (1998) and "(You Drive Me) Crazy" (1999).
When it comes to this upcoming tour, there's a lot of ground to cover over the span of her legacy, but let's not forget about some of the classics from her debut album ...Baby One More Time like "From the Bottom of My Broken Heart" and "Sometimes." There are also gems like "Lucky" and "Overprotected" that would really tug at fans' heartstrings. If Spears is really feeling nostalgic on the Pieces of Me tour — in the spirit of Pepsi, of course — maybe she'll even nod to her iconic '99 VMAs performance with *NSYNC.
There's no doubt these blasts from the past would be incredible to watch. But regardless, Spears seems to be returning to the road for the love of performing and fans are certainly psyched.
This calls for a celebration. Get your Crossroads DVD and schoolgirl outfit ready, because Britney Spears may be bringing it back.