Britney Spears' 20th Anniversary Video For "...Baby One More Time" Is A '90s Dream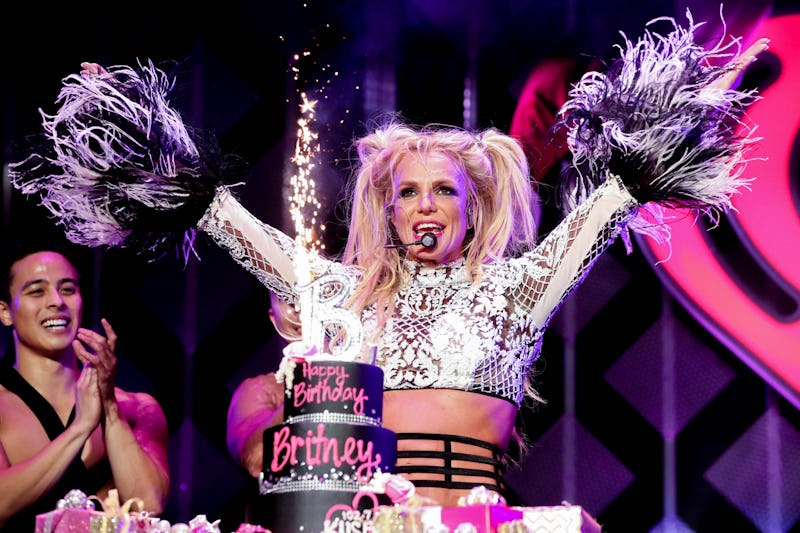 Christopher Polk/Getty Images Entertainment/Getty Images
Talk about a blast from the past! Britney Spears' debut single "...Baby One More Time" was released 20 years ago today and the singer celebrated it with a throwback video of behind-the-scenes moments that brings back all the glory of the '90s and early 2000s. On Tuesday Oct. 23, Spears took to social media to share the moment with fans, thanking them for their support over the years. Along with her note of gratitude, the now 36-year-old singer posted a video of footage from the iconic video's taping two decades ago and it's something that fans aren't going to want to miss. In the post, which she shared on both Instagram and Twitter, Spears wrote:
"It's hard to put into words what today means to me… 20 years ago, the world heard my music for the very first time! So much has happened since then… but what I really want to say is thank you to my amazing fans who have been there for me since day 1..."
The clip, which shared a link to the full-length video on YouTube, features a convo from a then 16-year-old Spears, long before there was any inclination that she would become a huge pop star.
In the snippet, she ponders on what it would be like to hear herself on the airwaves, explaining:
"If I hear my song on the radio, I'll just be like, crazy. I'd be like, 'Oh my gosh!' I think that'd be so cool. I would love that… that'd be a great experience."
The single, which released on this exact day in 1998, helped to turn the entertainer into a superstar and became one of the best-selling singles of all time, with over 10 million copies sold, according to Billboard. As for the unforgettable music video that accompanied the hit song, which notably featured Spears dancing around the hallways of a high school — well, that was reportedly all Spears' idea, according to Entertainment Weekly. The outlet reveals that Spears came up with the concept after the video's director Nigel Dick offered a treatment that former Mickey Mouse Club performer felt was "really cheesy." In an oral history shared by EW on Oct. 23, Dick quotes Spears as saying, "I want to be in a school with a bunch of cute boys and do some dancing."
With "...Baby One More Time" serving as the catalyst of a extremely successful career, Spears continues to break records with the recent announcement that she's returning to Las Vegas for a new residency. She will reportedly be pulling in $507,000 for each show, thus becoming the highest paid performer in Vegas, according to People. The new show, which is titled Domination will take place at Park MGM and comes just nine months after the finale of her Piece of Me residency at the Planet Hollywood Casino in the Nevada hotspot. The mother of two also wrapped her Britney Spears: Pieces of Me Tour on Sunday, Oct. 21.
Now that she officially has two decades of hit songs under her belt, Britney Spears couldn't be more deserving of this moment to celebrate. That said, it's almost hard to believe that "...Baby One More Time" is turning 20 today. #HappyBirthday