Britney Spears & Justin Timberlake's Matching Denim Look Is Now On A Shirt & It's Honestly Too Much To Handle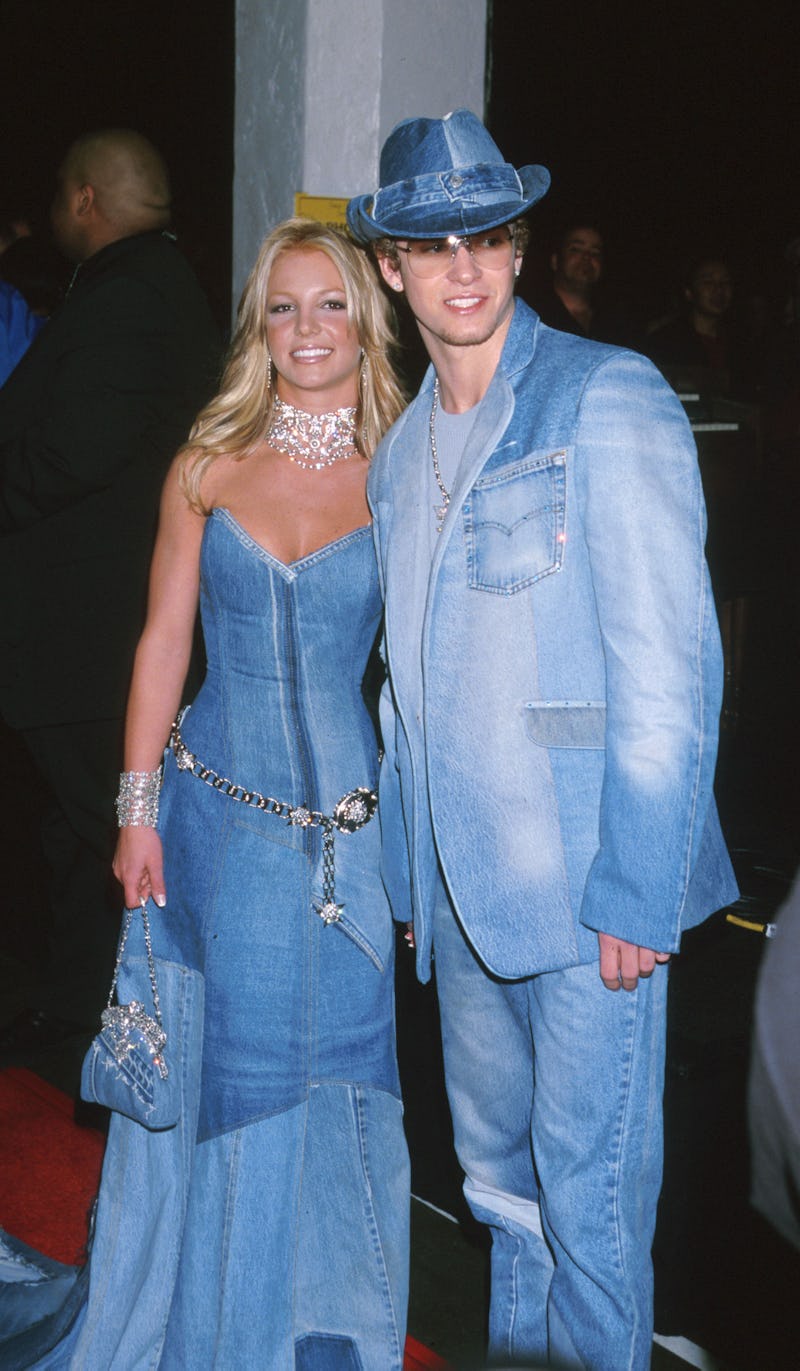 Jeffrey Mayer/WireImage/Getty Images
The world of fashion has seen a plethora of iconic outfits. Rihanna's cupcake dress, Jennifer Lopez's 2000 Grammy Awards dress, and Bjork's swan dress are all memorable moments in red carpet fashion. But as far as couple ensembles go, Justin Timberlake & Britney Spears' matching denim outfits were one of the most famous. So much so, there's now a t-shirt featuring the get-ups. Now, you can re-live the iconic outfits over and over again and wear the all denim ensemble yourself — kind of.
Filles a Papa, Belgian fashion brand, took the iconic duo's iconic look and created a t-shirt with the moment emblazoned on the front. While you won't be rocking a Canadian tuxedo yourself, you can profess your love for Timberlake and Spears' outfits loud and proud for the world to see.
If you want to shop the shirt, it's currently still available on the brand's website. The shirt retails for a cool $152.47 in American dollars, but the good news is that while the price may seem steep, the brand offers free worldwide shipping.
Unfortunately, sizes aren't completely inclusive, ranging only from XS to XL, but if popularity increases, perhaps that size range could as well.
Britney Printed T-shirt, $152.47, Filles a Papa
The shirt isn't the only creation from the brand that celebrates iconic people and moments, though. They also feature a sweatshirt and t-shirt with Michael Jackson, Prince, George Michael, and David Bowie.
Michael, $152.47, Filles a Papa
A glance at the Filles a Papa Instagram account, and you'll see reposts of celebrities such as Celine Dion and Marion Cotillard rocking the Never Forget tee.
If you want to shop the Britney and Justin denim moment t-shirt, head over to the Filles a Papa website now. It's the perfect way to honor the iconic moment without actually rocking all denim.