Two 'Vanderpump Rules' Stars Just Confirmed They'll Be Brittany's Bridesmaids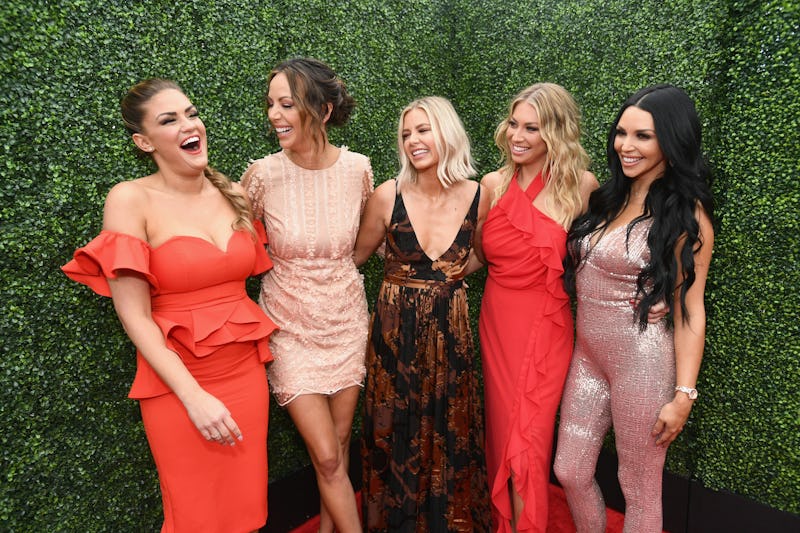 Emma McIntyre/Getty Images Entertainment/Getty Images
Even though Vanderpump Rules Season 7 hasn't started, the viewers already know about one major storyline: Jax Taylor and Brittany Cartwright's engagement. Now the fans just need some wedding details. Two Vanderpump Rules stars confirmed they're Brittany's bridesmaids in an interview with Us Weekly. That's really not too shocking since this whole cast is very close. Pretty much all of them are bound to be a part of the big day, right? But since she practically has a million friends to choose from, fans didn't know for sure.
In a Nov. 11 interview with Us Weekly, Kristen Doute said, "Duh! Brittany's wedding, are you kidding me?" She took things a step further when she added, "I would create myself as the only bridesmaid if I could. Of course." That's not happening — Brittany has too many friends for that. Nevertheless, no one can blame Kristen for wanting to shower Brittany with love.
Scheana Shay was asked that same question and answered "Yes, I am. Yes!" Scheana didn't reveal anything about Brittany's Maid of Honor selection. However, she did remark, "I don't know if that was announced yet, so that's not my place to say."
Thanks to social media, Scheana doesn't actually have to say anything, though. Brittany's longtime friend Cara Marie confirmed she will serve as Maid of Honor in an Instagram post. Even so, there could still be some more surprises in store. Brittany may have more than one Maid of Honor, you never know.
Another one of Brittany's best friends, Zack Wickham, shared a photo from Brittany and Jax's engagement party. He confirmed he was also a member of the bridal party when he wrote,
"Had the best time ever with all my other fellow 'brides people' at @brittany and @mrjaxtaylor's engagement party!"
Maybe he will serve as a Man of Honor? Regardless, there were a lot of people in that photo Zack shared. Kristen, Scheana, and Cara were in it, of course, but so were some other familiar faces. Brittany's Vanderpump Rules costars Kristen, Stassi Schroeder, Katie Maloney, and Ariana Madix all made the cut. Brittany was a bridesmaid in Katie and Tom Schwartz's 2016 wedding, so it makes sense that she would return the favor. Jax's sister Jenny was also in that group photo.
It also looks like there's a lot of Vanderpump Rules cast members serving as groomsman. Jax shared a guys group photo from the engagement party, which included Tom Sandoval, Tom Schwartz, and Peter Madrigal.
Sure, this could have just been a boys photo. Those do happen from time. However, Peter confirmed the good news when he shared the same photo on his own Instagram account. The SUR manager wrote,
"@mrjaxtaylor and @brittany congratulations on your upcoming wedding!!!! I know it's gonna be special! Jax thank you for making me one of your groomsmen, I'm honored!! #pumprules #squadgoals."
This really is the epitome of squad goals. Now we just have to hope the bachelor party is filmed for the show.
Jax and Brittany are beloved by the Vanderpump Rules fandom. Unfortunately, most of their wedding details have been kept under wraps, but these two are very open when it comes to sharing their lives. Soon enough, we'll all know so much about the big day that we'll feel like wedding guests ourselves.