Jax & Brittany From 'Pump Rules' Are Engaged & OMG, You Need To See The Ring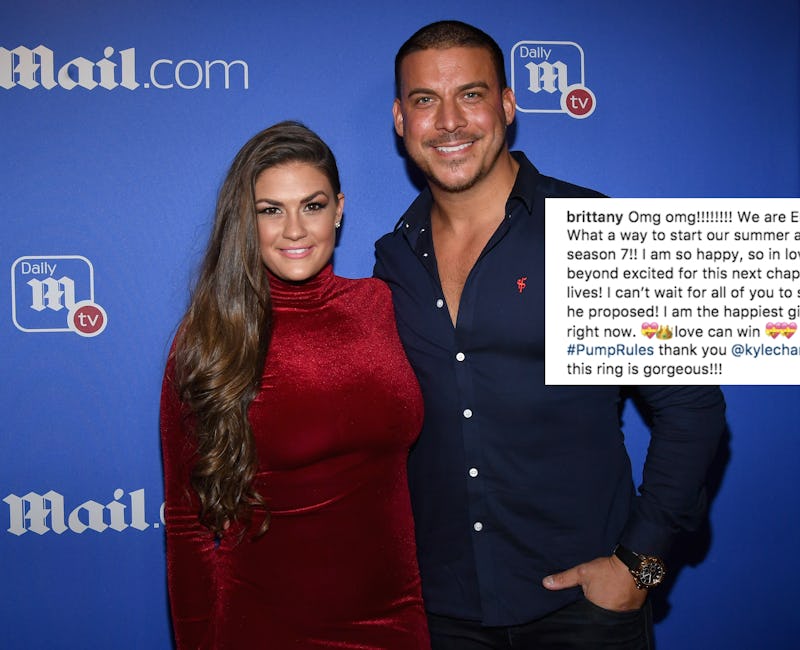 Slaven Vlasic/Getty Images Entertainment/Getty Images
Fans of Vanderpump Rules have even more of a reason to be excited for Season 7, since Jax Taylor and Brittany Cartwright are engaged. The stars of of the Bravo reality show announced their engagement on Instagram early on Friday. Their relationship has been a bumpy ride, as shown on Vanderpump Rules and their spinoff Jax & Brittany Take Kentucky, but the pair is ready to take a major commitment step. And Jax promises that how the engagement happened will all be shown when Vanderpump Rules and the SUR gang return for Season 7.
Jax started Vanderpump Rules dating fellow SURver Stassi Schroeder, but Jax's promiscuous behavior was always a cause of a drama on the show. When Jax met Brittany in Las Vegas in 2015, he seemed to change his ways. He asked her to move to Los Angeles with him and she became a SURver and cast member of Vanderpump Rules in Season 5. And while Jax and Brittany have had their own fair share of issues, they are thrilled now with their engagement. As Brittany wrote on Instagram,
"Omg omg!!!!!!!! We are ENGAGED! What a way to start our summer and season 7!! I am so happy, so in love, and so beyond excited for this next chapter of our lives! I can't wait for all of you to see how he proposed! I am the happiest girl ever right now."
Jax posted the same two images on Instagram as Brittany did to announce their engagement. He wrote, "She said yes!!! I can't wait for y'all to see how this happened next season!!! I am marrying the woman of my dreams and I could not be happier!!" He added, "Make sure y'all tune in season 7 to see how this unfolded." He also thanked celebrity jewelry designer Kyle Chan for creating the diamond engagement ring.
Jax gave a shoutout to the owner of the restaurant where he proposed too. Jax wrote that Neptune's Net is "one of our favorite spots to eat in Malibu" and the restaurant has a famous reputation. As Curbed Los Angeles noted, Neptune's Net has been featured in Point Break, The Fast And The Furious, and Gossip Girl. Even a reality TV series predecessor to Vanderpump Rules, The Hills, has shot there.
In Vanderpump Rules Season 6, Jax admitted to cheating on Brittany after previously repeatedly denying it. But Brittany chose to forgive him and give their relationship another chance. The events of Season 6 took place in early 2017 and in a conversation with Bustle, Brittany explained her decision to take back Jax. "At the end of the day, you just have to follow your heart," she said. "You know, I'm the one who was going through it and I'm the one who was with him every day, I'm the one who knows him better than anyone else in the world, and you just have to think about what you want, yourself, and stick with your decisions."
A few weeks ago, Brittany also told Bustle in another interview that Season 7 would show how her relationship with Jax has changed for the better. "It's like completely different," Brittany said, echoing what she said during the three-part reunion after Season 6 aired. "The way he talks to me. The way he's treated me. His patience. He's not angry." She noted that one of the reasons Jax has changed is because of the death of his father in December 2017.
"I was there by his side through everything and I know how he's still hurting so much over this. It's just been something that really opened his eyes to really treasure everything you have and not take anything for granted," Brittany said. "I think that's something he's definitely doing."
On what would have been his parent's 42nd wedding anniversary in May, Jax wrote on Instagram, "I feel like they did it right and this is something I can strive to have one day." With his engagement to Brittany, he's certainly going for the long-lasting commitment his parents had and he's no longer taking the woman he loves for granted.
So congrats to the happy couple, who've made it through so much televised drama to end up where they are. And get pumped for a potential Vanderpump Rules wedding special.