'Broadchurch's Survivor Faces Sexist Backlash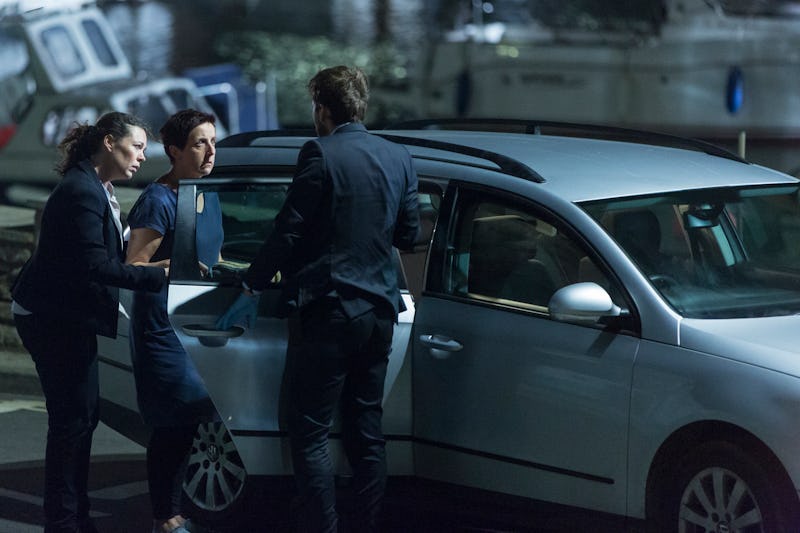 Colin Hutton/BBC America
There's been a lot of valid criticism in recent years about how sexual assault is depicted on television, but two harrowing episodes into Broadchurch's third season, the series is falling on the right side of the issue so far, depicting sexist beliefs and horrifying actions without appearing to indulge or celebrate them. For example, when Trish's husband condemns her for her assault — even though he doesn't yet realize she'd been attacked — Broadchurch addresses victim-blaming. Trish's ex Ian brings up the alcohol Trish drank and the way she was flirting with other men at the party as proof that she deserved the dressing-down he gives her. And even though he doesn't know about it yet, he's also indirectly blaming her for the assault she endured.
Tesearch disproves Ian's belief that the way a woman dresses and behaves in itself invites negative attention and attacks. According to Theresa Beiner's study Sexy Dressing Revisited, "Sexual harassment is about power; therefore, a target who is dressed provocatively is not the ideal target for the would-be harasser, who appears motivated at least in part by his ability to dominate his victim." However, that doesn't change people's perceptions — according to The Telegraph, one third of respondents to a poll from the Office of National Statistics believe victims bear responsibility for "flirting heavily" before being assaulted. As The Washington Post reported in 2016, women's clothing does not factor into rape and, as writer Mikki Kendall points out, "It's a comforting myth, guaranteed to make it easy to pretend that sexual assault is something that only happens to people who make bad choices."
In its first two seasons, Broadchurch got a lot of mileage out of the reveal that townspeople who appeared kind and guileless could actually commit the most horrifying crimes. In its third season, the central investigation is happening slightly afield of that existing stable of characters. So while it's genuinely heartwarming to see Ellie and Beth able to share a significant moment, none of the familiar men of the town (like Mark, Beth's estranged husband, or the local priest) are among the main list of suspects. Instead, the pool of suspects is comprised of new characters — the people Trish last interacted with before she was assaulted at her friend's raucous birthday party. Most of the men are treated like persons of interest in any whodunit, but Trish's husband — who is probably not the culprit, based on the evidence that's been presented so far — is representative of a different issue.
Once again, the police are doing their best to be sensitive to Trish's needs in this episode. But as Trish describes how much alcohol she drank, the clothes she was wearing, and how recently she had unprotected sex, it increases the chances that her husband's disgust will weigh heavily on her, even though his response is part of a larger, sexist belief that she could have prevented her assault by behaving more conservatively. Trish realizes that reporting to the police that she had taken tequila shots and had unprotected sex is one of the reasons why Ellie is so insistent that her personal details remain private for as long as possible.
Surely, in future episodes, more information about Trish will become public, and the DIs will be forced to balance finding evidence with protecting her. For example, Trish's daughter is the first person in her personal life to learn about the assault, and Ian could use this as a reason to take her away from her mother.
Hopefully, Broadchurch Season 3 can continue to depict the problematic ways in which suspects and bystanders can react to sexual assault without becoming the very stereotype it's portraying.