'GOT' Creators Promise Changes To Come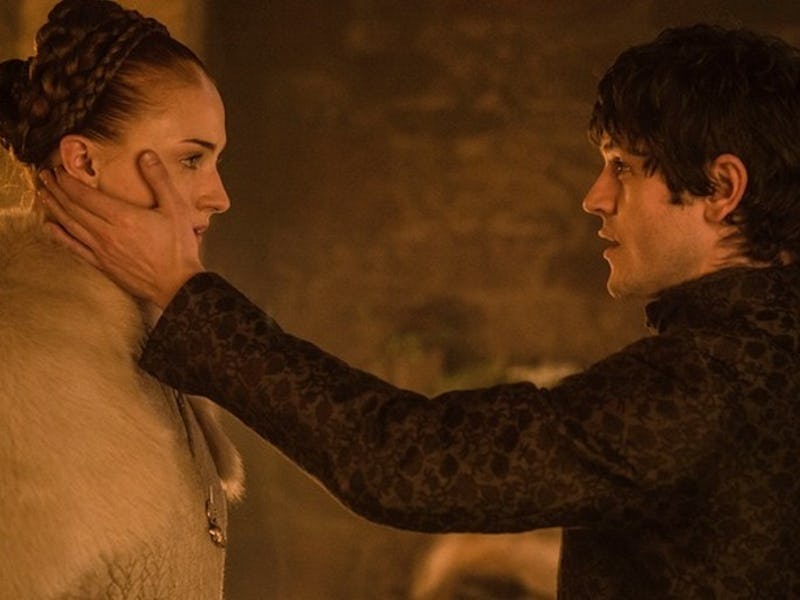 Though the producers and directors of Game of Thrones are usually as opaque as possible when it comes to what's happening next on the show, that isn't the case this time. The Game of Thrones creators are addressing the rape controversy of the bleak and heart-wrenching fifth season in a different way: they're going to make some changes going forward. The rape of Sansa Stark (Sophie Turner) led to overwhelming outrage from many fans, including Senator Claire McCaskill, who all decided that the scene, in which Ramsey Bolton overpowers Sansa and violates her without her consent on their wedding night, was the final straw in an already brutal season for the women of Westeros. But the director of the episode "Unbowed, Unbent, Unbroken," Jeremy Podeswa, said that the criticism will have an effect on Season 6, leading to some changes. As a conflicted fan, I'm relieved. Hopefully, this means that Season 6 of Game Of Thrones will be easier to watch for me and for other women.
Speaking in Sydney, Australia, Podeswa said that the show's creators Dan Weiss and David Benioff "were responsive to the discussion and there were a couple of things that changed as a result," according to Forbes. Podeswa is directing the first two episodes of Season 6, so this is somewhat reassuring, but, overall, the response from the show's creators and author George R.R. Martin himself after Sansa's rape didn't inspire much hope. Prior to this, they would defend the interpretation of the scene and its place in the vicious, callous, unfair, and brutal world of Westeros, rather than focusing on the problem of depicting such graphic violence against an underaged character on screen.
As a big Game Of Thrones fan, I have to make a lot of concessions while watching the show to feel OK with being a fan despite the characters' misogyny. It's a different time. It's a fantasy series. They live in a vicious, patriarchal world. This is an extreme version of what things were like for women in the Middle Ages. And so on and so forth. But, with Sansa's rape, the scene did not need to happen that way — didn't happen that way in the books — and I agree with Senator McCaskill when she said the scene was "gratuitous." It's encouraging that the creators have taken the criticism to heart. But what exactly those changes will be is totally unclear, as the HBO series has caught up to Martin's A Song Of Ice And Fire books, and will be venturing into plots unknown. What's troubling is that Podeswa went on to qualify his statement:
It is important that (the producers) not self-censor. The show depicts a brutal world where horrible things happen. They did not want to be too overly influenced by that (criticism) but they did absorb and take it in.
What with Sansa's rape and Cersei's horrific walk of shame in Season 5, it was an exhausting season to watch as a woman, where the female characters were violated and abused like never before. I still like Game Of Thrones, and I've made my peace (for the most part) with the events of the previous season. But I am still wary going into Season 6. Season 5 felt like the most brutal one yet, and without justification. If Sansa's rape was such a critical moment in the show, I believe it could have been handled less ruthlessly; it felt more for shock value than character development.
I'm skeptical, wary, and hopeful all at once. It might be too late for Season 6 to be the first season in which these promised changes take effect, but, at the very least, this interview makes me hopeful for the show going forward.
Images: Helen Sloan/HBO