'Broadchurch' Season 3 Handles Trish's Assault Respectfully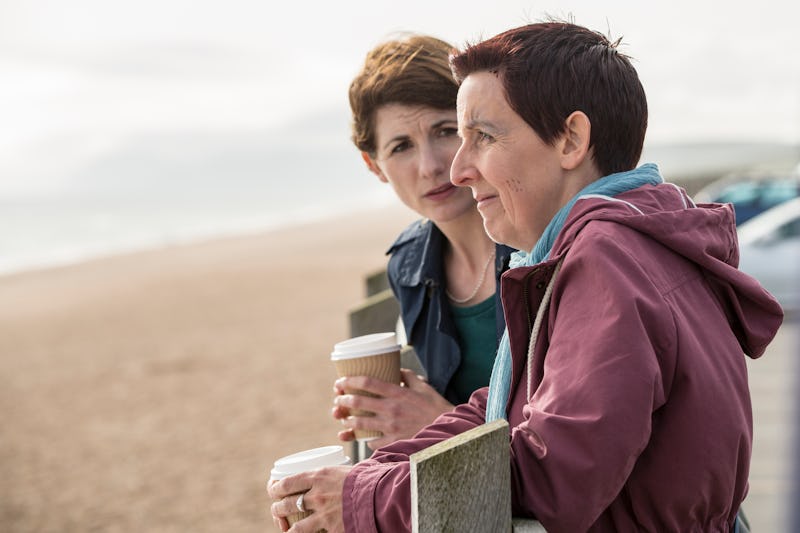 Colin Hutton/BBC America
For the first five minutes of the Broadchurch Season 3 premiere, Trish Winterman doesn't speak. But actress Julie Hesmondhalgh silently conveys how Trish, who is reporting her sexual assault, is in pain, both physically and mentally. Though she is surrounded by other women who are empathetically and clearly explaining the process of collecting evidence that could help convict her rapist, Trish struggles to remember basic facts about what happened to her and isn't reassured or unburdened by explaining the specifics of the attack she endured at a friend's birthday party. And in these opening moments, the series is demonstrates how even in the "best" of circumstances, the aftermath of sexual assault is still incredibly traumatic.
At first, it seems that, Trish does everything that it's recommended a survivor do, and the responding police — Detectives Ellie Miller and Alec Hardy — reassure Trish that they believe her and are there for her. A mental health counselor is present, and tells Trish that she can return for more help. All of her clothes and injuries are documented by the detectives immediately. These are all the things that women are advised to do by the Department Of Health & Human Sevices' Office Of Women's Health in order to maximize the chances of a rape conviction.
At first, I was concerned that everything about Trish's report appeared to have been taken right out of a textbook. It seemed like the show might be focusing on building a difficult case to solve that the detectives would be challenged, but that Broadchurch would forget to give Trish, a new addition to the ensemble, any humanity.
But thankfully, Broadchurch begins adding layers to Trish's survivor journey right away. As it turns out, Trish didn't go to the police immediately; she waited several days before sharing her story. She's feeling shame and doesn't want to reach out to family or friends to help her process what happened; and she has no idea who tied her up and attacked her, so she's understandably paranoid.
Over two seasons, Broadchurch has made Ellie and Alec into particularly empathetic detectives. And though it was reassuring to hear them both tell Trish that they don't need her to convince them that this assault really happened to her, their responses are both flawed in subtle way. Alec gets frustrated at the revelation that Trish was so in shock that she didn't report the assault right away. And Ellie, who struggles to keep appropriate boundaries in her job, lets Trish have her personal phone number, even though making sure everything in the investigation stays official and above board would probably benefit Trish more.
But what gives me the most confidence that Broadchurch knows how to approach this topic is that at the end of the episode, Beth Latimer (the mother of the young boy whose death was the subject of Season 1's investigation) becomes Trish's new counselor. It acknowledges the important role mental health services play in many victims' recovery from sexual assault, and shows how much Beth has grown since the depths of her own grief in Seasons 1 and 2. Intertwining good character work with a portrayal respectful of an important issue indicates that Broadchurch can responsibly portray this difficult subject matter.