Nicolette Robinson Is Playing A Role She Never Thought She'd Get To Play In 'Waitress'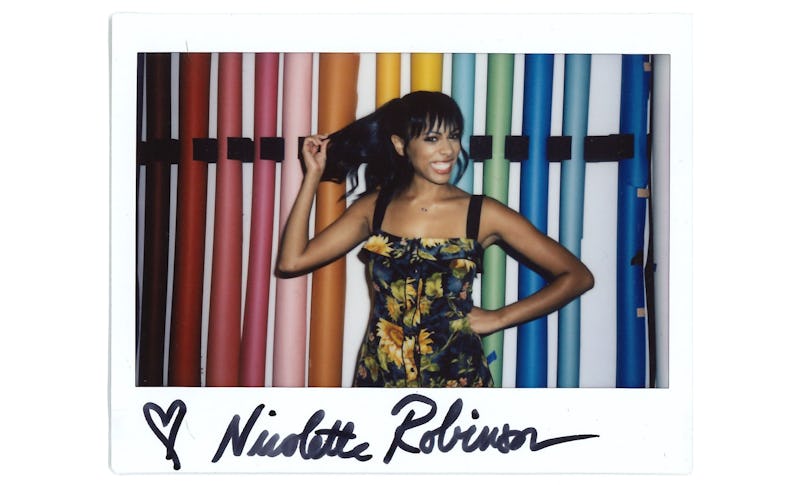 When celebrities hang out with Bustle writers, we want to give them the chance to leave their mark. Literally. So we hand them a pen, a piece of paper, a few questions, and ask them to get creative. The rest is up to them. This time, the star of Waitress on Broadway, Nicolette Robinson, is leaving her mark in the Bustle Booth.
You may know Nicolette Robinson from the small screen in The Affair, Perfect Couples, or Hart of Dixie, but hip niche musical theatre enthusiasts were thrilled when the off-Broadway actor (Brooklynite, Invisible Thread) took over the lead in Waitress on Broadway for a limited engagement.
"I'm the first woman of color to play the role," Robinson says of Jenna, the pregnant pie maker trying to escape her abusive marriage and find a way to truly love herself. "I'm also the first mom to play the role. And so for me, I feel a sense of responsibility ... to really just be as authentic as I can."
Waitress, based on the 2007 film, didn't follow the original film's all-white cast when it debuted in 2016. Orange is the New Black's Kimiko Glenn and The Greatest Showman's Keala Settle played supporting characters Dawn and Becky in the Original Broadway Cast, respectively. However, until now, the lead role of Jenna has been played by a white actor. Jessie Mueller was first, followed by Betsy Wolfe, Katharine McPhee, and Waitress composer Sara Bareilles. Robinson is certainly aware of the impact and importance her presence on stage brings to the theater every night.
"Sometimes to have a dream, you need to see it to actually believe it. And of course you want to dream bigger than what you even conceive, but to start your dreams, you need to see that it's possible," Robinson says in the Bustle office just a few days after her opening night. "So for me as a little girl, seeing a black woman on the stage meant that was something I could do one day — and now here I am in a position playing a role that I never even expected would be a possibility for me to play."
If you're in New York, catch Robinson in Waitress as soon as you can. Her run just extended through November 18. Not only is the show beautiful, perfect for a night out, and filled with the soulful sounds of Sara Bareilles songs — the theater smells like pie. Seriously.