Brody Jenner's Response To The Khloé & Tristan Scandal Was Reportedly Pretty Passionate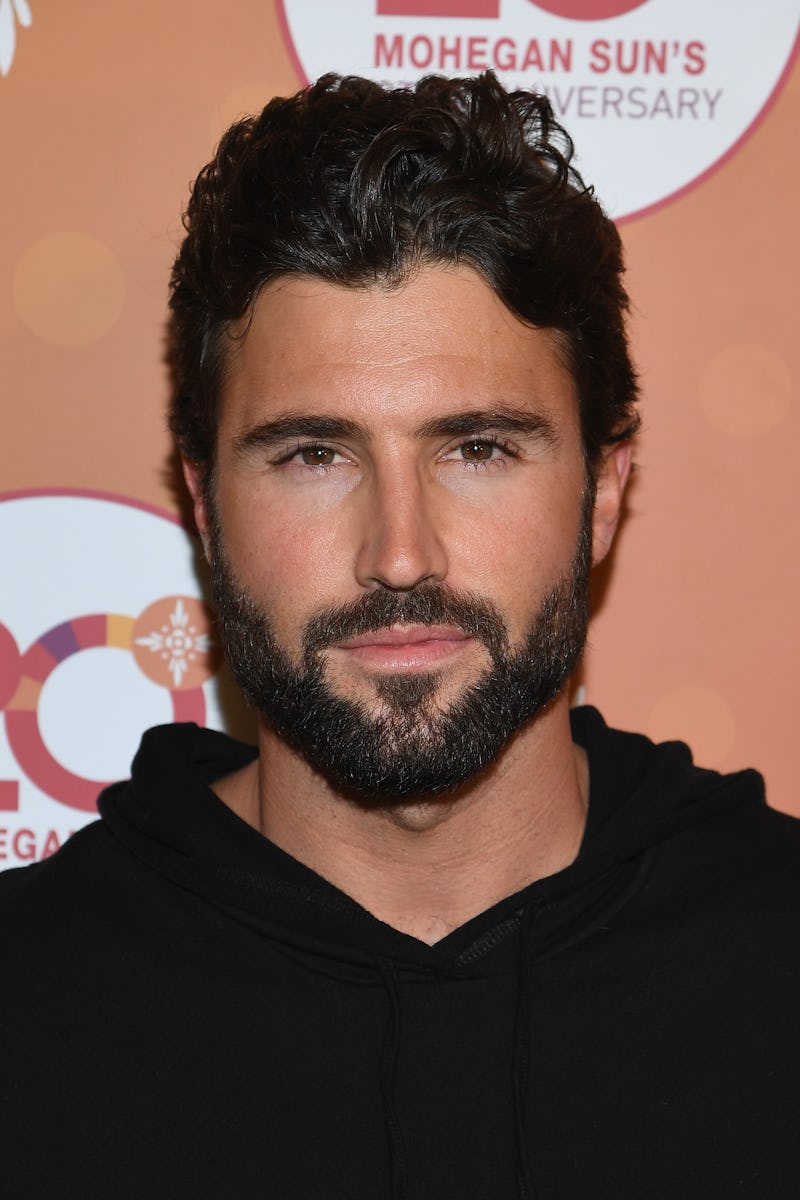 Dimitrios Kambouris/Getty Images Entertainment/Getty Images
Someone close to the Kardashian family apparently has some strong feelings regarding the recent drama surrounding Khloé Kardashian and Tristan Thompson. According to Us Weekly, Brody Jenner's response to the Tristan Thompson cheating scandal was a pretty passionate one and he didn't exactly have any kind words for the basketball player.
An eyewitness told Us Weekly that they heard what Jenner said about the scandal while at a Las Vegas party. Jenner, who was DJing at the time, reportedly said that the entire scandal is, "a f*cking mess." The source added that while he hasn't spoken to the Kardashians in a while, he still is heartbroken over how the situation is unfolding. They said that he "feels terrible for Khloé and that baby." (Bustle reached out to Jenner's manager for comment, but did not receive a response at the time of publication.)
As the source noted, it doesn't sound as though Jenner is close to his step-sisters. Once upon a time though, the Jenners and the Kardashians hung out quite a bit, at least as far as Keeping Up With the Kardashians was concerned. The reality star, who is the son of Caitlyn Jenner, made frequent appearances on the show. (At the time, Caitlyn was still married to Kris Jenner.)
In recent years though, it doesn't seem as though he's especially close to any of his Kardashian step-siblings. Page Six reported in April 2016 that Jenner said, "They're [the Kardashians] are not my f*cking family!" when someone praised him on his family's success. More recently, Jenner told TMZ that his younger half-sister Kylie Jenner didn't tell him that she was pregnant. He also revealed, about the KarJenner family, "Relationship's always been there, but you know they're busy."
While Jenner hasn't been close to any of the Kardashians for a while now, that doesn't mean that he still doesn't feel for them during all of the drama concerning Thompson. In case you missed those allegations, they emerged around April 10, only a couple of days before Kardashian gave birth to their daughter, True Thompson.
On April 10, the Daily Mail reported that Thompson was seen getting close to a woman in NYC on April 7. Shortly after, TMZ published an article that showed the basketball player allegedly entering a hotel early April 8 with a woman and leaving the hotel the next morning. Later, TMZ reported that in October 2017, the athlete allegedly cheated on Kardashian, who was around three months pregnant at the time, with two women in a Washington D.C. hookah lounge. There was also a report from Us Weekly that Thompson allegedly met up with one woman more than once. Thompson and Kardashian have yet to comment on any of these cheating allegations, and requests for comment were not returned.
In the midst of all of the accusations, the Kardashians got to celebrate some happy news. On April 12, Kardashian welcomed a baby girl in Ohio, according to TMZ, with her family members and Thompson by her side in the delivery room. Kardashian didn't reveal the name of her little one right away, though. The reality star made the name announcement in classic Kardashian fashion by posting about the name on social media on Monday, April 16. She wrote, "Our little girl, True Thompson, has completely stolen our hearts and we are overwhelmed with LOVE."
As of right now, it's sort of unclear where Kardashian and Thompson stand after the cheating allegations emerged. According to People, the reality star wants to forgive him and try and move forward with their relationship. A source said, "She doesn't know if she'll be able to do that, but that's the goal." A report from TMZ paints another picture of the pair's supposed relationship. The publication reported that "Khloé is nowhere near forgiving Tristan" and that she wants to move back to Los Angeles as soon as she's medically cleared to. Until Kardashian and Thompson clarifies their relationship status themselves, it really is anyone's guess what will happen with them.
Considering the drama that these allegations have caused, it's nice that Kardashian has her family on her side through everything. And, based on his reported comments, it sounds like she can even count Jenner in her corner, too.