Tristan Thompson Reportedly Cheated On Khloe Kardashian With Another Woman Multiple Times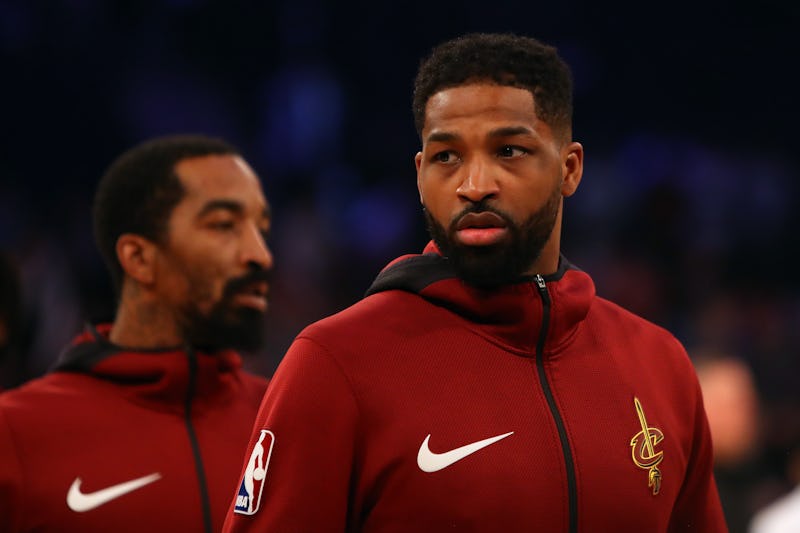 Mike Lawrie/Getty Images Sport/Getty Images
As if Khloé Kardashian's boyfriend wasn't dealing with enough infidelity rumors, a new report from Us Weekly claims Tristan Thompson cheated on Kardashian with another woman for months while the Revenge Body star was pregnant with his child. Kardashian gave birth to their daughter on Thursday, April 12, amid rumors that Thompson has been unfaithful. If the new report is true, it differs from the other stories that involved the basketball player having one-off close physical encounters in a club and a hookah lounge. (Bustle reached out to Thompson's agent for comment, but did not receive a response.)
According to Us Weekly, Thompson allegedly hooked up with another woman, Tania Joyce Benitah, back in November. She reportedly was seen leaving the Four Seasons Hotel in New York City, where Thompson and the rest of the Cleveland Cavaliers were staying while they were in town for a game, at 7 a.m. Thompson left later in the afternoon with the rest of his team. (Benitah could not be reached by Bustle for comment.)
The suspect behavior didn't end there. Benitah reportedly flew to Boston to see the Cavs play the Celtics on February 11. The Daily Mail, which was the first outlet to report on Benitah, obtained social media evidence of Benitah at the game rooting for Cleveland and at a club in Boston afterward. She had posted videos of herself at these places on Snapchat.
Then, on March 24, Benitah and Thompson were seen together at the same New York club, Pergola. Though they left separately, Thompson reportedly left only a few minutes after her and never returned to The Four Seasons to make the team's midnight pre-game curfew (the next day the Cavs took on the Brooklyn Nets).
Benitah's parents denied the affair in an interview with Radar Online. "She's telling me nothing happened," her dad said. "She's a friend of one of the guys who plays on the same team." Her mother added, "Tell Khloé to call me so I can assure her this is not true."
If indeed it isn't true, and Benitah is simply friends with another Cavaliers player, that wouldn't be too implausible. There have not been any photos that leaked that show the two canoodling or other evidence that links her to be specifically to Thompson, and not, say, someone Thompson is friends with or who is on his team.
As for the other women Thompson reportedly tweeted with. On Tuesday, TMZ posted a video from October that showed a man the outlet reports is Thompson kissing another woman and then sticking his face between a second woman's breasts. The second woman can also be seen groping his crotch. The video reportedly was shot in a hookah lounge outside Washington D.C.
In another video, posted by the Daily Mail on Tuesday, a man who is reportedly Thompson is reported to be locking lips with a different woman, this time at rooftop bar in Manhattan last Saturday night — just days before Kardashian gave birth in Cleveland, Ohio.
An anonymous source told People, "Tristan has been consistently cheating on Khloé. He's a serial cheater. And there will be more women to come out of the woodwork."
Thompson was reportedly in the hospital in Cleveland on Thursday when Kardashian gave birth to their daughter, her first child, his second. Kardashian was also surrounded by her mother Kris Jenner, and sisters Kourtney and Kim Kardashian, as well as her good friend Malika Haqq.
People reported that Kardashian is ready to forgive Thompson for his infidelity. A "family source" told the outlet, "She is in a bubble of love and peace and happiness right now, and everything that happened with Tristan is less about 'cheating' and more like, it was just a random drunken hookup that meant nothing and was kissing at most and didn't lead to anything else and was the fault of stupid groupies trying to trap him, and everybody just needs to move on."
It is unclear how far the extent of Thompson's alleged cheating went. For the time being though, it sounds as if Kardashian is overwhelmed with happiness and love for her family's newest edition.