This Is How 'Star Wars' Saved 'Brooklyn Nine-Nine,' According To Terry Crews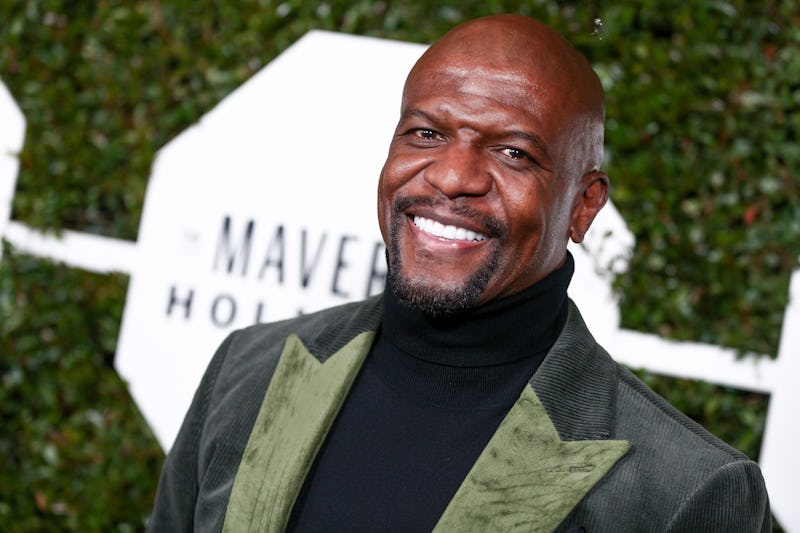 Rich Fury/Getty Images Entertainment/Getty Images
Move over, Avengers: Infinity War, because there's a new most ambitious crossover event in town. NBC picked up Brooklyn Nine-Nine for a Season 6, and it's all thanks to the power of... The Force? Mark Hamill, the actor who has played Luke Skywalker since Star Wars debuted in 1977, tweeted a desperate plea for another network to pick up Brooklyn Nine-Nine, which had been cancelled by FOX on May 10:
"Oh NOOOOOOOOO!!!!!!!!! I'm SO not ready to say #ByeBye99. Be forewarned @FOXTV-when networks dump shows I love, I'm known for holding grudges a long, L-O-N-G time. I'm still mad @CBS didn't renew #SquarePegs! #EverythingILikeGetsCancelled"
By May 11, the series had been renewed for 13 more episodes by NBC, and series star Terry Crews was the first to thank him for it:
"@HamillHimself I want to personally THANK YOU Mark for using the power of the force to save Brooklyn Nine Nine! *Wipes dirt off shoulder*"
It turns out that Hamill is a legit Brooklyn Nine-Nine superfan, and followed the ensuing coverage after its cancellation. Early on May 12, he tweeted an article suggesting Crews credited him for the resurrection of the show, and joked:
"Thanks @terrycrews, the pleasure was all mine! he said, accepting full-credit while ignoring the 99 gazillion other fans who love this show & collectively really made it happen. #99IsSoFine"
Okay, so Hamill basically has to guest star on the show now, right?
Per Variety, the NBC's Chair of Entertainment Robert Greenblatt said the following about their decision to pick up Brooklyn Nine-Nine for Season 6:
"Ever since we sold this show to Fox I've regretted letting it get away, and it's high time it came back to its rightful home. Mike Schur, Dan Goor, and Andy Samberg grew up on NBC and we're all thrilled that one of the smartest, funniest, and best cast comedies in a long time will take its place in our comedy line-up. I speak for everyone at NBC, here's to the Nine-Nine!"
While that doesn't specifically mention Hamill or The Force by name, it doesn't not mention the effects the Star Wars actor tweeting may have had on NBC's decision. So, there's that.
Hamill was not the only celebrity to get a personal shout-out from Terry Crews. The actor, who plays the tough, emotional Sergeant Terry Jeffords on the show, also tweeted thanks to actor Sean Astin and modern Broadway icon Lin-Manuel Miranda. They both got little references to their work, too, but nothing can top the all-caps excitement of Crews referencing Star Wars to Luke Skywalker himself. As a fan tweeted back at them, "Terry loves responsible use of the Force!" (Crews' Brooklyn Nine-Nine character frequently speaks about himself in the third person.)
Brooklyn Nine-Nine was just one of several comedies FOX announced they had cancelled on May 10. Cult hit The Last Man On Earth and a surprisingly entertaining show called The Mick were both cancelled as well, and neither have been picked up for additional seasons by streaming services or competing channels. NBC cancelled comedy series Great News after two seasons, so it's possible that Brooklyn Nine-Nine could take over its prime Thursday night time slot.
Another Mike Schur show — The Good Place — airs on NBC Thursday nights, and the network had previously greenlit a brand-new comedy called Abby's that he's involved with as well. When you consider that two more shows that heavily involved Schur — The Office and Parks and Recreation — were both hits for NBC, you have to wonder how Brooklyn Nine-Nine was ever passed on by the network in the first place. Either way, The Force is definitely with them now. Bingpot.