BTS Is The Most Tweeted About Celeb Of 2017, So Now's The Time To Hop On The Bandwagon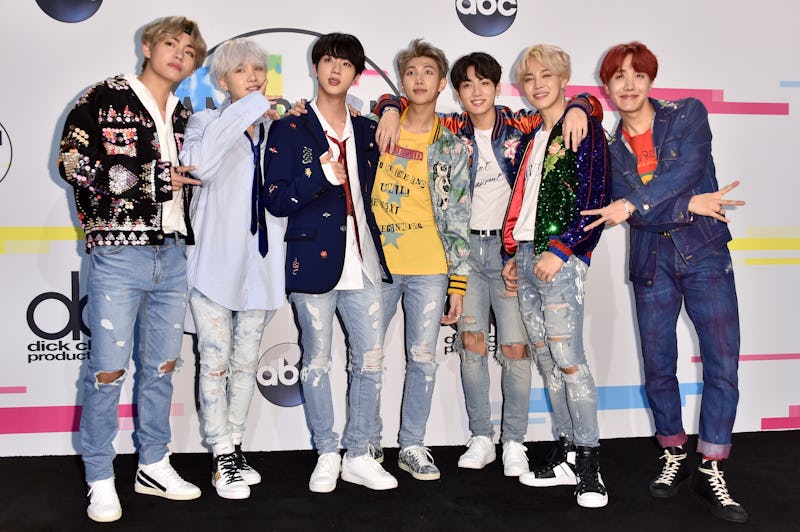 Alberto E. Rodriguez/Getty Images Entertainment/Getty Images
Twitter wouldn't be Twitter if we didn't use it to discuss celebrity news. This year has seen a lot of memorable celebrity Twitter moments, from Beyoncé's baby news back in February to the announcement of Prince Harry and Meghan Markle's royal engagement. The past several weeks may have filled your timeline with nothing but the most viral tweets about the cast of Stranger Things 2, Taylor Swift's most recent album, and the pregnancy rumors centered on the Kardashians right now. But as it turns out, the most tweeted about celebrity of 2017 is BTS, once again proving that the K-Pop band is slowly taking the entire world by storm.
Twitter recently released some data showing how things on the social media site unfolded in 2017, and according to the findings, the boy band is 2017's most tweeted about celebrity in the world. And, considering that the group just made their U.S. red carpet debut earlier this year at the Billboard Music Awards, that's pretty big.
Of course, that's not to say that the group hasn't already gained a large following in the U.S. BTS, an acronym for "Bangtan Boys" or "bulletproof boy scouts" in English, toured the U.S. twice in 2015, and managed to sell out both times, despite not having a single track in English. On top of that, the seven-member group broke a K-Pop record back in 2016, when their second full-length album, Wings, debuted at No. 26 on the Billboard 200 and sold 16,000 units in its first week. Aside from those major accomplishments though, the fact that BTS was nominated for the Top Social Star award at this year's BBMAs —and won — should be enough to tell you that taking the top spot on Twitter's list of most tweeted about celebrities doesn't come off as being all that surprising.
There's obviously no such thing as Twitter popularity if you don't have an extremely devoted fanbase that helps you beat out celebrities like Harry Styles (#7), Justin Bieber (#4), and Camila Cabello (#3) for the top spot. BTS's swarm of fans is called the BTS Army, and they're just as passionate about the success of the boy band as the Bey Hive is about Beyoncé. And for good reason too, since many of their songs, like "21st Century Girls" and "No More Dream," appear to focus on social issues and spread an inspirational message. That's not such a bad thing when you consider today's climate.
BTS has over 10 million followers on Twitter, and one look at their mentions sees thousands of the groups fans swooning over most of their posts.
Aside from Styles, Cabello, and Bieber, other celebs who made the global list were social media stars Ethan Dolan and Grayson Dolan (#8 and #10, respectively), and One Direction alum Niall Horan (#6). As for the list of the most tweeted about celebrities in the U.S., BTS managed to top that one too, once again beating out Styles, Horan, and Bieber (#3, #5, and #7), and with Nicki Minaj following closely behind them at #2. Also on that list was Chance the Rapper (#4), Fifth Harmony (#6), and Shawn Mendes (#8).
Don't expect the group to lose momentum anytime soon. They recently appeared on The Ellen Show to chat with the host about their loyal army of fans and how they learned English from watching Friends. They later made their way to The Late, Late Show with James Corden where they played a game with Corden and performed their single, "DNA."
If you'd never heard of BTS before 2017, now is your chance to hop on the bandwagon and join the Army while you can. Clearly they're leaving their mark on Twitter and beyond.