What To Know About K-Pop Band BTS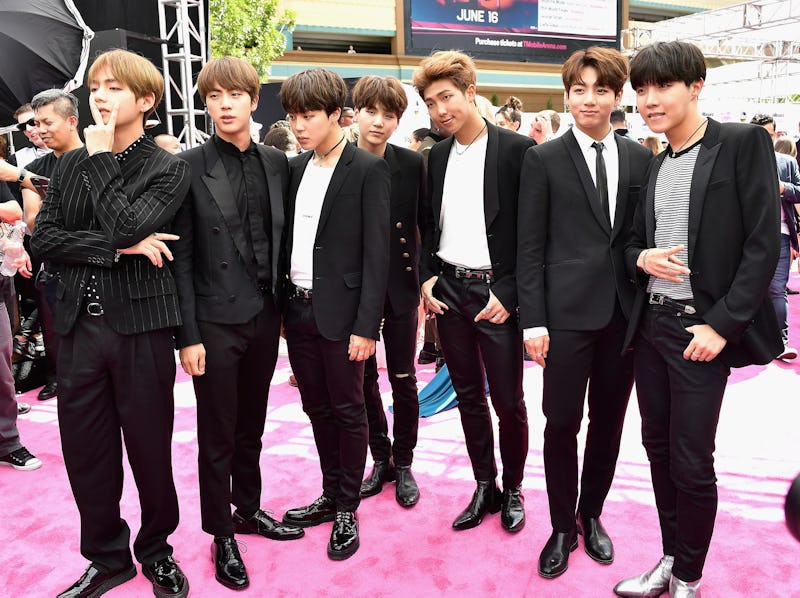 Gustavo Caballero/Getty Images Entertainment/Getty Images
A truly adorable boy band just had a major Billboard Music Awards red carpet moment. While many viewers may be asking themselves who the band BTS is, fans of Korean pop music (better known as K-pop) are in the know when it comes to these talented guys. BTS is nominated for Top Social Star at Sunday night's awards, so if you aren't familiar with them yet, there's no doubt that you will be soon.
As reported by People, BTS is making their U.S. red carpet debut at the 2017 Billboard Awards. Not a bad place to start taking America by storm, right? The seven-member band has been an international success since 2013 when they released "No More Dream." And while they don't sing in English, they've already toured North America.
The guys are known for creating music with a message. Their songs, like "Save Me," routinely land on Billboard Twitter Top Tracks chart, thanks to their talent and the commitment of their devoted fanbase known as the BTS Army. If you're wondering how the band landed in a category alongside high-profile nominees like Selena Gomez, Ariana Grande, and Justin Bieber, it's because these artists aren't shy about interacting with their passionate fans. They have worked hard to build up their reputation and to produce music that speaks to people everywhere, even beyond the language barrier.
In case you were wondering, BTS stands for "Bangtan Boys," or "bulletproof boy scouts" in English. It's an undeniably cool name for a K-pop band that writes their own songs with a focus on social issues. They even created a girl power song called "21st Century Girls" — which is so not something your average boy band would do. They're also gifted performers with some seriously sweet dance moves.
In other words, the BTS Army is onto something, and after listening to a few of the band's songs, you might be ready to join the club, too.