The Internet Can't Get Enough Of BTS's AMAs Look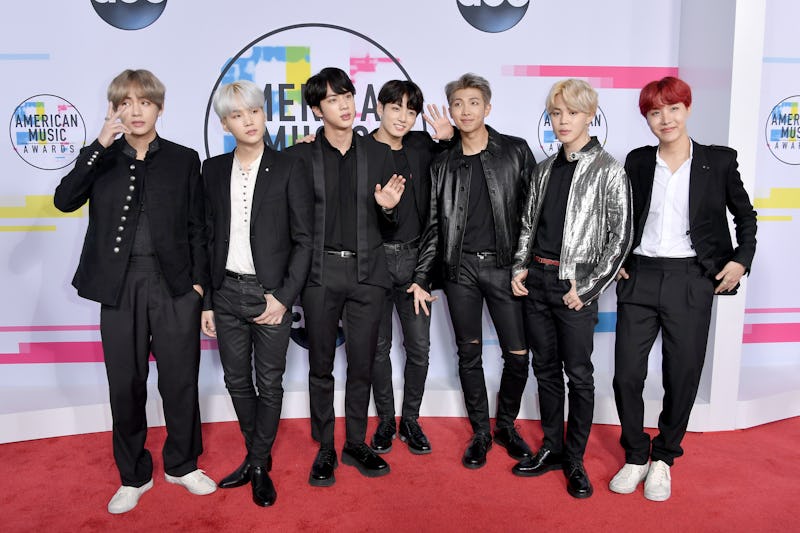 Neilson Barnard/Getty Images Entertainment/Getty Images
While Demi Lovtao, Selena Gomez, and your other favorite musicians are walking the red carpet to great fanfare, don't sleep on BTS's AMA's red carpet looks. The Korean boy band's fan base — known as the BTS Army — are out in full force tonight to support the band, and if their fans have anything to do with it, their star will only continue to rise.
If you haven't heard of BTS, you will soon. The band isn't simply walking the American Music Awards red carpet, they're also performing in a lineup that includes megastars like Gomez, Kelly Clarkson, Pink, and Lady Gaga. If Twitter is any indication, people are majorly stoked to see them perform live. Considering that the AMAs mark BTS's first American award show performance, and the first time a Korean boy band has ever performed on the AMAs stage, they're clearly a big deal even if you haven't heard their name yet. Don't worry, though, their red carpet appearance and subsequent performance will fix that.
As usual, the seven members of BTS are appearing on the red carpet rocking coordinating outfits, but the similarities don't prevent them from expressing their personalities. From silver moto jackets to black blazers to sneakers, each member customized his look, and the result is both chic and unique. Basically, they make the '90s boy bands of yesteryear look sad.
When BTS made their American red carpet debut at the 2017 Billboard Music Awards, they wore similar ensembles to those they are wearing on the American Music Award red carpet tonight. All black with pops of white and silver seems to be a staple for the group, and it translates to some seriously fashionable looks. While saying that the band's palette is relatively monochromatic may seem dull, their mix of textures and accent colors on the carpet make their group aesthetic completely seamless while not erring on the side of boring.
On the AMA red carpet, the men each wore jackets but none were the exact same. The stand-out silver moto jacket may garner the most attention, but the chic blazers, and leather jacket weren't missable. Then, there's the way that the members mixed up textures with their pants. While some rocked classic slacks, others were sporting ripped knee leather jeans.
Then, of course, there was the shoe situation. While black and white remained the common theme for the shoes as well as the ensembles, the customization remained intact. While some BTS members chose to rock sneakers, other went more traditional with their footwear choosing to wear traditional, patten dress shoes. Clearly, BTS has no issue showcasing their individuality despite being a group.
The BTS Army on Twitter is collectively losing their minds over the band's AMAs appearance and upcoming performance, and considering this is only the group's second American red carpet, and they're performing, the fans certainly have every right to be freaking out.
From dancing in preparation to those watching the red carpet just to get a glance at the band, social media is loving seeing them.
But really, people are truly dancing in anticipation of their performance.
Others are happy to celebrate their rising stars on social media.
No matter what, the BTS Army is here to stan for their band, and the best part? The fans are clearly ahead of the game based on social media. BTSxAMAs has actually been trending on Twitter, and so far, they're the only performers who have that claim to fame.
If you're not familiar with BTS, their American Music Awards red carpet appearance will change that. With their flawless style, incredible popularity, and first American award show performance, the sky is the limit for BTS, and it's time for the world to get familiar.