You Can Get BBQ Pumpkin Spice Wings At Buffalo Wild Wings Now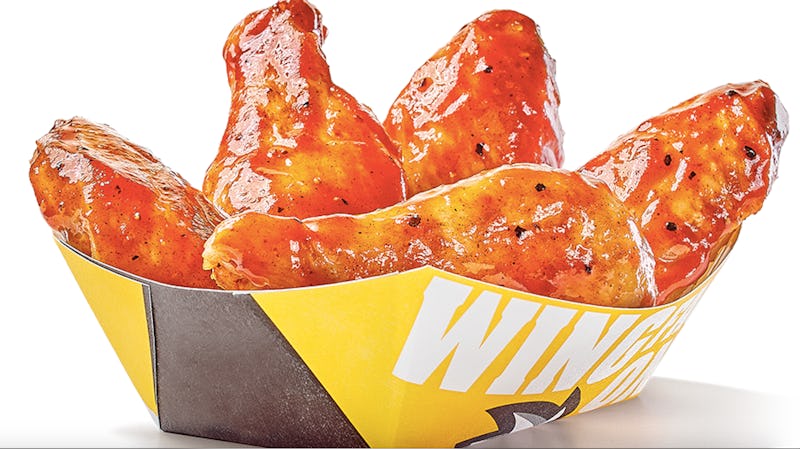 Buffalo Wild Wings
If you strolled into any coffee shop or café this afternoon and you will have your pick of countless pumpkin-flavored, autumnal snacks and drinks. But can you say the same for storied fast-casual chains? Now you can.
Buffalo Wild Wings, or "BDubs" to many regulars, has mastered the art of the buffalo wing. They're crispy. They're tender. They're tangy. And now... they're pumpkin-flavored? That's right: just in time for Halloween, Buffalo Wild Wings has debuted new BBQ Pumpkin Sauce.
When you think of pumpkin, chicken may not be the first pairing that comes to mind. Per the Buffalo Wild Wings website, the BBQ pumpkin sauce is "... fall's favorite flavor. Ale mixes with BBQ flavors and pumpkin spice for a taste of the season." It is a little offbeat, but if you think about it, pumpkin flavor has gone hand-in-hand with heat for a while. Pumpkin in itself is not what flavors your favorite festive treats, it is pumpkin spice. So, while pumpkin and the vinegary pungent sauce that coats buffalo wings may not be a match made in heaven, pumpkin knows how to amplify and compliment spices like a pro. In hindsight, it was only time until pumpkin spice made the leap from snack and dessert to main course.
BBQ Pumpkin sauce is not the only limited time offer currently available at Buffalo Wild Wings. BDubs has taken inspiration from a Tex-Mex staple to craft its new Enchilada sauce for wings. Struggling to decide what you want for dinner? Enchilada sauce wings are basically the perfect way to combat both fried chicken and taco cravings. The sauce is made from a secret combination of chili sauce and spices, and can be accompanied by cheese, sour cream and green onions. The final product resembles nachos, but with wings in place of the chips. Has Buffalo Wild Wings managed to create the ultimate game day munchie? You be the judge.
Further evidence of the pumpkin and chili pepper combination aka the perfect fall flavor palette you have never heard of, can be found at none other than New Mexico State University's Chile Pepper Institute. The research institute was originally founded in 1992, and exists purely to research and educate the public about chile peppers. Aside from (or, as a result of, rather) researching peppers, the NMSU Chile Pepper Institute develops and breeds entirely new strains of peppers. Some notable achievements include the NuMux Twilight Pepper, which changes color — from purple to yellow to orange to red — as it ages.
But what does this have to do with BBQ pumpkin wings? Well, as detailed in a report published by the agricultural journal: HortScience, the institute later managed to develop a lemon spice pepper, and eventually a PUMPKIN. SPICE. JALAPEÑO.
The new breed is said to be a rich, deep burnt orange color (very autumnal) and not for the faint of heart or tastebuds. The Pumpkin Spice Jalapeño clocks in at a scorching 80,000 Scoville Heat Units (SHU). It gives a whole new meaning to pumpkin spice.
If you're looking to take advantage of the other kind of pumpkin spice this year, you can order seeds to grow Pumpkin Spice Jalapeños from New Mexico State University's Chile Pepper Institute, and grow some yourself. If gardening isn't your thing, head over to your local BDubs; you have until the end of October to snag some wings with Pumpkin BBQ sauce.