'Buffy The Vampire Slayer' Might Leave Netflix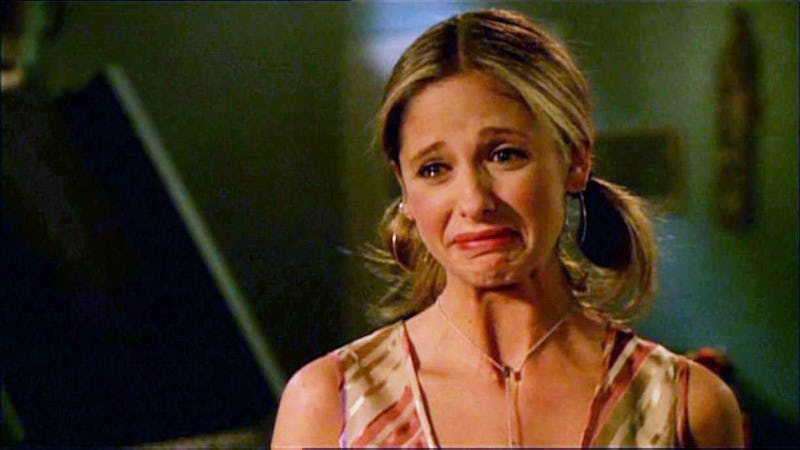 Warner Bros. Television
March marks an important date in the calendar for all Buffy The Vampire Slayer fans, because the series premiered on March 10, 1997, making it 20 years old. While it's hard to comprehend that the Joss Whedon classic came out so long ago, it's even more distressing that soon fans won't be able to stream the series so easily. Grab your tissues, because, reportedly, Buffy The Vampire Slayer is leaving Netflix at the end of March, and fans are devastated by the rumor. The show just celebrated an amazing anniversary, after all. We have to get it some respect.
While viewers will still be able to watch Buffy The Vampire Slayer on Hulu, many fans used Netflix to marathon the show religiously. Unfortunately, Netflix hasn't renewed its license for Buffy or Angel, with both shows being withdrawn from international Netflix platforms already. Allegedly, subscribers have until March 31st to re-watch the Sarah Michelle Gellar series in its entirety and celebrate its 20th anniversary in style.
But, after that, from April 1, 2017, your watchlist will feel extremely depleted, and, unless you have Hulu, there's going to be a lot less awesome vampire slaying in your life. Perhaps it's time to invest in that box set once and for all? Basically, you need to act now if Buffy The Vampire Slayer is a staple in your day to day life, just in case this rumor turns out to be real.
It's unsurprising that Buffy The Vampire Slayer fans are calling the show's Netflix cull an emergency. The 20-year-old series has always been incredibly influential in pop culture and has remained one of the most female friendly and feminist TV shows ever made. What sets the show apart from other vampire-themed television shows is its wicked sense of humor in the episodes, not to mention Willow's brilliant evolution into a witch.
Buffy Summers has stayed popular because she's super empowering, and the ultimate aspiration for people everywhere. In control of every situation, as well as physically and mentally powerful, Buffy makes the best of the task she's been given and isn't afraid to fight bad guys constantly. Which is exactly the sort of inspiration that the world needs right now.
If Netflix loses Buffy for good, it'll be a huge loss to us all. It's time to start marathon watching the show now, before it disappears into the ether. Or just go ahead and order the box set. Think of it as a wise investment.