Why 'Riverdale' Season 2 Is Already Looking More Progressive Than Season 1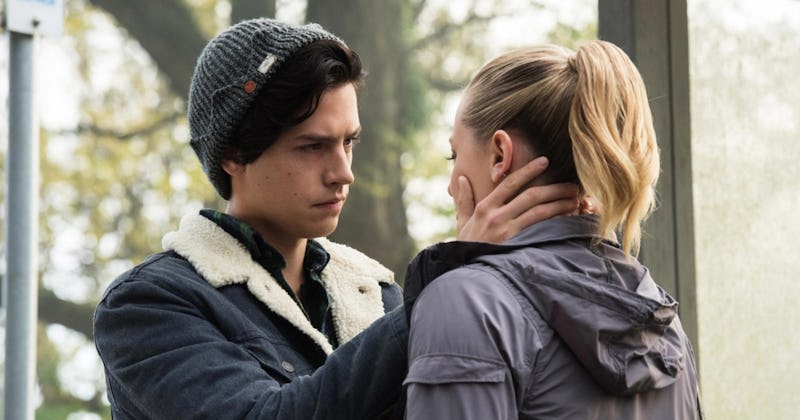 The CW
In the land of television relationships, fan-favorite couples don't stay together for very long. That's why the romance between Betty and Jughead on Riverdale Season 1 seemed too good to be true. After all, Betty leads a life of comfort and privilege while Jughead battles poverty and illegal temptations from Riverdale's resident gang — the Southside Serpents. Devoted fans already know that in Season 2, premiering Oct. 11, Bughead will be tested as Jughead switches schools, but on the MTV VMAs red carpet a new member of the cast revealed that there might be another reason for the star-crossed lovers to be pulled apart.
Speaking with Vanessa Morgan, who will play Toni Topaz on Riverdale Season 2, the actor teased that her character could cause a riff between Betty and Jughead. "I stir it up a bit for Bughead," she says coyly. "I'm part of Southside. I'm one of Jughead's first friends... I bring a bit of trouble."
At the end of Season 1, Betty was heartbroken as Jughead switched schools (and possibly alliances?), as he accepted a Southside Serpent jacket indicative of his initiation into the shady group. Though historically Riverdale has only showcased male members of the gang, Toni will be the first woman we follow in the criminally-inclined group. "I'm the girl in the gang," Morgan says. "My character is badass, and Jughead is the son of the King Serpent... why wouldn't I [welcome] him?"
Though loyal shippers of Bughead may be upset with Toni's arrival, there is a progressive reason her character and storyline are so important to showcase. "My character is bisexual," Morgan says. "This is one hundred percent important."
Morgan is right, the fact that her Riverdale character is bisexual is of paramount importance. Because even in 2017, when the conversation surrounding LGBTQ rights is seemingly at an all time high, television shows rarely focus on bisexual characters. According to a GLAAD study analyzing scripted broadcast programming for 2016, only 4.8 percent of characters were gay, lesbian, bisexual, transgender, or queer.
Luckily, Morgan says we'll be seeing a lot of her character, and that means Riverdale is not only giving a bisexual character screen time, they are also giving her a weighty storyline — and (hopefully) agency. Riverdale hasn't featured a bisexual character yet, and for the aforementioned reasons, Morgan is anxious to bring Toni to life.
In a previous TV role Morgan played Lyria, a lesbian, on The Shannara Chronicles. "I love being able to represent different people, and every single type of love," she says.
Assuming Toni sticks around for more than a few episodes, there's one character Morgan would love to see a romance blossom with. "Cheryl Blossom," she says. "Because Madelaine Petsch is my best friend in real life." And while that would be a lot of fun to watch unfold, it's necessary that Toni's character is more than a crush for any character.
Because yes, featuring a bisexual character is an important step for Riverdale, but what would be even better is if Toni had a chance to be more than Jughead — or anyone's — love interest. She's seemingly one of the only female Southside Serpent members, and it would be eye-opening to see the life of crime and (assumed) misogyny she deals with as a woman within the male-dominated group. Toni Topaz appears to be a multi-faceted person, and hopefully Riverdale will give her the opportunity to expose more layers than just her attraction to Jughead.