Build-A-Bear's New Baby Grinch Plush Will Melt Your Whole Heart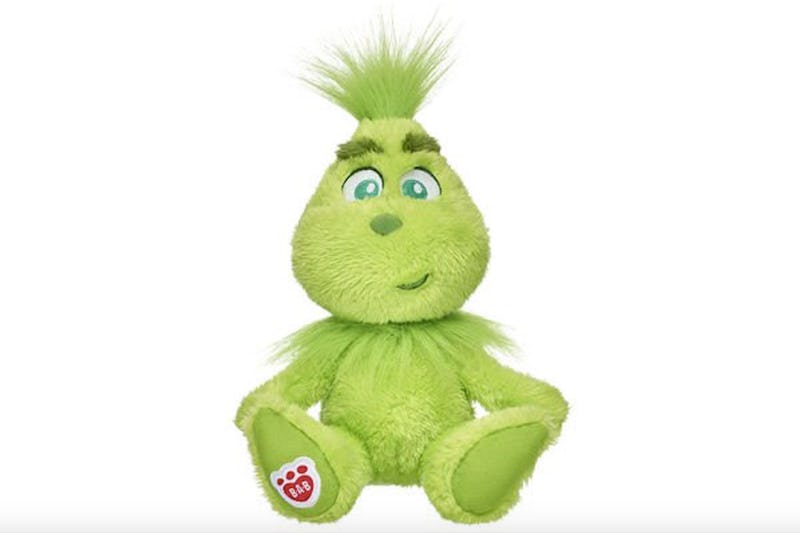 Build-A-Bear
One of the stranger retail experiences of the last few decades involves far more effort than other shopping journeys. The premise behind Build-A-Bear Workshop is purchasing not only an item, but an experience. Customers enter a yellow room filled that resembles a five-year-old's fever dream, and proceed to select, stuff, fluff, name, and dress up an animal. Generally these animals are pretty run-of-the-mill; bunnies, pups, and of course, bears. But in time for the holidays, the chain retailer is adding a recognizable character to its lineup: a Build-A-Bear Grinch line that includes a Young Grinch plush and a regular one.
On Nov. 9 a new version of Dr. Seuss' beloved How The Grinch Stole Christmas, entitled simply "The Grinch," will hit theaters. Though it is hard to wrap your head around, many of the kids in the audience for the new movie may not be too familiar with the verdant monster or Cindy Lou Who. The book was originally released in 1957, and the last film came out in 2000.
Build-A-Bear wants to make sure kids everywhere can appreciate the classic, and what a better way to appeal to a film's youngest viewers than through toys? The real Grinch may be green, hairy, and human-sized, but his plush lookalike is sure to win the hearts of Christmas lovers of all ages.
For $12.50, you can snag Build-A-Bear's interpretation of the Young Grinch, which the retailer guarantees is sure to be a hit with "even the grouchiest names on your list this year." The stuffed toy is covered in bright green fur and trades his notable scowl for a "cute lil' smile." Plus, this is a perfect gift for those who might not necessarily have the time to go through the whole stuff and fluff process for a toy — the Young Grinch comes pre-stuffed!
If you do want to go through the motions of building your furry friend, though, Build-A-Bear is also offering a larger Grinch for $25. You can order the unstuffed shell online to take into your local Build-A-Bear in store if you so desire. There you can also add specially-made accessories, including Grinch Six-In-One Sayings sound box, a three-piece Santa Suit or #TeamGrinch hoodie. Santa hats and other festive accessories are also available.
To say Build-A Bear has had a busy 2018 would be an understatement. The chain made national headlines over the summer fora Pay Your Age Day on July 12, which promised customers the chance to select and stuff a bear and pay only as much as their age. While it was expected to be popular, USA Today reported many stores had to turn patrons away before even opening, as the crowds were so overwhelming. To make up for the situation, guests who were unable to participate received a $15 coupon to use before the summer ended.
But hopefully you won't have to to wait for hours on end for your Grinch toy — and what better way to spend that $15 than on one of these iconic plushes? Pick one up at participating Build-A-Bear locations or online today.