Bulletproof Clothing For Kids That's "Fashion-Forward" Is A Thing That Exists Now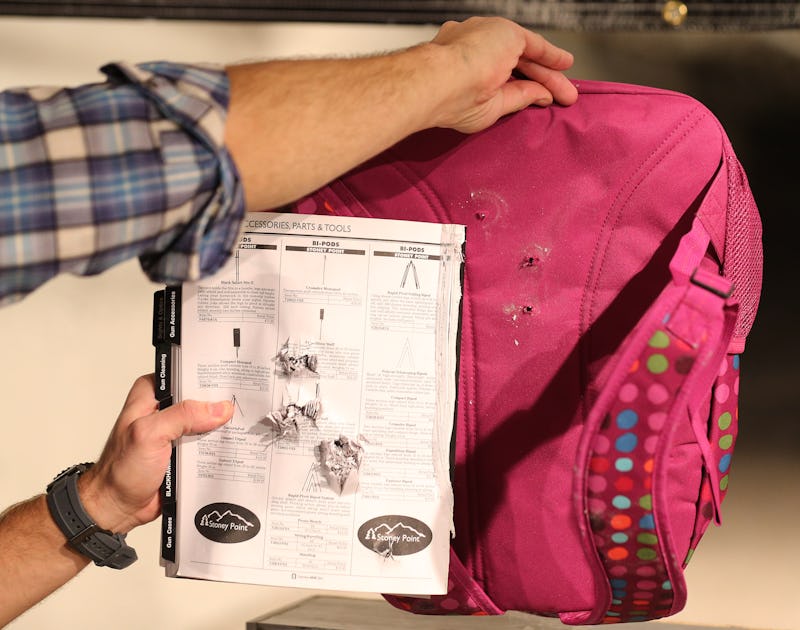 George Frey/Getty Images News/Getty Images
One particular company from the protective equipment market is offering young students a "fashion-forward" option to protect themselves during a school shooting. On Monday morning, Fox Business anchor Maria Bartiromo introduced Carolina Ballesteros Casas of the Colombia-based MC Armor company in a segment showing off "fashion-forward" bulletproof clothing for kids.
While showcasing a table covered with different bulletproof jackets and backpacks, Ballesteros Casas, who is MC Armor's marketing manager, told Bartiromo the company expanded to the U.S. in part because of the country's gun culture.
"In the U.S., sadly, there's the guns, everybody can have a gun," Ballesteros Casas said. "So, here, kids need to be protected, and we have the fact that there is some school issues, so we need to bring this to the United States." She told Bartiromo that the company works with pediatricians who say that before kids turn 15 years old, "they don't have fat, they don't have enough muscles, so they need to have hard ballistics."
MC Armor's bulletproof clothing may seem surreal, but it's part of a larger trend: In the face of gun violence in schools, like the February Parkland shooting in which a gunman killed 17 people, some turned to bulletproof backpacks as a preventative measure.
Ever since the Parkland school shooting, several states have worked on enacting state-level measures that try to get at the problem of gun violence. Among them are Connecticut, where a law was enacted to ban bump stocks; Illinois, where an ordinance has banned assault weapons and penalized locals who violate it with a $1,000 fine; and Florida, where a bill calls for arming teachers. But at the federal level, Congress has been slow to implement change. MC Armor's bulletproof clothing steps into that gap.
According to Ballesteros Casas, MC Armor's backpacks and clothing carry ballistic plates that would protect children and adults from being dangerously injured by a piercing bullet. In spite of the ballistic plating, the bulletproof apparel remained "very fashionable," Bartiromo observed. Ballesteros Cassa also told Bartiromo that high-ranking politicians in Latin America apparently don the company's bulletproof collection.
"We wear it with Miguel Caballero's brand, we wear it — 13 presidents in Latin America, we have prime ministers wearing this," Ballesteros Casas said. "So it's very light weight. You can see it's wearable. It's fashionable, but wearable, but protection."
Ballesteros Casas also appeared on ABC News in July to talk up the protective wear market, which she and her husband believed had an "untapped" potential for business. "The United States has a lot of guns and it's part of the culture," Ballesteros Casas told ABC. "But we participate in the defense and security industry and we want to save lives. So as soon as we see something as a shooting, a massive shooting, we need to be there."
The Fox Business segment cited a Grand View Research study that found MC Armor's market value is anticipated to reach $5.75 billion by 2025. So it seems that in the absence of more substantive policy changes addressing mass gun violence, bulletproof clothing is here to stay.