Burger King's Green "Nightmare King" Supposedly Induces Actual Nightmares
by Callie Tansill-Suddath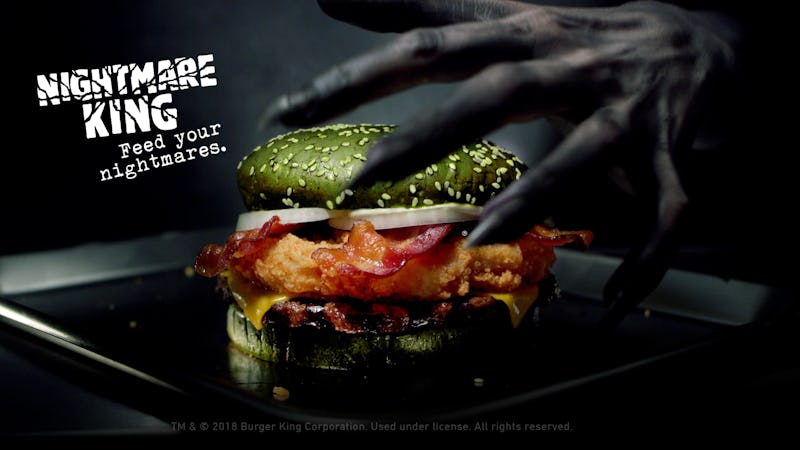 Courtesy of Burger King
Back in in the early 2000s, SpongeBob Squarepants, perhaps the best cartoon of your childhood, introduced the world to a putrid variation of his restaurant's signature Krabby Patty, called the Nasty Patty. Unlike its delicious-looking predecessor, he Nasty Patty resembled a green mutant with pimples on its bun in place of sesame seeds, and unidentifiable ooze running down its sides.
Thankfully, there is no real life equivalent to the Nasty Patty — but Burger King has just announced a spooky menu addition just in time for Halloween that'll remind you of the cartoon menace. A limited edition green bun is the star ingredient of Burger King's spooky Nightmare King burger.
To celebrate the season, BK is clearly embracing the go big or go home ideal. In a press release, Burger King details the sandwich as having "¼ pound of savory flame-grilled beef, a 100% white meat crispy chicken fillet, melted American cheese, thick cut bacon, creamy mayonnaise, and onions all assembled on a glazed green sesame seed bun." You probably won't want dessert after having one of these; when have you ever had three different types of meat assembled on the same bun? Further, a bun that is green!
You may be wondering how this monster sandwich got its name. Sure, a green bun and an enormous amount of meat is scary in itself, but the name actually runs far deeper. In aforementioned press release, Burger King explains that it partnered with the Paramount Trials, Florida Sleep & Neurological Diagnostic Services, Inc. and Goldforest Inc., to conduct a scientific study over ten nights with 100 participants. As it turns out, the king was on to something, as the incidence of nightmares increased by 3.5 times after eating the Nightmare King before bed. Whether this was connected to the green bun or indigestion is uncertain, but it's definitely enough to earn a "yikes!"
Burger King has been busy as of late. The Michigan-based fast food chain recently announced the limited time return of one of its most popular (and most missed menu items: cheesy tots.
Despite a common misconception, cheesy tots are hardly just cheese fries with tots subbed in for french fries. Rather than being topped with a layer of melted cheese, cheesy tots are actually filled with cheese. So, picture this: when the entire cheesy tot is fried, it the cheese filling melts, the soft potato inside of the tot cooks, and the outside of the tot becomes crispy and golden brown.
The only thing you need to complete your Halloween meal of a Nightmare King and cheesy tots is a drink. Luckily, Burger King has released an equally festive, spooky drink to pair with your meal. While the chain typically offers a pretty impressive list of slushie drinks year-round, it has transformed one of the classics into something much more sinister: the Frozen Fanta Scary Black Cherry Slushie. The slushie is, as its name suggests, black, rather than the red it is typically. You can also get a Coke slushie that has been turned red for the season, which is kind of spookier than brown, but nowhere near as spooky as black.
All the items mentioned here are only available for a limited time through the month of October. You can expect to find the Nightmare King at Burger King locations nationwide beginning Oct. 22. Postmates will also offer the Nightmare King between Oct. 22 and Nov. 1 with free delivery. Get your spook on!