A Frozen Fanta "Scary Black Cherry" Drink Just Hit Burger King For Halloween
by Callie Tansill-Suddath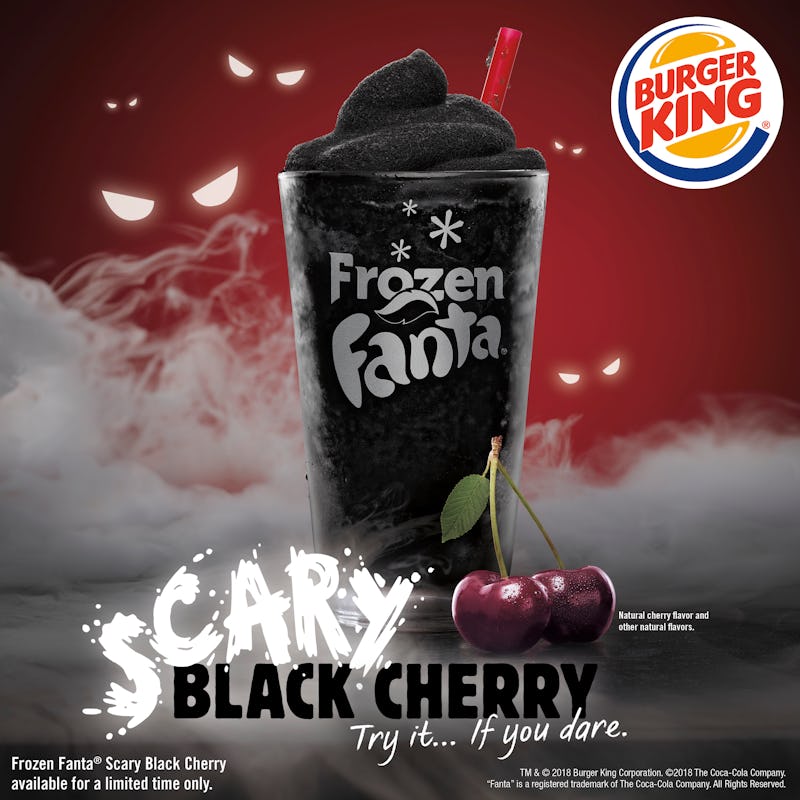 Not everyone wants some brews along with their boos. Halloween falls on a Wednesday this year, so you may have to schedule your big night out for the weekend before or after the holiday. The busiest happy hours are on weekends for a reason. But, the absence of booze (boos) doesn't mean you have to sacrifice all the yummy drinks! In fact, there's one festive sip you can pick up at one of the country's most iconic fast food chains. Have you ever sucked down a goth slush? No? Well, now you can with Burger King's Frozen Fanta Scary Black Cherry Slushie.
True Burger King fans will know the chain has offered slushes for a little while now; frozen Coke and frozen Fanta Cherry are beverage menu staples. But, these icy sips aren't typically so spooky. Chewboom reports through the month of October, you can snag a red frozen Coca Cola, or a frozen Fanta Scary Black Cherry to celebrate the season. Or, if you want to make your drink a dessert, each flavor can be upgraded to a frozen frosted drink with the addition of vanilla soft serve. Think of it as a creamy, lighter version of a milkshake.
While Burger King has yet to announce the temporary menu addition, Bustle confirmed the resurgence of the drink with a Burger King representative, so chances are it is available at a BK location near you — but you better jump on it while you can, because it's only around for a limited time.
Of course, this is far from the first innovation in Frozen Fanta-land we've seen from the chain. In July, Burger King added Frozen Fanta Orange and Frosted Frozen Fanta Orange to its lineup of frozen drinks, including regular Frozen Fanta Cherry, Frozen Coca Cola, and Frozen Fanta Lemonade. The Frozen Frosted Fanta Orange seems to have taken some inspiration to a childhood summer freezer staple: the creamsicle. So, basically BK knows its frozen drinks almost as well as it knows its Whoppers and nuggets.
And while we are on the topic of delicious food, earlier this year, Burger King introduced a variation of a cult-favorite snack that only returned to menus two years prior. The Crispy Pretzel Chicken Fries are unlike anything else on the market — the pretzel crunch coating makes them crispier than your average tender, and their thin, fry-like shape makes them optimal for dipping. Basically, chicken fries are already the perfect food when you want something salty and crispy, and perhaps are sick of regular fries (hard to imagine) — and the pretzel crunch takes it to the next level.
As for our Halloween-y faves, it appears the spooky and sweet Frozen Fanta Scary Black Cherry will be available at participating Burger King locations for a limited time. After a brief glance at Twitter, most reports indicating availability of the black slush seem to be coming out of the west coast. So, it may be best to call your local Burger King before getting your hopes too high. Happy spooking!