Busy Philipps Wants You To Pay Attention To Her Book, Not That James Franco Story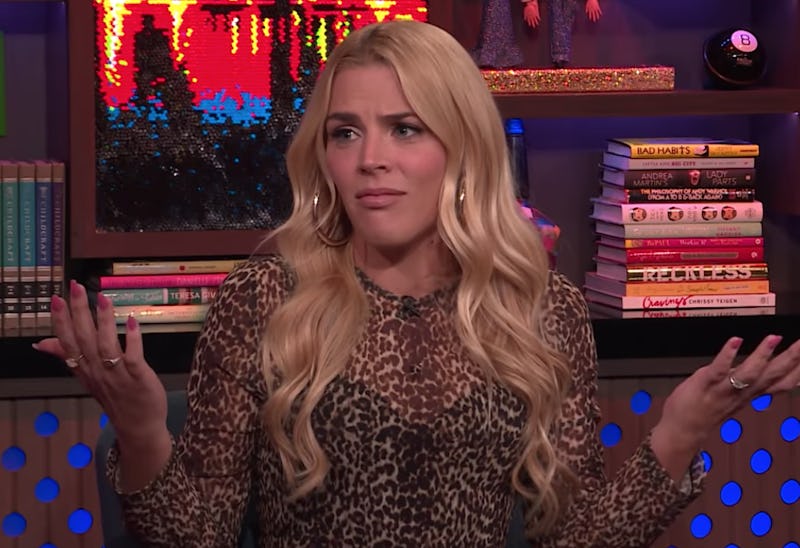 Bravo
During a Thursday Watch What Happens Live With Andy Cohen appearance, Busy Philipps said the James Franco story overshadowed her book and she's frustrated as a result. In her memoir, This Will Only Hurt A Little, Philipps claims Franco physically assaulted her on the set of Freaks and Geeks. And now Philipps is explaining why she's so upset about how the entire situation was received. Namely, that one story — that isn't even new news — became the focus of her entire book, when it's about so much more than that.
She explained,
"It was one of things I was really surprised about last week. It really bummed me out cuz I also just felt like I'm a woman in this industry who wrote a personal book about my experiences in life and in this industry, and then the headlines were all about a man."
Before the release of her book on Oct. 16, RadarOnline and Yahoo Entertainment obtained a copy of the memoir. The outlets revealed a snippet from her book, where Philipps wrote about Franco and her claims that he "grabbed" both of her arms, "screamed" in her face, "DON'T EVER TOUCH ME AGAIN!," and then "threw" her to the ground. What the former Dawson's Creek star now finds so frustrating is her story about Franco isn't new, so she doesn't believe it should have stolen her book's spotlight. (Bustle previously reached out to Franco's rep for comment, but did not receive an immediate response.)
During her WWHL interview, Andy Cohen said to Philipps, "It's crazy because you had originally told that story on Watch What happens Live." Philipps nodded in agreement with the late-night host.
In July 2016, Philipps discussed Franco on WWHL after being asked by Flipping Out's Jeff Lewis who was the most difficult celebrity she's ever worked. She said, "At the time, but we've since made amends, James Franco and I really didn't get along." She also revealed that when they were 19 and on Freaks and Geeks he "shoved" her to the ground. She also made it clear that they're "friends now."
For Philipps to see the kind of coverage the story is now getting, well, it's upsetting, especially because she worked so hard on her memoir. After Cohen asked Philipps if she's spoken to Franco recently or after she appeared on WWHL in 2016, she replied, "No, not after the show, because we had already talked about it. That's why I was like fine putting it in my book and whatever." She also said Franco apologized in the past.
Philipps added about the Franco story,
"When I was writing the book, because I talk about so many personal things, I always had in my head like things will get turned into clickbait. I naively did not think that would be one of them, because I talked about it on your show."
She also admitted that Franco probably isn't "thrilled about what happened this week."
This isn't the first time Philipps has expressed frustration over the Franco story. On Oct. 9, in response to a piece The Hollywood Reporter did on Philipps and her memoir, the actor took to Instagram and wrote, "They initially had a clickbait headline that's now been changed and I'm glad for that. On that note, my book is 308 pages, not one paragraph." (It's unclear what THR's original headline was.)
She continued,
"The Franco story is used to illustrate a larger point about the way women are treated in this business and in life. There are no 'allegations' and no 'accusations'. It's a story that I have been telling for years. James apologized. I accepted. And I still get to tell it because it f*cking happened to me."
With that, Philipps would rather you pay attention to her book, not the Franco story that she told over two years ago. Seeing as it's only one anecdote of an entire book that's over 300 pages long, Philipps request is more than reasonable.