We Tried 4 Butterbeer Desserts At Harry Potter World — Including The New Ice Cream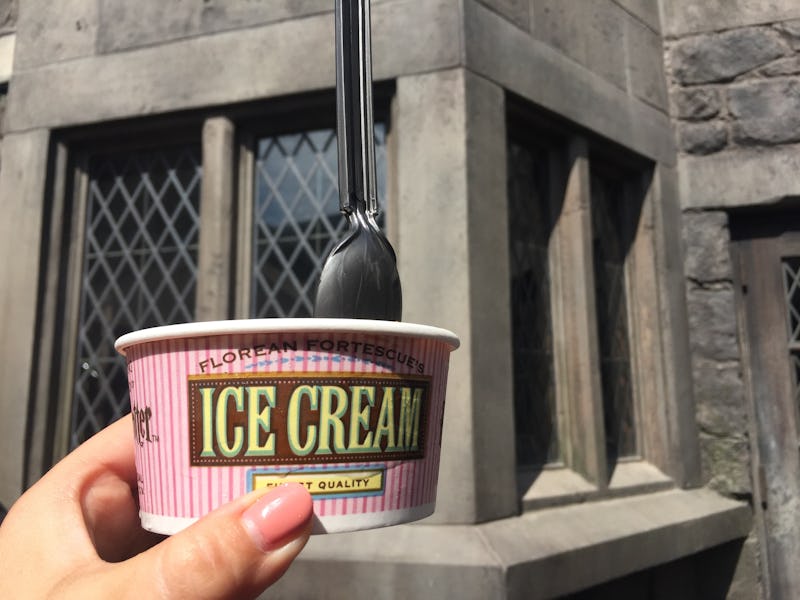 Kelsea Stahler/Bustle
Ever since the Wizarding World of Harry Potter announced Butterbeer ice cream, it's been pretty much all fans can think about. What better way to start the summer than to whip up a spell that turns the beloved Butterbeer beverage into an icy treat? Well, as it turns out, there is no better way: I have it on very good authority (mine, to be exact) that Butterbeer ice cream tastes like heaven. In fact, it might just be the best treat that the Wizarding World has to offer. Seriously.
Of course, I couldn't just taste the new product on its own — that wouldn't be scientific or fair. So I trekked to Universal Studios Hollywood to visit the Three Broomsticks and try the whole lot to see where the ice cream landed in the robust lineup of Hogsmeade delights. From warm Butterbeer, to frozen and chilled varieties, Butterbeer fudge and Butterbeer potted cream, there are so many ways to get that caramel fix. But there can only be one top treat and as it turns out, if my patronus was a dessert, it would probably be Butterbeer ice cream. Here's where it lands in the ranking among all the other buttery treats:
4. Butterbeer Fudge
Unfortunately, there was not a single photo angle that I could get on the fudge that didn't make it look like a stick of butter. But perhaps that's because it might actually just be a stick of butter. While I think it might fare better on a chilly December day with a cup of hot coffee, on this sticky 90 degree day in sunny Los Angeles, the heavy, ridiculously sweet treat was a bit too much for me. Granted, it did still bear the signature sugary flavor fans have come to expect from Butterbeer, so it might fare better with folks who have more of a sweet tooth.
3. Classic Butterbeer
Sacrilegious, I know. But I stand by the fact that in all three varieties (hot, cold, and frozen), Butterbeer is an intense beverage. Plus, it's not like our pals in Hogsmeade serve it up in tiny cups — these 16-ounce babies are huge. That's a lot of sugar in one beverage before hopping on Harry Potter And The Forbidden Journey (twists, turns, upside-down flying, dementors) or Flight of The Hippogriff (as wild as it sounds). Of course, it should be noted that a regular Dr. Pepper can send me into a sugar coma in an instant, so sugary soda-type drinks are hard pressed to land at the top of my list.
2. Butterbeer Potted Cream
Despite the weird cracking sensation that happens to the cream, this stuff is downright delicious. It's basically crème brûlée without a hard top, so it's pretty spectacular. In place of a classic crème brûlée's crackling layer of crystalized sugar is a Butterbeer-flavored syrup topped with a dollop of whipped cream. It's indulgent, but doesn't feel nearly as heavy as a frozen Butterbeer or Butterbeer fudge, which is ideal when you're about to swap the Three Broomsticks for a rollercoaster.
1. Butterbeer Ice Cream
Accio this ice cream, forever and always. It comes in a cute little pink cup bearing the name Florean Fortescue (who diehard Potterheads will recognize as the purveyor of ice cream in Diagon Alley), so it's just as good for a Wizarding World Instagram as the next treat. Plus, it's basically a deconstructed Butterbeer beverage: It's as if the two best parts of the beverage decided to ditch the soda. The base is the smooth, vanilla creamy top of the cool drink while the swirl that runs throughout is pure Butterbeer essence. *Chef's kiss* It is, as Ron would say, bloody brilliant.
Editor's Note: A previous version of this article incorrectly named the Butterbeer Potted Cream.