A Nurse Who Was Deported To Mexico Last Year May Be About To Come Back To The US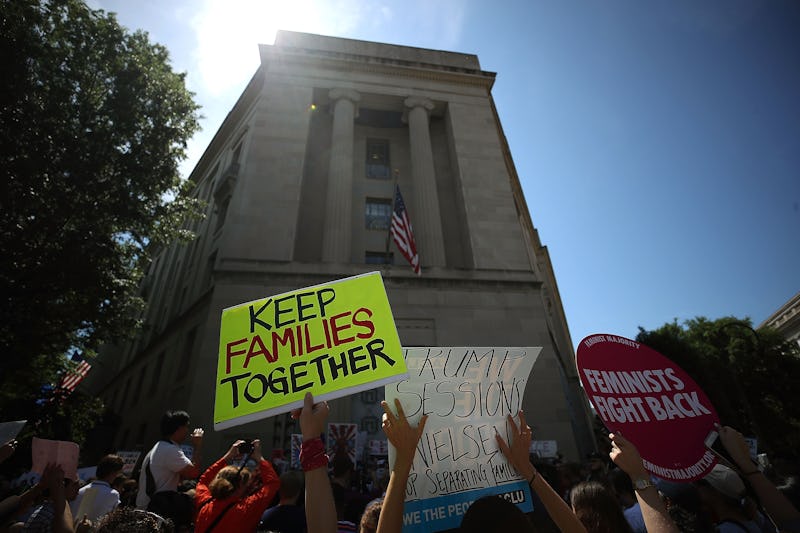 Mark Wilson/Getty Images News/Getty Images
In August 2017, Maria Mendoza-Sanchez and her husband were deported to Mexico after spending 15 years trying to obtain legal status in Oakland, California. On Friday — more than a year after her deportation — Mendoza-Sanchez won her appeal to return to the U.S. and reunite with her four kids in California.
Mendoza-Sanchez initially joined her now-husband in California in 1994 on a tourist visa, KQED reported, and the couple subsequently started their lives together as undocumented immigrants. They have four children together, three of whom are U.S. citizens; the eldest, Vianney, was born in Mexico but is protected from deportation by the Obama-era DACA program.
Starting in 2002, Mendoza-Sanchez and her husband continually applied for legal status in the United States after acquiring work permits. In the interim, Mendoza-Sanchez studied nursing and in 2015 became an oncology nurse at Highland Hospital in Oakland. However, according to the San Francisco Chronicle, a judge found them ineligible for legal status in 2013, and ordered that they be deported. However, they were granted two one-year stays by the Obama administration, which at the time was focusing specifically on criminal deportations.
After Donald Trump assumed the presidency, however, the federal government began cracking down on all undocumented immigrants — including Mendoza-Sanchez and her husband. The couple was forced to leave for Mexico in August 2017, but they left their four children behind in California, in the hopes that they would have access to better opportunities there.
On Friday morning, however, the U.S. Embassy in Mexico informed Mendoza-Sanchez that a waiver had been approved lifting many of the restrictions barring her from returning to the United States. This was one of the last obstacles standing between her and her children; earlier this year, Mendoza-Sanchez won a lottery drawing for an H-1B work visa sponsored by her former employer, Highland Hospital. Nonetheless, her return to the country has still not been completely finalized, as that decision ultimately rests with Customs and Immigration Services.
Ever since Mendoza-Sanchez and her husband were deported, her four children have been living together in the Oakland family home, with 24-year-old Vianney looking after the other three. Federal law initially dictated that the couple would not be able to return to the United States for a decade. Prior to her deportation, Mendoza-Sanchez started working extra shifts at the hospital in order to save money for her children, in case they were ever separated. But on Friday, BuzzFeed News reported, Mendoza-Sanchez told her children that "Momma is coming home!" — and they were thrilled.
Parenting her children from afar has been an excruciating task, Mendoza-Sanchez told KQED earlier this year. She would call and remind her son Jesus to eat his breakfast before leaving for school in the morning, and ensured that all of her kids were safe at home at the end of each day. But if USCIS approves Mendoza-Sanchez's return to the United States, she will be able to return to her children, as well as resume her job as a Highland Hospital nurse.