Cat Grant Is Officially Returning For The 'Supergirl' Finale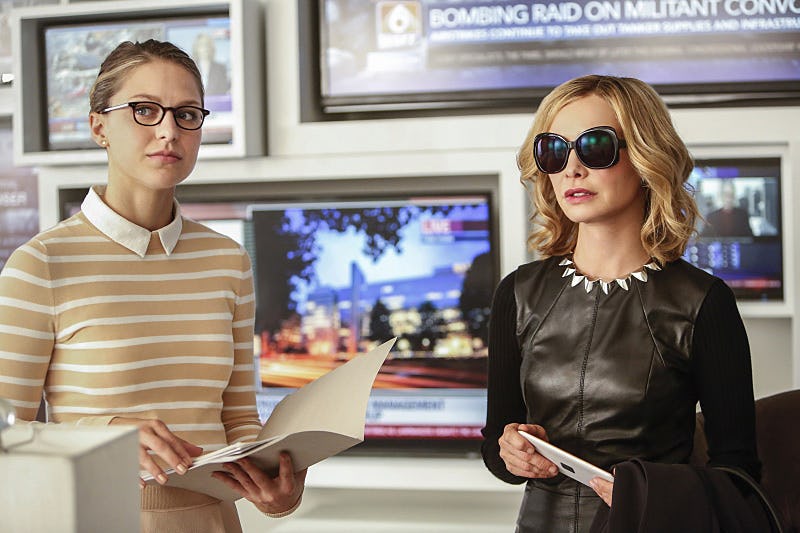 BETTINA STRAUSS/THE CW
If you've been wondering when the "recurring" part of her "recurring guest star" title was going to start making sense again, then just be cool, because Calista Flockhart is returning to Supergirl. Which, like, finally. I've missed her. The actor, who plays Cat Grant on Supergirl, was a major part of Season 1 of the show, but she has sadly only appeared in two episodes of the second season. So the news that Flockhart will star in the final two episodes of Supergirl's second season is extremely exciting news for fans who were sad to see the character leave.
However, if you were hoping for any futher information, like, you know, why Cat Grant is returning to Supergirl, then you're going to be disappointed. The details surrounding the character's return are being kept tight under wraps. But, then, who even really cares as long as she's back, right?
As executive producer Andrew Kriesberg revealed to Entertainment Weekly back in 2016, the plan was to always have Flockhart return, but the main issue was a scheduling one. The show moved production from Los Angeles to Vancouver, making the job difficult for the actor. Kriesberg explained:
We're still trying to work out her schedule, because she's got stuff going on with her family, and her husband is shooting a pretty big movie right now... We love working with Calista and Calista loves the show, which is why she came back to do this.
Be still my beating heart. I just wish these kids could make it work so that Flockhart could remain in the show as the series regular that she was in Season 1. But I also have a whole lot of respect for a woman who can prioritize her personal needs before professional ones. All that aside, I'm still thinking about why Cat may be returning to the show, and what she might get up to in those final two episodes of Season 2.
While the character may be witty, flawed, and wonderfully powerful, she's also proved herself to be a terrific mentor and ally to Kara. With Cat returning to the final two episodes of the season, I can only hope that it's to do something that will monumentally inspired and help Kara in some way. Because honestly? Some of my favorite moments from Supergirl have been the times that the two of them have spent together. And much of that has been watching Kara learn from Cat, and even vice versa sometimes.
Whatever the reason that Cat, and the spectacular Flockhart, are returning to National City, I'm sure it's going to be a great one. And just like Cat and Kara's relationship on the show, it will be full of surprises.