This Is Going To Be The Sexiest Movie Of 2017, Hands Down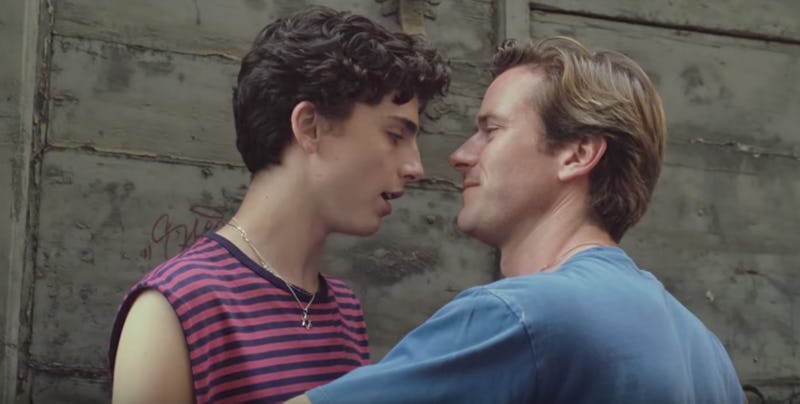 Sony Pictures Classics
Sex sells, which means that it can sometimes be impossible to find a movie that isn't at the very least trying to be sexy. Everything from Fifty Shades Darker to Baby Driver is marketed as being the sexy movie of the year, but — spoiler alert — they're not. No, the one sexy movie out in 2017 that you have to see is Call Me By Your Name. The drama from director Luca Guadagnino tells the story of a young man's first love, and despite its November release date, it's already an Oscar front-runner — in addition to being guaranteed the crown of sexiest movie of the year.
Call Me By Your Name, based on the book by André Aciman, takes place in 1983 Italy, where a 17-year-old boy (Timothée Chalamet) falls in love with a 24-year-old male student (Armie Hammer) staying with his family for the summer. Fans of the book know that the story is one of a sexual and emotional awakening. It's a journey that, at least on paper, included many explicit sex scenes. The film, however, ditches graphic sex in favor of a more subtle sexual tension. (Though fans of the book will definitely recognize a very specific peach sex scene.) "I wasn't interested at all [in explicit sex scenes]," Guadagnino said in an interview with The Hollywood Reporter. "I wanted the audience to completely rely on the emotional travel of these people and feel first love."
For the cast and crew of Call Me By Your Name, the focus of some of the more steamy scenes was on the sensuality of the relationship, not the sexiness. In fact, as the director recounted to The Hollywood Reporter, before filming Guadagnino gathered with the cast and gave them one specific instruction. "Let's have fun, and let's be sensual without putting any kind of effort into it." Sensuality is truly the theme of the film. While doing press, star Chalamet, called it Guadagnino's superpower, telling W Magazine, "His superpower is his sensuality — his ability to make everything feel romantic."
As a result, none of the sex scenes in the film are particularly raunchy, which might only serve to make them more sexy. It also helps make the age difference between the two lovers a bit less disturbing. "Nothing to us about the relationship was predatory in nature," Hammer said during a press conference at the Cannes Film Festival, via Film Ink. "It was always something that was a feeling, this spark, this unexplainable desire between these two characters that seemed to grow."
If you're hoping to see a sexy movie that's essentially one step down from porn, then Call Me By Your Name probably isn't for you. But, if you want to see a movie that's sexy in its purest form, then the coming-of-age drama is the one movie you can't miss.