These 19 Movies Could Be Next Year's Oscar Nominees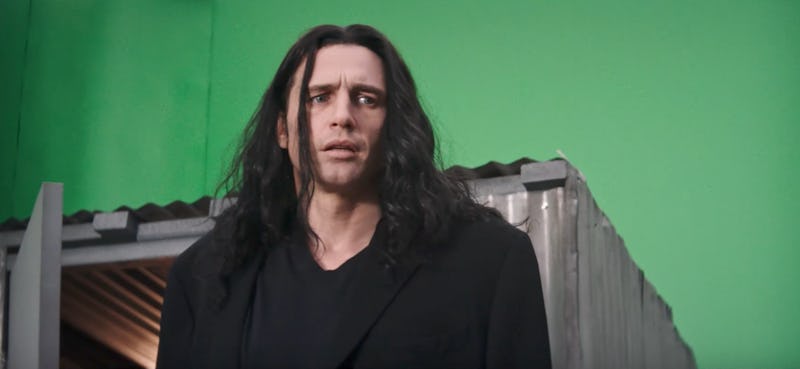 A24
It may only be August, but Oscar season basically started when Get Out was released in February, earning awards buzz the likes of which early year movies never seen. Now with fall approaching, Oscar season has officially begun, which means movie theaters will soon be flooded with period dramas and ambitious films galore. But these 19 fall movies that have Oscar potential are the ones you really should be watching. Note that many awards-worthy films will likely be hitting theaters in the winter, so for clarity's sake this list only includes films set for release between Friday, Sept. 22, and Thursday Dec. 21, the official start and end dates of the Fall of 2017.
Of course, it's hard to know for sure which movies coming out this fall will make it all the way to the Oscars. So much award show success depends on buzz, word of mouth, and public campaigning, even the most acclaimed movies could be lost in the shuffle. And no doubt the political climate will have a little something to do with what movies are able to stay relevant into 2018. (Will it be a feel-good year? Or will period dramas starring white men be all the rage?) These 19 fall movies have Oscar potential, but which ones will actually be able to fulfill that potential remains to be seen.
1. Battle Of The Sexes — Sept. 22
From the directors of Little Miss Sunshine, Battle of the Sexes is sure to inspire some Oscar talk. The movie tells the true story of the 1973 man vs. woman showdown tennis match in which Bobby Riggs faced off against Billie Jean King. The movie stars Steve Carell and last year's Best Actress winner Emma Stone.
2. Stronger — Sept. 22
Jake Gyllenhaal could finally get that Best Actor nomination with Stronger, a new drama about the Boston Marathon bombing.
3. Victoria And Abdul — Sept. 22
Period pieces aren't really as big at the Oscars as they once were, but Victoria and Abdul could burst through this year, mostly thanks to star Judi Dench.
4. Mark Felt: The Man Who Brought Down The White House — Sept. 29
Liam Neeson stars as Mark Felt in this drama about Deep Throat himself. Mark Felt: The Man Who Brought Down the White House could benefit from the current political climate should the Watergate comparison remain relevant into 2018.
5. The Florida Project — Oct. 6
The Florida Project, writer-director Sean Baker's follow up to Tangerine (a film woefully ignored by the Academy), definitely has the potential to be this year's indie darling.
6. Breathe — Oct. 13
Breathe has Oscar bait written all over it. Andy Serkis' directorial debut stars Andrew Garfield as a man who becomes paralyzed from the neck down and, with the help of his wife, helps change what it means to live with a disability.
7. Mother! — Oct. 13
Darren Aronofsky's new thriller, Mother!, stars Oscar darling Jennifer Lawrence, which means it will get Oscar buzz whether it wants it or not.
8. Marshall — Oct. 13
Marshall, a biopic of the first African America Supreme Court Justice Thurgood Marshall, has all the elements necessary to be a surprise Oscar hit. Buzz-worthy cast? Check. Dramatic substance? Check. Social relevance? Check.
9. Suburbicon — Oct. 27
From the minds of the Coen brothers, George Clooney, and Grant Heslov, Suburbicon is the kind of wacky take down of the ideal American suburbia that Academy voters love. The fact that it stars Oscar-darlings Matt Damon and Julianne Moore is really just icing on the cake.
10. The Square — Oct. 27
Winner of the Palme d'Or at the Cannes Film Festival, The Square is almost guaranteed a nomination for Best Foreign Film.
11. Professor Marston & The Wonder Women — Oct 27
Professor Marston & the Wonder Women's Oscar potential is entirely reliant on public reception. Writer-director Angela Robinson's intriguing drama about one of the creators of Wonder Woman is the kind of movie that the Academy normally ignores, unless audiences get behind it and campaign the hell out of it.
12. The Killing Of A Sacred Deer — Nov. 3
If there's one thing every pop culture lover can agree on this year, it's that 2017 is Nicole Kidman's year and we are just living in it. Her next movie, The Killing of a Sacred Deer, is a drama about a dysfunctional family from The Lobster writer-director Yorgos Lanthimos. The epic team up of Kidman and Lanthimos might just lead them to Oscar victory.
13. Molly's Game — Nov. 22
Aaron Sorkin's directorial debut, Molly's Game, tells the story of Molly Bloom, an ex-skier, who starts running a high-stakes poker game, earning her some major play and an FBI investigation. Sorkin wrote the screenplay and assembled a pretty stunning cast, including Jessica Chastain and Idris Elba, so it feels safe to say that Molly's Game is heading straight for Oscar.
14. Darkest Hour — Nov. 22
Director Joe Wright (Atonement, Pride & Prejudice) takes on Winston Churchill in this WWII movie starring Gary Oldman. The period piece has all the Oscar elements, including a drastic makeup makeover for Oldman, who packs on the prosthetics to play Churchill.
15. Coco — Nov. 24
Pixar's upcoming film, Coco, is a shoo-in for Best Animated Feature. And, given animated film's recent success, it's possible the film could get some recognition from other categories normally reserved for live action films, like Best Picture or Best Screenplay.
16. Call Me By Your Name — Nov. 24
Oscar buzz has followed Call Me By Your Name since it's premiere at the Sundance Film Festival in January, and it shows no signs of stopping. The movie, about a young man who discovers his sexuality when an American student comes to stay with him and his family, is sure to make waves with audiences and critics alike. In other words: it's the one you don't want to miss.
17. Wonder Wheel — Dec. 1
Woody Allen movies tend to either be massive hits at the Oscars or be ignored completely. It's too early to tell which category Wonder Wheel, his new film starring Kate Winslet, Juno temple, and Justin Timberlake, will fall in, but it's worth noting just the same.
18. The Shape Of Water — Dec. 8
The Academy tends to turn its back on fantasy films, but this year might just be the year they decide reality is just too much to deal with. Guillermo del Toro's The Shape of Water could be the movie to break through thanks to an Oscar-nominated cast featuring Sally Hawkins, Michael Shannon, and Octavia Spencer.
19. The Disaster Artist — Dec. 8
James Franco's new film about the making of The Room is the kind of strange Hollywood movie the Academy will either love or hate. You know, kind of like James Franco.
Once winter officially begins, the Oscar race will get a bit more heated, with new films from Steven Spielberg and Alexander Payne joining in on the fun. But, for now, these fall hopefuls are more than enough.