This NY Lawmaker Wants To Make Calling 911 On Black People For No Reason A Hate Crime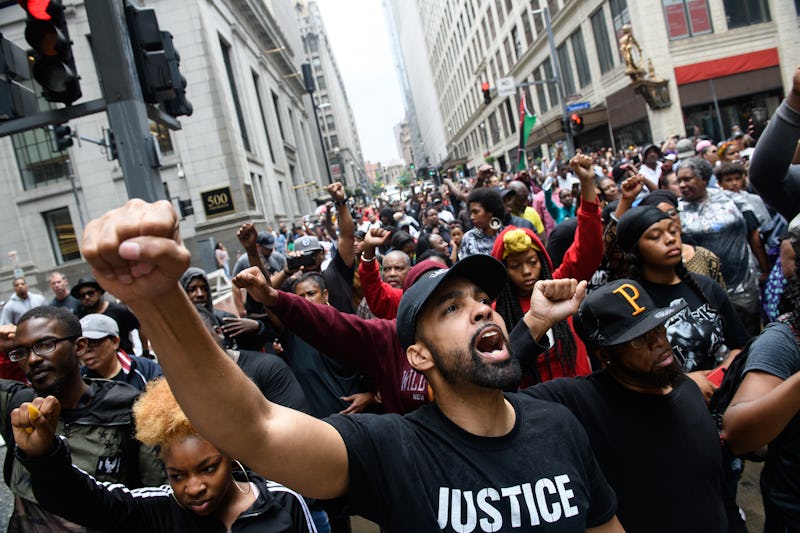 Justin Merriman/Getty Images News/Getty Images
In the past year, numerous incidents have been caught on tape in which white people called the police on black people who were simply sitting in coffee shops, enjoying a barbecue, or eating lunch in their university building. Now, one lawmaker in New York wants to criminalize these unnecessary 911 calls as hate crimes.
This week, New York State Sen. Jesse Hamilton proposed legislation that, if passed, would categorize 911 calls on law-abiding people of color as hate crimes. His proposal came not long after a Trump supporter reportedly called the police on him while he was campaigning on a Brooklyn street corner.
"That's gonna be a hate crime," Hamilton told Patch. "This pattern of calling the police on black people going about their business and participating in the life of our country has to stop."
Per The Hill, the legislation Hamilton is proposing would strengthen existing policies in New York that ban false reports. Making a false police report is already a criminal offense in New York, and Hamilton's proposed legislation would ideally make that apply to 911 calls on people of color without evidence of malice, too. In a press release to Bustle, Hamilton stated that he was introducing this legislation because "living while black is not a crime, but making a false report — especially motivated by hate — should be."
Hamilton is certainly not the only black person who has had the police called on him for no clear reason. In a statement to Bustle, a spokesperson for Hamilton explained that the state senator developed this legislation precisely because it was such a widespread concern.
"Senator Hamilton has also been aware of the pattern reported nationally of people of color having 911 called on them for going about their daily lives," Ean Fullerton, Hamilton's research and communications director, says. He adds:
Instances the Senator points to include the Smith College student who was eating lunch, the Yale University student who was napping, the two black men waiting for a friend at a Philadelphia Starbucks, the black women who were said to be golfing too slowly in Pennsylvania, the black Airbnb guests departing after their vacation in California, the Oakland barbecue, and the Oregon lawmaker who was knocking on doors in the community she represents.
Hawk Newsome, a civil rights activist who leads Black Lives Matter of Greater New York, tells Bustle that Hamilton's proposed legislation is a "radical and much-needed idea" to hold people accountable in response to this frequency of such 911 calls. (Black Lives Matter of Greater New York is part of the BLM movement but not part of the global network.)
"Some white people are using the police as a weapon against blacks," Newsome says. "If people call the police for suspicious behavior and there is no crime being committed, then they should be prosecuted. A perfect example of this is George Zimmerman calling the police on Trayvon Martin when he wasn't doing anything but walking while black."
Legislature is "the most powerful tool in correcting societal ills," Newsome argues, and he says he wants to see New York Gov. Andrew Cuomo endorse Hamilton's proposed legislation. If that happens — and "if the Democrats can rally together" around this bill — then it is likely to pass, Newsome says.
And Hamilton will do everything he can to make sure this legislation passes, too. Fullerton says that the state senator is currently working "to build support with colleagues as this issue resonates with communities across the state," noting that more and more instances of such 911 calls have been reported nationwide. Once the legislation is passed, Fullerton says, the responsibility for investigating and prosecuting people who file false reports would fall to police departments and district attorneys.
This method of enforcement has prompted some discomfort among New Yorkers, however. One Brooklyn resident, Milan Powell, told Patch that the legislation Hamilton proposed would be "putting responsibility in the hands of an institution that's really predatory."
When asked how the state senator would respond to such concerns, Fullerton tells Bustle that Hamilton is pursuing many reforms — from the end of broken windows policing to the legalization of marijuana — so that residents like Powell can "have more confidence in the justice system" to protect the rights of people of color and other marginalized communities.
Correction: A previous version of this story misspelled Hawk Newsome's name. It has been updated.