Why This 'Dietland' Star Founded Her Own Members-Only Feminist Collective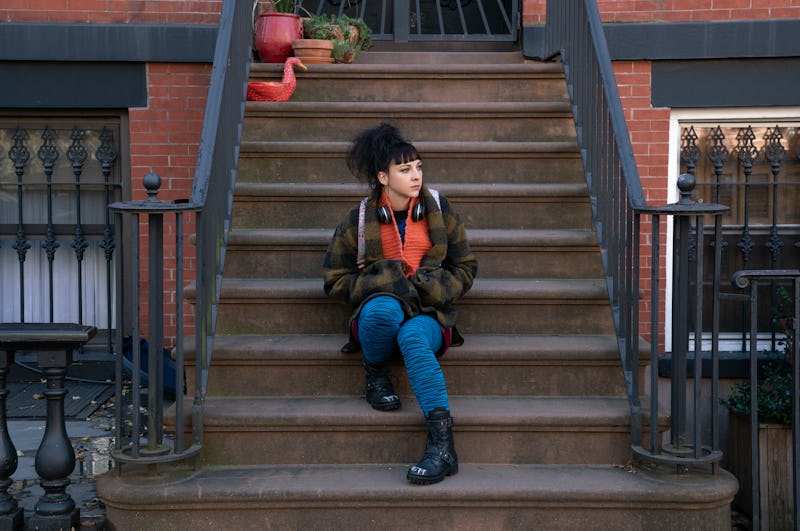 Patrick Harbron / AMC
Plum Kettle, the protagonist of AMC's new drama Dietland, has been suffering through a never-ending series of diets for most of her life. In the first episode of the series, she comes face to face with a woman who's been not-so-subtly following her around for some time. Leeta, played by Erin Darke, is mysterious and a little off-putting, initially upsetting Plum when she writes the word "Dietland" on her arm. But by the next episode, Leeta confesses that what she really wants is to introduce Plum to Verena Baptist, the founder of Calliope House, a feminist group designed to help women empower one another against a society that aims to keep them down. And Darke, a feminist and activist in her own right, has actually founded a sort-of Calliope House of her own.
Darke, who hails from Flint, Michigan, has been acting professionally since 2009. Looking at the shows she's been in over the past three years feels a little like peeking into a Hollywood Herland. These shows not only feature women protagonists, but often female directors, writers, and producers as well. She's had small roles in Homeland, and Amy Sherman-Palladino's The Marvelous Mrs. Maisel. From 2015 to 2017 she starred in Good Girls Revolt, a show based on the true story of female magazine researchers in the '60s who decide to rebel against the male-run publication refusing to give them the credit they deserve.
"In my dream [roles]," Darke says, speaking over the phone, "I wanted to work on something that was being done by women about women."
It's no wonder, then, that she gravitated toward Dietland. The latest of Darke's projects stars Joy Nash as Plum and Julianna Margulies as Kitty Montgomery, the fashion magazine editor who almost makes Miranda Priestly look like Mary Poppins. Marti Noxon (Buffy the Vampire Slayer, To The Bone) is the showrunner, bringing Sarai Walker's 2015 novel to life.
"I was attracted to Dietland sort of even before I knew what it was," says Darke. "When it first got announced, I read the little blurb about it and I sort of had this weird feeling. I was like, 'That's it, that's my next show.'"
But even before becoming an official member of Calliope House on Dietland, Darke was already dabbling with forming her own feminist organization.
"I sort of accidentally started a women's group," she explains.
"I'd just come off a show that was about '60s feminism," Darke says, "and one thing that had really struck me about that period in feminism was women forming communities, and I had this sense that our generation had maybe lost that a little bit."
So the day after the 2016 presidential election, when emotions were running high across the country, especially in Darke's current home of New York City, she decided it was time to start bringing women together.
"I sent out an email the day after the election to all of the women that I knew in New York, being like, let's have a consciousness-raising meeting."
It's an apt choice of words, as that's exactly what Sarai Walker said that she was aiming to do through her book, in an interview with Man Repeller over six months prior.
Darke continues, "Like 20 women came over to my apartment, and we cried a lot, and we decided to keep meeting. We decided to try start fundraising for organizations who were doing things that we cared about — and were doing them well. Now it's become a women's group. We're called Women to the Front."
Darke currently serves as the CFO of Women to the Front (WTTF), which now has over 100 members. Also on the executive board with Darke are co-presidents Kate Dearing and Jane Pakenham, head of communications Lauren Stephenson, and head of operations Julia Manacher. In their first fundraiser, WTTF raised $15,000 for EMW Women's Surgical Center in Louisville, Kentucky, the "the ONLY licensed center in Kentucky offering abortion services," per its site. The group also raised an additional $11,500 for the Florence Project, which provides free social and legal services for immigrants. Next up, WTTF is planning a fundraiser for Spread the Vote, which will take place on Governor's Island on Aug. 19, according to Dearing.
While the fundraising is the core focus, it's hardly the only value that the group holds dear. "It's also just really amazing to like once or twice a month just sit in a room with 15 to 30 other women who just care really deeply, and talk about things," Darke says.
Membership isn't fully open at this point, according to Dark — much as it is with Calliope House, an invitation is required. But that doesn't mean the organization doesn't welcome newcomers. "Who is able to come to the meetings is sort of revolving every month, and we're always open," Darke says. "I will definitely meet people all the time and be like, 'Hey! You seem awesome, you should come to the meeting.'"
Unlike Calliope House, where Verena takes a vested interest in individual women like Plum, WTTF has its sights set on broader goals, supporting organizations that are already contributing to progressive causes (and not just those that affect women). But both the fictional Calliope House and the real WTTF are firmly committed to trying to make the world a better place. According to their website, "[WTTF's] fundraising efforts are part of a larger mission to actively build the future we want — where civic engagement and advocacy is an inspiring and integral part of our daily lives."
Both in her activism and her acting, Darke acknowledges that she's been extremely lucky to work with some incredible women. As for her role on Dietland, the subversive, feminist, female-driven drama, well, she says that just pretty much felt like destiny.
"I mean the whole job was pretty dreamy, I'll be honest," she says. "There were no bad eggs. Everyone was really excited to be on the project, and there were so many awesome women around all the time. I think that this is some sort of fate, if you believe in that. This is where I want to be."