Camila Cabello's Billboard Music Awards Dress Looks Like Nothing She's Worn Before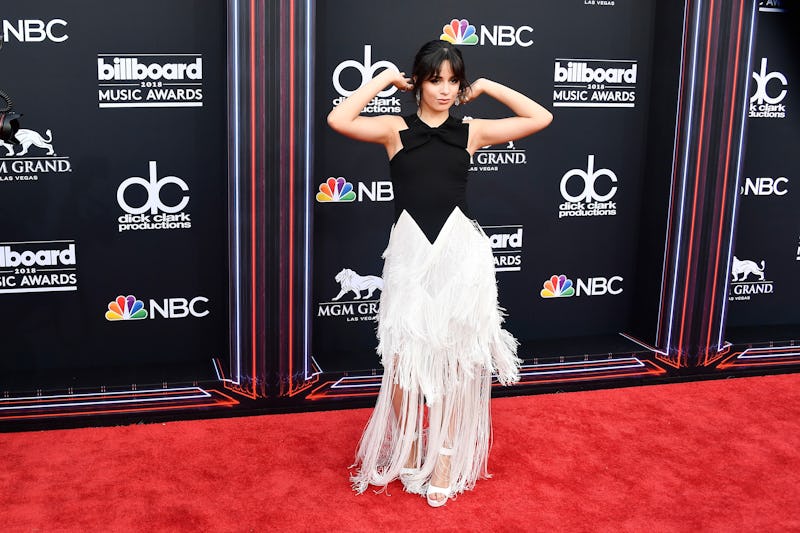 Frazer Harrison/Getty Images Entertainment/Getty Images
In the year 2018, it's basically impossible to go more than 10 minutes without hearing that "Havana" song playing. You know the one. If you aren't aware, that song is one of pop star Camila Cabello's hits, so it makes sense that the is performing at the 2018 Billboard Music Awards. Camila Cabello's 2018 Billboard Music Awards outfit, though, is what a lot of people will be talking about — especially on Twitter. If you follow award show hashtags on Twitter, then you've probably seen Cabello's many, many fans obsessing over basically everything the singer wears. The former Fifth Harmony member has a huge fanbase. Pair that with a killer sense of style, and it makes sense why the star is an up-and-coming name in the fashion world.
While Cabello's 2018 Billboard's dress is a little different than usual, this year isn't the star's first time at the Billboard Music Awards. Cabello attended in 2015 and 2016 with her former girl group Fifth Harmony, and in 2017 as a solo star. in 2015, Cabello wore a long white dress with silver embellishments. Going the opposite direction stylistically, In 2016, Cabello matched outfits with the other members of the group (something that was normal for the pop group), wearing a long, black dress. In 2017, her solo debut, Cabello wore a gorgeous red lace gown and matching robe. Cabello also performed in 2016 and 2017, so she's no stranger to the Billboard Music Awards stage.
For this year's awards, Cabello wore a black column dress with white fringe to walk the red carpet. All in all the dress is nothing like she's worn in the past. It's both more embellished and more simple than past years' looks all at the same time. It featured a bow at the neckline and an asymmetrical pattern around the waist.
Stunning, right? The bottom of the dress was a bit sheer to reveal a stiletto. All in all, though, it's hard to focus on anything else in the look beyond the dress because it is so extravagant.
Cabello paired the dress with white heels and a simple updo. She also worn simple, sparkly earrings with the look. This makes sense as the dress had so much going on, but its definitely a different beauty choice than her looks of year's past.
Just looking at Cabello's 2015, 2016, and 2017 looks is proof of how far the star has come both stylistically and in terms of her solo career. The 2018 dress in particular shows that Cabello is showcasing different sides of herself stylistically than years past. It seems she sticking with her signature bangs for now, though.
2017 Billboard Music Awards
Isn't this red just gorgeous? It makes total sense why the star chose this look, but if you look at that next to her 2018 look, you can see just how different the two choices are. Notably, this red dress is the first and only bright color Cabello has worn at the Billboard Music Awards.
2016 Billboard Music Awards
This is the look Cabello chose for her Fifth Harmony red carpet appearance. While this is a similar color scheme to the 2018 look, the style of the dress is totally and completely different.
2015 Billboard Music Awards
Cabello's style has definitely changed over the years. Just look at this white dress from 2015 — it's way different than every year since.
Cabello always looks gorgeous, though, and this year was no different. However, it also goes to show that she'll probably surprise us with a totally different look again next year.